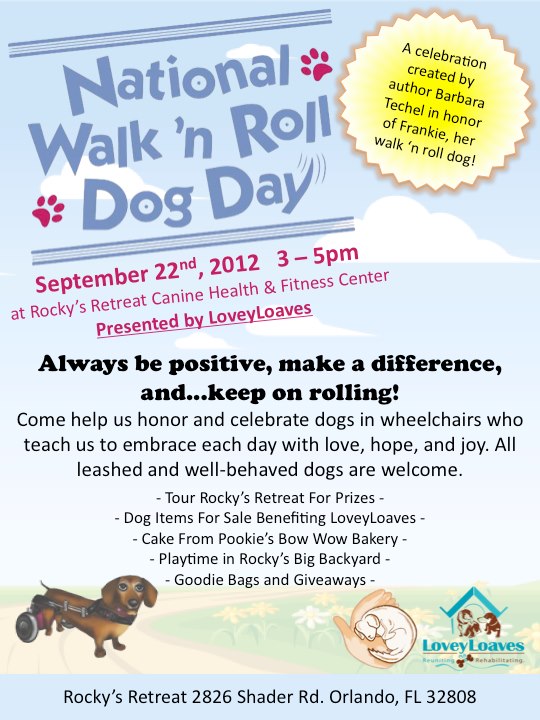 When I created National Walk 'N Roll Dog Day just a few short weeks ago part of my vision was that animal sanctuaries and shelters around the world would embrace it and celebrate it.  So I was thrilled when Cheri and Ward Wells of Lovey Loaves contacted me, excited about doing just that.  It is so heartwarming to meet others with the same passion as I in sharing the good news that dogs in wheelchairs can live long, happy, quality lives.
So if you happen to live in the Orlando, FL area you can help not only support National Walk 'N Roll Dog Day, but you can also support Lovey Loaves and all the special work they do to find special needs pets forever homes.  All the details for this event provided in the flyer above.  Please feel free to share this flyer and information with others you may know in that part of the country.
Also we will be celebrating this special day worldwide via the powerful help of the internet so please stay tuned for details.  Hint:  We will sponsor a photo contest, so start taking pictures of your sweet dogs.  Prizes will sponsored by Lovey Loaves, Dachshund Delights and me.  You won't want to miss this.  You can watch our Facebook page to stay up to date.
Another very exciting thing is happening too that has to do with special needs pets, National Walk 'N Roll Dog Day and that is an interview I've been asked to do with a very special lady.  I'll announce that as soon as I can– but the interview will be happening mid-September!
PS:  There is still time to order one of the limited edition t-shirts if you want to support our effort in raising funds to help dogs in need get wheelchairs which was established in Frankie's memory called, The Frankie Fund.  All proceeds from t-shirts are donated to Eddie's Wheels for The Frankie Fund.  T-shirts are only available through Sept. 12, 2012.  To date I'm so honored, that with the help of others and this fund, we have been able to help six dogs get their wheels!!