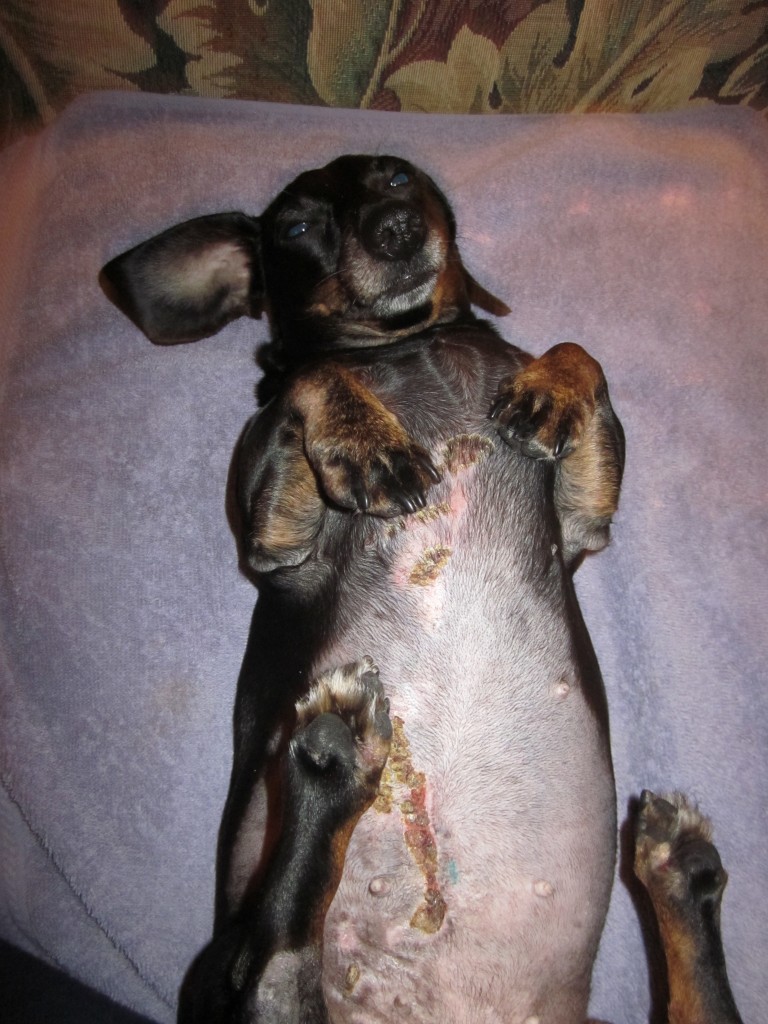 Three times a day I wash Joie's belly and flush it with Betadine.  Because she was not spayed, they spayed her before she flew home to live with us.  She almost didn't get to fly home the scheduled day because the incision had become infected.  But thanks to Jenell of Oregon Dachshund Rescue (ODR) and Linda the volunteer with ODR, the vet felt good about releasing Joie to them and knowing she would be taken care of when she arrived at our home.
Her belly is doing so much better.  We have a ways to go– but it has improved quite a bit.  I love this time with her when I treat her tummy as it is helping us bond.  It's funny when I first lay her down her back feet are curled up to her front feet.  I tell her that wiener dogs can't bend in half.  Then I tell her that she has to unfold so I can help her tummy get better.  As I talk quietly and calmly to her, her little legs relax and she goes into her "mama time" trance as I gently treat her incision.
I posted a photo on Facebook yesterday of Joie looking out the front window dressed in her infant onesie.   Some wondered why I have her in it. I keep her in this to protect her belly, which also allows her to scoot around on the wood floors to help build up the strength in her front legs which seemed weak when she arrived.  I'll try to capture a video of her scooting, cause believe me, she has no idea she has IVDD and she can fly!  And it seems her front legs are getting stronger everyday too.  I'm anxious to take her to the vet who specializes in IVDD and I'll be doing that in about two weeks.  Her tummy has to be fully healed before then so if the vet suggests a hydrotherapy treadmill treatment we can do that and learn how, so I can adapt to do it at home for her.