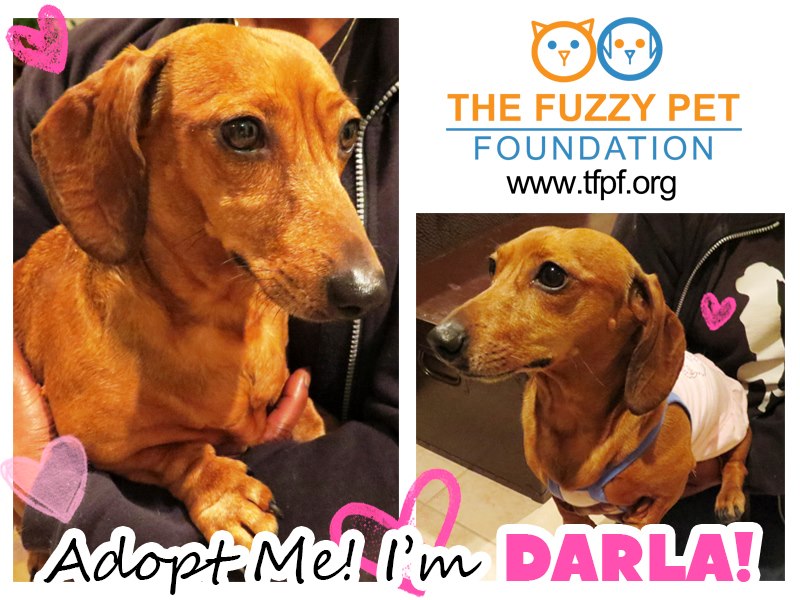 I'm sharing this sweet girl with you today after being contacted by Sheila from The Fuzzy Pet  Foundation and their plea for help in finding Darla a new home.  I can't believe how much she looks like my Frankie did!  Work is also being done on obtaining her a wheelchair and the Frankie Wheelchair Fund may help with that too.  If you can take her in you will be one lucky person!  Contact info at bottom if you can help.  Thank you.
♥ SPECIAL-NEEDS DARLA ♥
TFPF rescued Darla from a family who wanted to put her down because they no longer had any time for her, and did not wish to deal with her special needs. They enjoyed having her around as a puppy, but no longer wanted her after they learned she would be forever "handicapped."
Sweet Darla is a six-year old, purebred Dachshund who weighs just 15 pounds. She is paralyzed as a result of Intervertebral Disc Disease (IVDD) that is very common in this breed. She is incontinent and needs the help of a care-giver to express her bladder to go potty. Darla is currently waiting for her custom wheel-chair to increase her mobility.
Despite her special-needs, Darla is a trooper. She moves around like a cute seal, kisses everyone to greet them, burrows under the bed covers to be by your side, and loves to snuggle up to your side on the couch. She is great with kids, cats, dogs, and every person on the planet:). Darla will hop around at the sight or smell of a dog treat, and will even fetch her treats. Darla doesn't have any behavioral issues. She just wants to give love to others.
Darla is spayed, up-to-date on her shots, and has a clean bill of health. She just needs a special someone to love and care for her. Will it be you?
For more information, please e-mail us at info@TFPF.org.