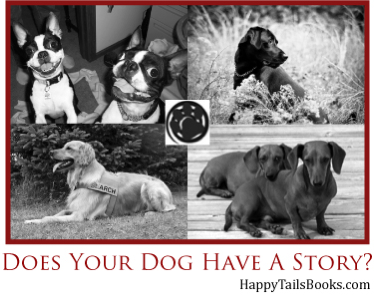 What story would your dog tell if he/she could?  Well now they can!
Happy Tails Books collects thought-provoking stories from people who have participated in dog rescue or dog adoption, and compiles them into books that educate and entertain readers! These books also raise awareness about people working to end animal cruelty and provide a source of funding for dog rescue groups.
You can share your "tail!"
You can submit information for one of several sections in our books. Longer stories (600-1200 words, please!) will be considered for features. Shorter stories, preferably no more than a paragraph in length, will be considered for our "Even Shorter Stories" section. This section either tell a funny or heartwarming anecdote about your dog, or describe a challenge you had with your dog and how you overcame it. We are also open to poems, recipes and of course, great photos!
You can join their mailing list, buy a book (where most of the proceeds go to dog rescue groups), or follow along on their blog