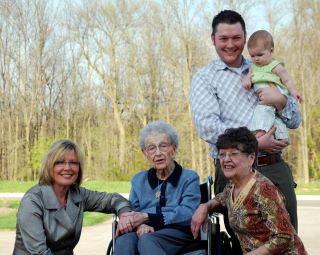 From left:  Christine Thill (owner of Libby's House and granddaughter to Libby), Libby, Phyllis (Libby's daughter), Jeremiah (Libby's great grandson) and Ona (Libby's great, great granddaughter)
Libby, 105 years old is a real delight to know. Frankie and I have been honored and privileged to visit with this exceptionally beautiful and spunky lady on a few occasions when visiting Libby's House, Senior Assisted Facility.
We have been going to Libby's House once a month for 3 1/2 years. This year begins visiting only every other month so Frankie can enjoy her senior years, just like Libby. I'll treasure our visits there even more now and am glad we are scheduled to go today.
We met Libby a little over a year ago when she came to live at Libby's House, named after her, by her granddaughter Christine, who owns and operates the lovely facility.
When Frankie and I were training to become a therapy dog team I heard Libby's House was looking for a therapy dog to visit. Though we were not yet officially certified I called them and let them know of my interest. They were excited to have us on board and told me to let them know when we were ready and they'd be ready for us.
I almost quit after my first training with Frankie at another facility, a nursing home. Sadly, not all nursing homes are as nice as Libby's House. The facility we trained at was, in my opinion, quite sad. Initially, I was shocked and a bit freaked out at the condition of the place and of the residents. Driving home after our first visit, I cried, and thought, I can't do this. But I'm so glad I didn't give up. While I couldn't change the circumstances of the facility, I could for a brief time make a difference in those patients lives with Frankie.
I was nervous beginning our work at Libby's House as I also didn't quite know how to be around people who had Alzheimer's which Libby's House is set up to take in. Not all patients have Alzheimer's- some have dementia- as well as other health issues. But the biggest lesson I learned, especially with Alzheimer patients is that there is someone "still in there." They may not resemble the person they used to be, but they are still there.
Often times I don't understand what they are saying as they talk, but I nod as if I do. All they want is for someone to listen. And as you can imagine, having Frankie to pet and love brings them much joy.
It's not often that one can say that they've met a 105 year old person. Meeting Libby at a young 104 was like meeting the Queen. She is remarkably sharp and has a great sense of humor. For most of her life she has not liked animals, but she adores Frankie– even letting Frankie sit on her lap now and then. During one visit Libby was petting Frankie's back and she looked up at me and said, "Frankie is love."
It is one of the highest compliments I could have ever been paid of my work with Frankie. There is no denying Libby has left a profound mark on my heart.
Being a therapy dog team with Frankie at Libby's House is very rewarding. Writing my second children's book that I published in 2010 about Libby's House is no doubt, a path I was meant to travel. And to know Libby, who is such an inspiration, is such an incredible blessing. I can't help think being with Libby is about as close to God as one can get. She is truly remarkable.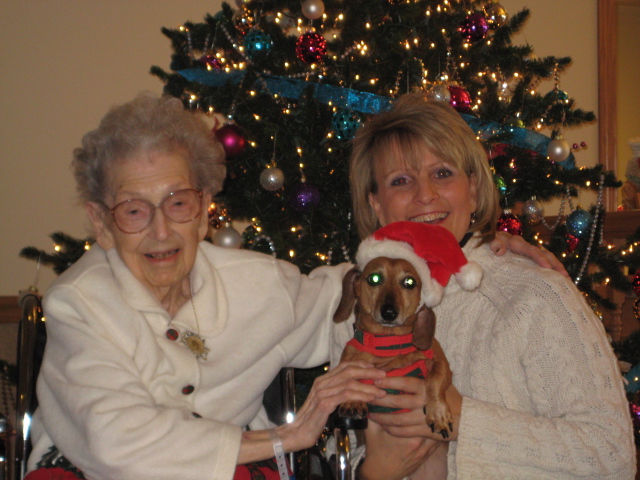 Libby, Frankie and me