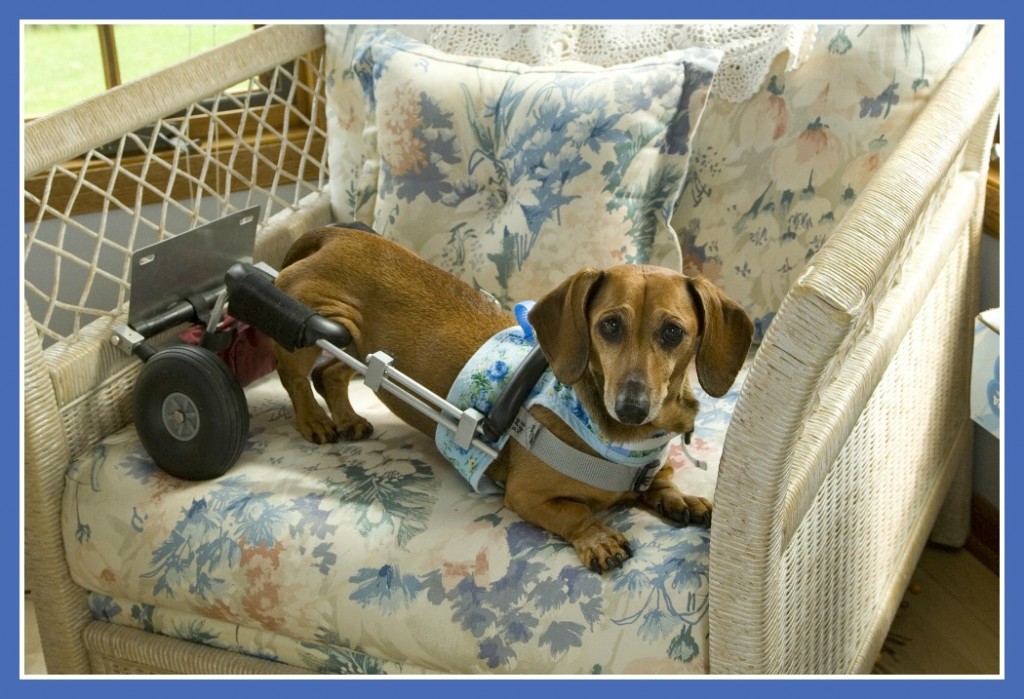 First, and foremost I want to thank everyone from the bottom of my heart for the outpouring of love and support during this very difficult time.  I'm just overwhelmed. But please know it is truly helping me and my husband John, as we learn to move forward without our little wheelie dog, Frankie. I would like to be able to respond personally t o all of your posts on Facebook and Twitter, and my blog, as well as the hundreds of emails I've gotten, but I fear I may not be able to.  But PLEASE know how very GRATEFUL and THANKFUL we are.
Many of you have asked how you can help in regards to the Walk 'N Roll Dog Day Wheelchair Fund I am working on in memory of Frankie.  So I've set up a special chipin page for now where you can directly donate money…. You can go there now or for more details on the chipin, see below.
Also, I will donate a portion of book sales of Frankie the Walk 'N Roll Dog and Frankie the Walk 'N Roll Therapy Dog Visits Libby's House to the Frankie Endowment Fund made between now and July 30th for any purchase of the books whether through my website or through Amazon.
Details for ChipIn Fund established for the Frankie Endowment Fund as part of Walk 'N Roll Dog Day being created in memory of Frankie:
A special day, called Walk 'N Roll Dog Day is being created in memory of Frankie the Walk 'N Roll Dog. This day will be celebrated yearly, as well as on going, celebrating not only the  legacy of Frankie, but all wheelchair dogs around the world who show us that we can all do anything we set our minds to despite obstacles. The special date is still being finalized.
The Walk 'N Roll Dog Day will be set up with an endowment fund that will carry on the work of Frankie. For now it is set up as this Chipin Fund to get the ball rolling and will later transfer to the special webpage on Facebook that will be dedicated to Walk 'N Roll Dog Day.
So often pet parents can't afford to purchase a wheelchair to help their beloved pet, so these funds will help that, as well as help special needs dogs in rescue find a new home by coming with a wheelchair so that expense is not a burden to the new family adopting. By being able to provide wheelchairs for pets that could not otherwise have them, they can go on to live full, happy lives.
If you'd like to contribute to this fund in memory of Frankie the Walk 'N Roll Dog, the money will be donated to Eddie's Wheels for their Buddy Wheelchair Fund with a special subcategory that is set up called, "The Frankie Wheelchair Fund."
In Frankie's legacy I will continue to bring positive awareness to dogs in wheelchairs–that these dogs can, and do, live quality lives if given a chance.
If you'd prefer to donate directly to Eddie's Wheels, you can send doantion along with a note stated it is for the Frankie Wheelchair Fund, and send to:  Eddie's Wheels, 140 State Street, Shelburne Falls, MA  01370
Again, on behalf of my husband, John and myself …. THANK YOU for the outpouring of love and comfort you are bringing to us during this difficult time.  Frankie is smiling upon us all.
Update:  8/2/2012:  A special day has been created in memory of Frankie and in honor of all wheelchair dogs.  You can visit National Walk 'N Roll Dog Day website or like us on Facebook and help spread the word!