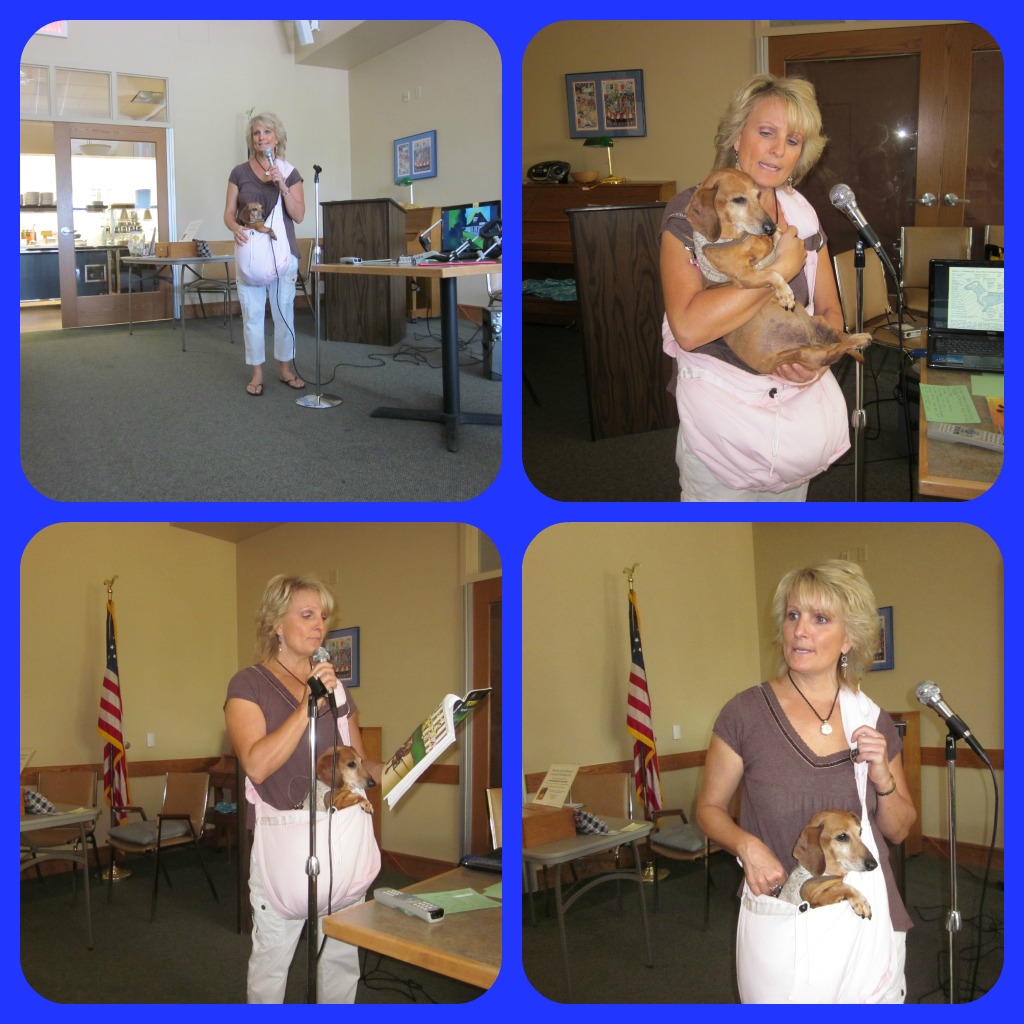 Our last official Frankie presentation today at Intergenerational Senior center
As many of you know, I announced Frankie's retirement from therapy dog work as well as visits to schools, etc. about two weeks ago.  We still have two therapy dog visits to do and one short talk in August about Frankie's work as a therapy dog— But today was my official last time of sharing Frankie's story with a "live" audience. While we will still do presentations via Skype to classrooms, (and I encourage schools to book us for those), this was the last in-person and "in-dog" presentation.
I shared on my Facebook wall this morning that today was one of those days I was wishing I wasn't so dang sentimental because I feared I may cry at some point during my presentation. My very wise Mom said to me that my being sentimental is what makes me uniquely me. While I've for the most part embraced that as what makes me, me, I was glad to be reminded.  I also appreciated Jill's comment on my post on Facebook to look at this as "going out on top." I like that. We are going out on top and we did just that today.
When I first began my work with Frankie five years ago I really thought we'd keep doing this until the day Frankie passed. But I know now this is the right time and it is the right decision for both of us. While I know of some therapy dogs and other "celebrity" dogs that have done their work until their last days which may have been right for them, I didn't feel this was right for Frankie.  One very important thing I've learned through working with Frankie as a therapy dog is that her needs come first and it was a promise I made to her at the beginning.  I think it is important  that those who work with or have a therapy dog, that careful thought is given to when it is time for their pet to ease out of their work.
So did I cry today during my presentation?  Well, I did get choked up at the beginning explaining this was my last presentation and how much my work with Frankie has meant to me. I heard a chorus of sweet awwww's come from the audience and wrap around me like a big hug. It made it easy for me to go on. I wanted to give them my 100% best and leave them with a positive impact.   And like Jill said, "We are going out on top." What a way to go!
I'll continue to share Frankie with all of you as she enjoys her retirement years.  I'm also working on a special announcement that will be part of Frankie's legacy- and I hope to announce that in early August. So our work is not done- it is just evolving in a new way. I plan to embrace our new path and continue to give thanks for all that God has blessed me with.