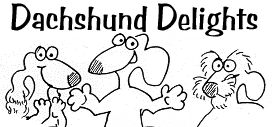 Over the years  Jerry Stemnock, editor of Dachshund Delights newsletter has written some wonderful pieces about Frankie, helping to spread Frankie's positive message about IVDD and wheelchair dogs.  I've never met Jerry, but consider him a wonderful friend for all he did for me and Frankie.
Without further ado, I share a portion of what he wrote and then you'll have to click on over to the newsletter to read the rest.  While on their site check out all the fun dachshund stuff!  And a special thank you to owner, April Scott for all the cute vests she made over the years for Frankie, which Frankie loved to show off.
Goodbye Frankie
This isn't the story we set out to write. That story was a celebration.
This isn't the story that we wanted to write, although we knew we would eventually. This story is a memorial. But because the subject of the story naturally inspired such things, it's a celebration as well.
On June 4, Frankie the Walk 'N Roll dog announced her retirement. She was tired, and it was time for her to take it easy. On June 14,she made her last public appearance. On June 21, unexpectedly, she passed from the world, brought down by chronic heart disease. She was two months shy of her 13th birthday.
Most of you who visit this site know about Frankie – Francesca, to use her proper name. But for those of you who are newcomers, here's the summary. Until 2006, Frankie was like any other dog. Sweet of face and much loved, just like your dogs and ours. In 2006, while staying at a boarding kennel, she jumped onto her food container, slipped off and injured her spine. Barb Techel, Frankie's mom, did all the right things. She got Frankie right into surgery, then worked with her at hydrotherapy and rehab. But to no avail. It became clear that Frankie would not walk again.  Click here to read the rest of the tribute.