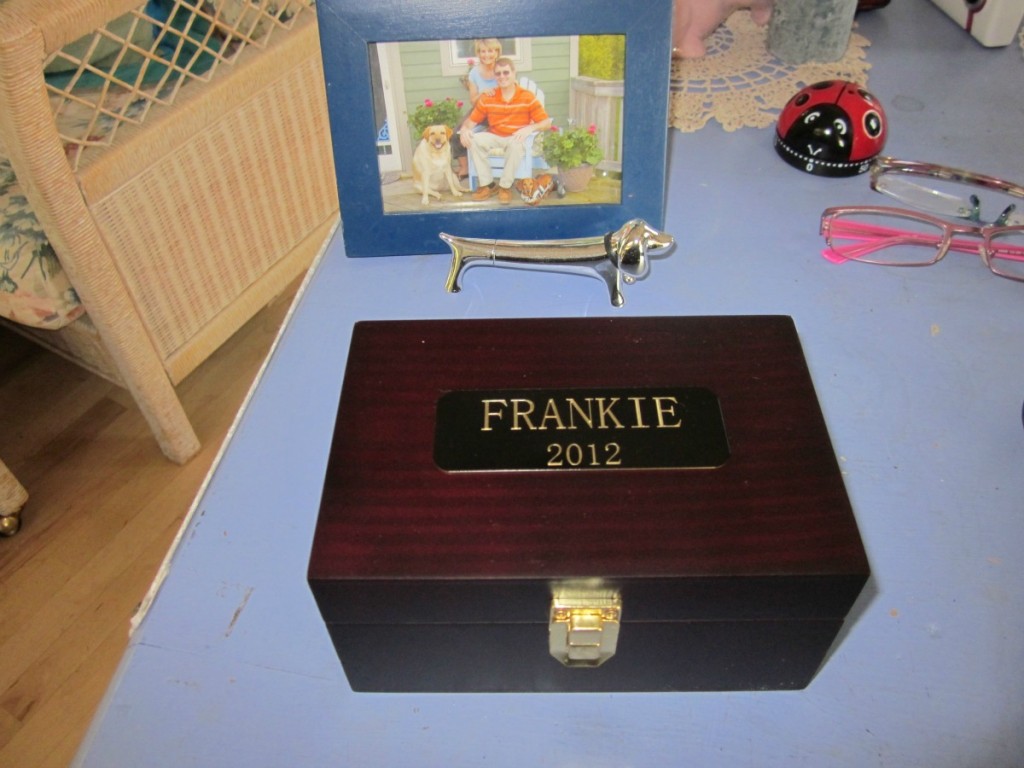 Dear Frankie…
Is that you in there? As I drove home from the vet office, your beautiful box beside me, the tears came once again.
The minute I walked into the house, I opened the box to find your cremains wrapped in burgundy tissue.  I slowly unwrapped the tissue, knowing full well what lay beneath, but wanting more than anything for it to really be you- to be able to hold your sweet, soft body once again and kiss the side of your snout a thousand times.
It felt odd to come to the plastic bag holding what is now left of you. Is this all that is really left of you? It's a part of you, this I realize, and this box containing you shall be sacred to me. But I realized, too, that this is not you.
You are all around me and in me… embedded forever in my heart. I read something today that said, "Footprints of love."  That is you, dear Frankie…. that is you.  Oh, the footprints of love you have left behind.
I told a friend in an email that though there are times I can't bear not having you here,  I would not trade having had  you here just becuase I knew the loss someday would be so hard to go through.  I've realized deeply in the past two weeks that my ultimate pride and joy was caring for you each and everyday.  I loved sharing you with all the children we met, too, and sharing your story in every way possible that I could, but when it comes down to the core of what I loved most about you– it was taking care of you and helping you live the best quality life that you could —and just being with you in the simple little moments of life. I was truly in my most happy state of joy just being there for you and being with you.
Last week Saturday a friend at the Farmer's Market said to me, "Frankie completed you." She is right– you so completed me.  Not only did you complete me, but you helped to complete me- to help me grow into the woman I am today. I knew there would be a day when you saw I was strong enough for you to move on, and though I never wanted that day to come, my heart smiles because you did all this for me… and so much more.
I've thought a lot about the day I was told you had only a 10-30% chance of walking after rupturing your disk. I think about if I had let fear paralyze me, fear that I couldn't take care of a handicapped dog, fear that my life would change, and angry that this was happening to me. I just can't imagine not having had the last almost thirteen years with you, with the last almost seven being some of the most powerful and life changing moments I've ever experienced.
So dear Frankie, though your cremains lie still in the small sacred space of the beautiful brown box, your life and all it was, continues to be full of life all around me.
Not to hurt our humble brethren is our first duty to them, but to stop there is not enough. We have a higher mission—to be of service to them wherever they require us.  ~Saint Francis of Assisi