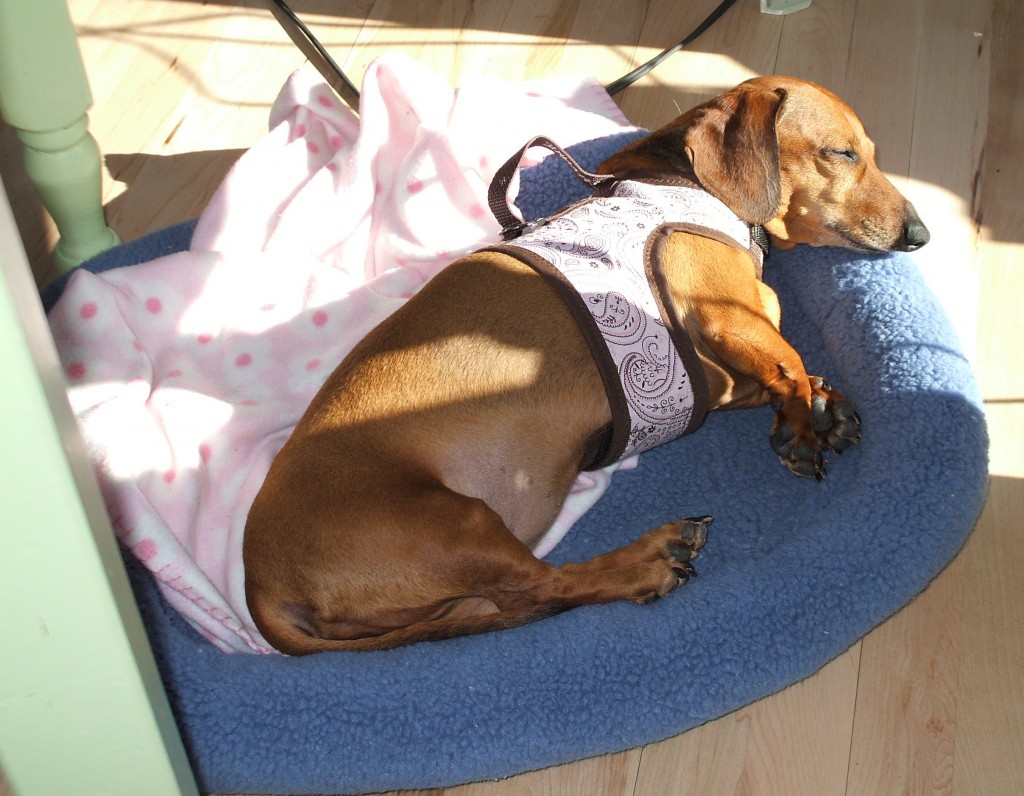 Frankie loved to nap and I loved just watching her.
CONGRATULATIONS to Michelle Maskaly from My Tail Hurts So Much from Wagging Blog who won by Random. org drawing of the Spring 2012 Doxie Digest issue and a set of Frankie the Walk 'N Roll Dog magnets.  We sent you an email for your mailing address.  Thank you to everyone who left a comment.  I throughly enjoyed reading each and every one of them.
In a recent blog post by Jon Katz he wrote about the rhythm's of the farm.  How the donkeys are there to greet him every morning at 7:00am and will be there every morning at 7:00am whether he is or not.  He said that donkeys and all animals like structure and rhythm.
It made me think about the rhythm's in my own life. The missing rhythm of Frankie, which I am still trying to get used to. We had quite the routine. Every move I made she was first and foremost the first rhythm I had, before I moved onto another task.
Every morning I'd whisk her from her little snug bed which lay between my and my husband's pillows, and off to the bathroom we'd go so I could express her bladder. We didn't always make it, her bladder full to the top, and out it would shoot like a fountain.  The morning after her passing, I actually smiled and said in my mind to Frankie, chuckling a bit, as I sat down to go, "Hey Frankie, I got to go potty first today."  I even shared this with a friend who cares for incontinent dogs also and said, "I wasn't sure as I got older who was going to be able to hold it longer and if we'd both end of having an accident on the floor!"
The last year of Frankie's life was quite rhythmic as she was not all that keen on using her wheels any longer. So I carried her from point a, to point b, to point c. Wherever I was, Frankie was beside me. Whatever move I made, my first move was her. This may sound odd, but for days after her passing my arms felt like they were not attached to my body- as if they were floating beside me. And when they did feel attached, I didn't know what to do with them. It was the oddest sensation.  I could only equate it to the fact that Frankie was so often in my arms.
As I continue to move more into a new routine, I find myself adjusting, but there are times when I simply stop and am unsure of my next move, thinking I need to pick up or move Frankie first. So it really is remarkable how we have our rhythm's of life, and how they sometimes become so automatic. But when they are gone, how obvious and evident they are, and how we then learn to move in a new way and create new rhythm's.
**************************************************************
WIN a copy of the Spring 2012 Doxie Digest!  My post office only delivered the paper cover for the Spring 2012 issue so Doxie Digest sent me another copy, plus one. So why not share, right? This is a beautifully and well done magazine. Frankie was featured in the very first issue in 2008 and will be featured again in fall.  Thank you Doxie Digest!
So all you have to do is leave a comment below and tell me what your favorite rhythm is.  Enter by midnight on Friday, July 13th.  I'll pick the winner on Saturday, July 14th.  I need to have a way to notify you also, so if your comment does not link back to you, be sure to include your email.
PS:  I'll even throw in a set of Frankie magnets!