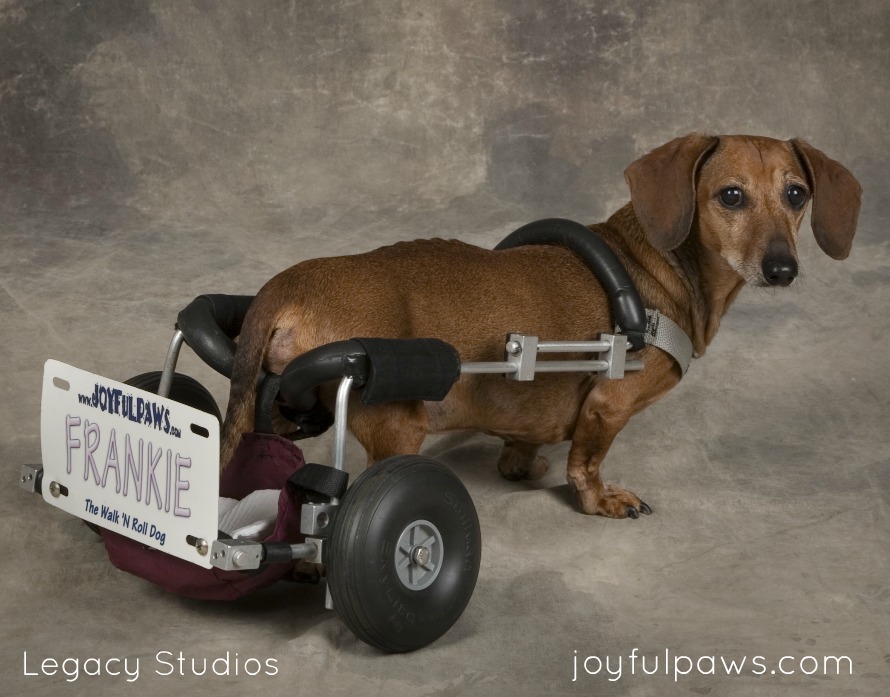 I've gotten so many emails since Frankie's passing two weeks ago– all very touching– and the ones I find my heart ooze over with complete joy are the ones of people who I've heard from that Frankie and I have been able to help when their dog was diagnosed with IVDD– the ones we gave hope and they saw too, that they could care for their dog with IVDD– that it was not a death sentence.  It is why I will continue to advocate for IVDD and wheelchair dogs and it brings me complete happiness to help others through this.
Here is an email I got today from a woman named Staci sharing with me her story.  I'm so happy we could help give her hope.
Although I do not know exactly what to say in times like these, I felt that I should write you because your stories helped me feel so much better. 2 weeks ago, my Dachshund Clyde ruptured a disk in his spine. His back legs were paralyzed and he could not control his bladder.  I also thought, "Why is this happening to me?" Clyde is 6 years old and I had a feeling it was going to happen at some point in his life, but I just never thought it would be so sudden. It brings me to tears to even think about it.
As they told us about all the possibilities that could happen, the 2 main things I kept thinking about was, 1.) If he was in a wheel chair and could not control his bladder, he would be put to sleep or 2.)  He could be in a wheel chair for the rest of his life and I could not come to grips with that. I felt like my life would never be the same if that happened. When I started to read all of your stories I started to feel very selfish because even though Clyde might have ended up in a wheel chair, I would still have him in my life and that meant more to me than anything. I felt that I should write you as you are going through this rough time to tell you that ya'lls stories and encouraging words helped me understand that just because he might have ended up in a wheel chair, I would still have him and he would still love us no matter what happened. Clearly, this was the case with Frankie as well. Although she has passed, she will live on forever. I just wanted to thank you, with your stories you helped me overcome something very difficult.
I'll continue to help who I can through those reaching out to me via email or phone with their dogs diagonosed with IVDD.  And I'll continue to share with them Dodgerslist, a caring and dedicated organization who help educate others about this disease, as well as, share Eddie's Wheels as one of the best dog wheelchair companies out there.