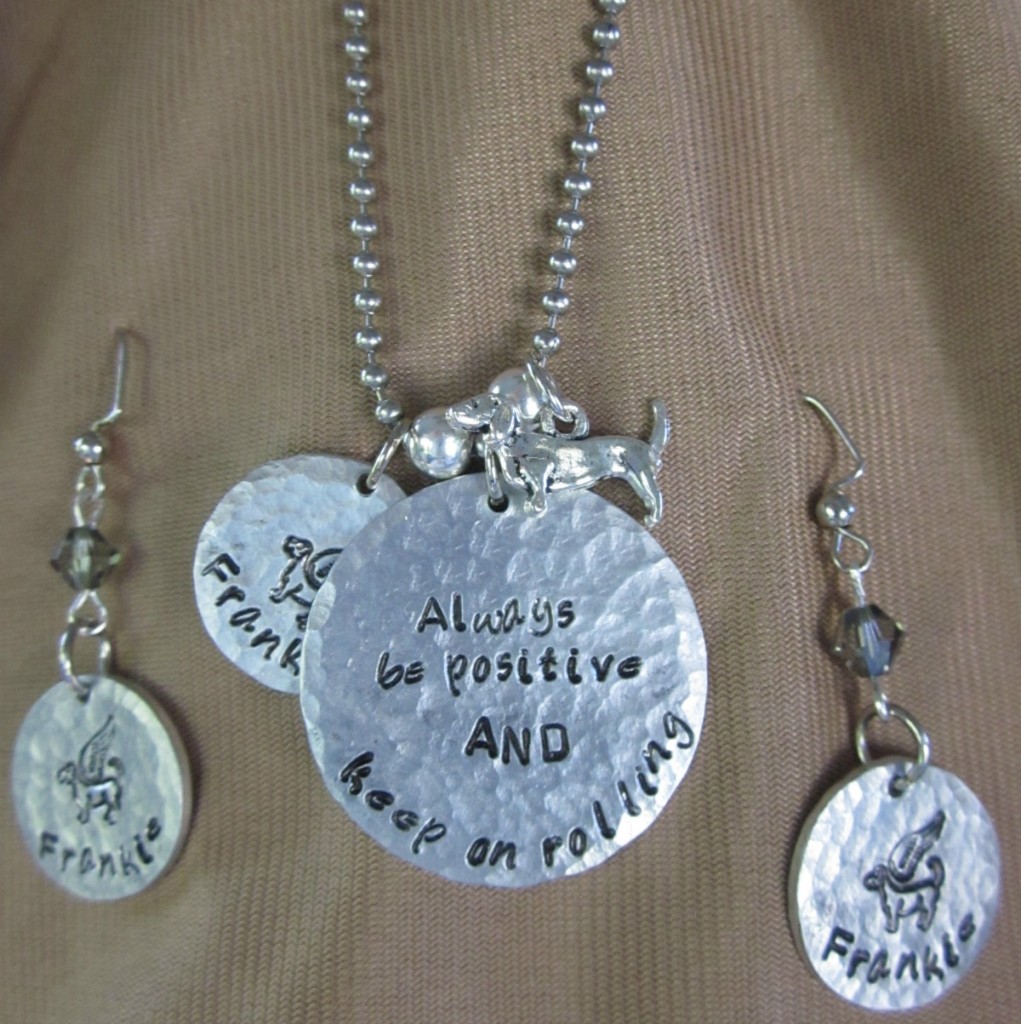 I continue to receive notes of sympathy from others that are first hearing of Frankie's passing– many people I have never met, but who followed Frankie's journey.
One such kind soul, Alicia, contacted me a few weeks ago sharing with me that she wanted to make me a special necklace honoring the work Frankie and I had done.  Though I feel funny at times accepting gifts like this, I realize I must honor how others wish to share their way in which they wish to acknowledge Frankie's passing.
Alicia makes very fun and unique jewelry.  I also love the name of her company which is called "Must Love Tiaras." As you can see by the photo her jewelry is hand stamped light metal disc's.  She asked me if there was a saying I would like on one of the disc's and she said the other disc would have Frankie's name.  Of course I had to choose, "Always be positive and keep on rolling!"   She also added the darling little dachshund charm.  Alicia also included a set of earrings which I think are absolutely adorable.  I really love it and want to say once again, a huge and heart felt thank you to Alicia for being so kind and gifting me with these pieces to be a wonderful reminder of my sweet girl Frankie and all she represented.
Alicia happens to also be a dachshund lover having three of her own, so though we never met, I guess you could say we are dachshund kindred spirits.  Check out her three lovely little ones below.  And as she said about this photo, "Looks like there is room for one more!" Yup, why not?  What's one more?
My heart continues to heal from the loss of Frankie because of so many generous and kind souls in the world like Alicia and all of you who have helped me through this in your own special and unique ways…. thank you. thank you. thank you.