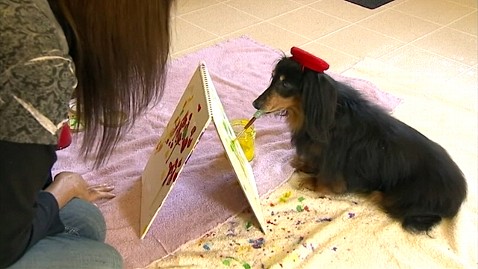 Photo Credit:  Komo-TV
My heart smiled very big when I read about this special little gal, Hallie.  Don't you just love the hat?  Hallie is blind, but as you can see out of sadness. and her new challenge, came a gift.  She does not let her challenge get in her way!  And kudos to her wonderful mom for doing what it took to help Hallie discover her hidden talent as well as making her feel safe and secure as she learned to navigate life with her nose… and paintbrush!
She was recently on TV and you just have to see the video of her painting.  Guaranteed to inspire you!  Be sure to also check out Hallie's website to see her paintings.
Keep up the positive and beautiful work, Hallie– you are an inspiration to all!