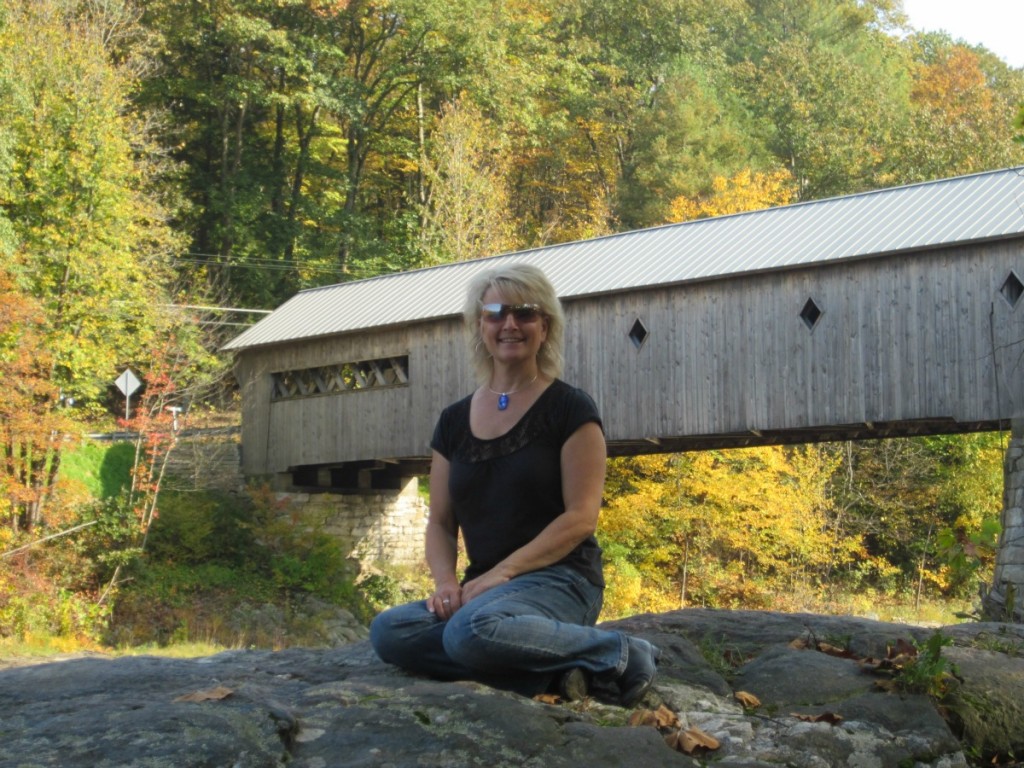 Posing in front of one of the covered bridges that is so Vermont.  A little over 100 still exist when over 900 existed at one time.
Today was about as perfect as could be.  Really the first day of full sun, along with warm temps that peaked at 72 degrees.   We started with a visit to the Tasha Tudor Museum in West Brattleboro, VT.  It is housed above the historical society with two small rooms dedicated to this most eccentric, delightful woman with much to teach us modern day people rushing here and there trying to accomplish all that we can.
Though the museum was small, Tasha's life was big in richness of joy, living authentically, and truly living to the beat of ones own drum.  This was told in the 45-minute documentary that Tasha did– the only one she allowed anyone to interview her or to be in her home.  I was utterly fascinated and lost in the documentary, hanging on Tasha's every word.  I loved how she said that her whole life has been a vacation.  She didn't have any regrets. Though she lived as if she was from the 1800′s, dressed in frocks and without electricity, I really think she knew how to truly live.  She also talked about how getting older is such a joy, as well as she said that death she felt would be "quite exciting."  She also had plans that when she died of going back to live in the 1800′s, married to a sea captain, sure of that is where she was before.  I have no doubt she did when she passed at the age of 92 in 2008.  Even John said he enjoyed learning about Tasha and that was just icing on the cake for me.
Then off we went to find a place to eat lunch, which was kind of an adventure in itself.  The town was quite busy but we couldn't find a place where we could eat and enjoy an adult beverage.  Well, the walk and the wait was worth it when we found the Bier Garden up on the roof top that looked over the river and the mountain as the back drop.  I have photo album of it on Facebook.
Then as we traveled back home we made sure to stop at at least one covered bridge.  After visiting the Covered Bridge Museum yesterday I was eager to see a piece of this most nostalgic part of history up close and personal.  More photos on Facebook of two covered bridges we stopped at.
We have been traveling 1 1/2 to 2 hours every day to various places, so tomorrow we are going to stick close to home and just explore whatever we run across.  Though we will take a half hour ride to The Vermont Store that promises to be a step back in time where they sell everything and anything– the hard to find– the things of yesterday– the practical– and fun.  I have a feeling I can spend a few hours there!