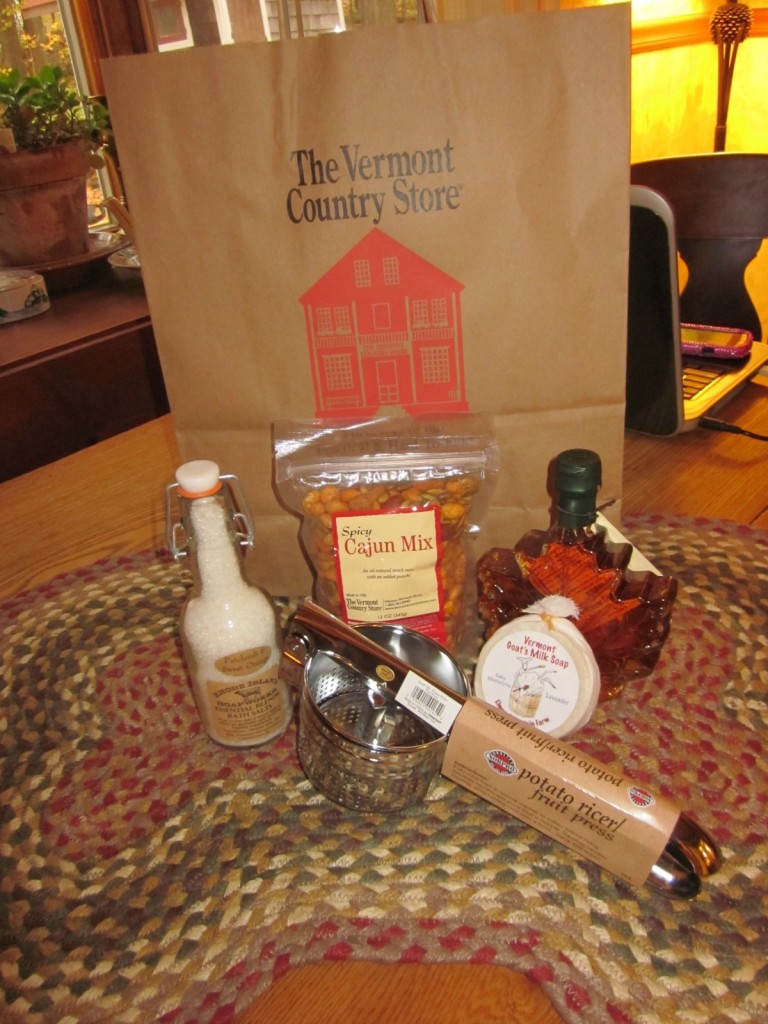 What a fun experience going to The Vermont Country Store today in Weston, VT.  And it was quite the popular place as it was packed with people!  They truly do have just about everything!  It was fun eating our way around the cheese/sausage/pepperoni open freezer tasting all the great little morsels of samples.
I picked up this cute little bone shaped braided rug for Kylie's food dishes.  Her blue rug has seen better days, besides no longer matching our kitchen, so I hope she will enjoy her new "dining area." Also got a bar of goat's milk soap, maple leaf shaped bottle of Vermont maple syrup, and Rhode Island Soapworks essential bath salt in patchouli and sweet orange blend.  Plus had to have a bag of spicy Cajun mix.
And the potato ricer?  Well, I had hoped to find one at the Vermont Country Store after picking up Tasha Tudor's cookbook at the museum yesterday.  Reading some of her recepie's last night (of which she was taught to spell them receipts) she swore by rice potatoes– never made any other kind.  John LOVES potatoes riced as his mom has always made them this way, too.  Believe it our not the country store did not have one!  So as we made our way back home we stopped at the Kitchen Supply store for the third time since being here (love the store!) and found a potato ricer.  Yippee!
Now for the Fartless Black Bean Salsa!… and Fartless  16 bean soup and chili mix….oh my!  Well that just cracked us up when we saw the display, so John insisted on having his picture taken.