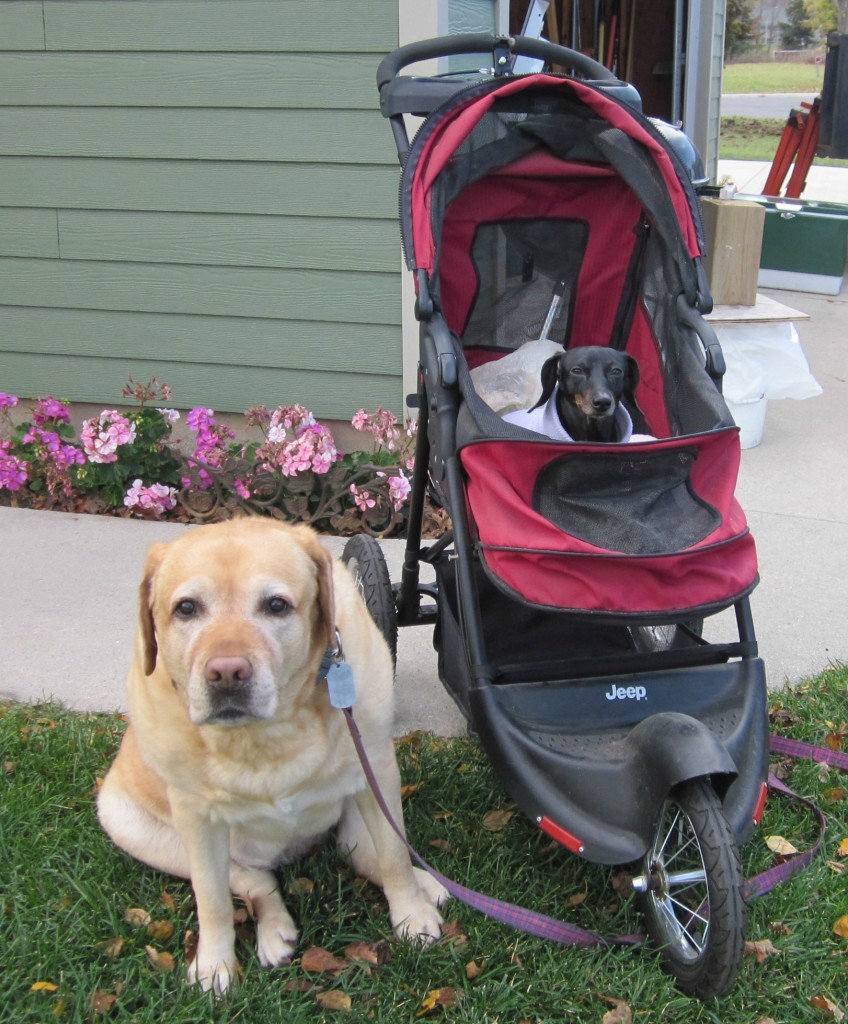 It has been so fun again getting out the dog car seat for Joie, as well as the doggie stroller that Frankie so loved to cruise in.  I think, as you can see, Joie loves the stroller too. I also posted a photo of her on Facebook in her dog car seat.  I just love having a dog companion with me again when I run errands.
Now to get something off my chest.  Two days ago I had posted a photo on Facebook of Joie and Kylie hanging together.  Someone added a comment that Kylie is overweight.  I've also since heard from a friend that someone we both know commented that Kylie is fat.  So just to let everyone know– I am very, very aware of this.  I am not happy about it and it hurts my heart.  But we are working on it.  I guess what really bothers me is that people who don't even know you or the circumstance say these things. I couldn't help but think of the Wisconsin reporter who recently came under attack from a viewer who felt it was his duty to tell the reporter in a letter (or perhaps it was on Facebook- I don't recall) that she is fat.  I don't know if you heard that story but I gave the reporter a lot of credit for going on air and addressing the attack on her.  She did it gracefully, yet got her point across saying that this person does not know her or her family or their situation, so how could he make such a judgement against her. She also said that she didn't need him to point out that she needs to lose weight– she knows this.  And how would he know if she had some condition or was in fact working on her weight?  He just assumed.
So while it is likely the person that left the comment meant well– I was still very hurt.  I love my animals deeply.  I wouldn't purposely cause them harm. Kylie from the beginning has seemed to have issues with her weight– she has never been overly active and she is just not your typical Lab.  She has never enjoyed playing ball or really going for walks.  She does not enjoy riding in the car or care to go for a swim. She just loves to hang and be.  Yes, that was hard at first for us– we wanted a Lab that did all the Lab things, but it is not meant to be with her– we accepted that.  She has really never been overfed either– could we be better in portion control and have we slipped on that?  Yes, we have, but we are working hard on not doing that anymore given we realize her activity level is what it is.  I'm also trying to walk her more, even though it is not her favorite thing to do.
I am by no means a perfect person– and gosh, don't think I'd ever want to be– that would be so hard to live up to, besides there being no such thing, though society sure seems to want to impose that on us.  So I guess my point is I think most of us really try our very best and I'm not happy that Kylie is overweight.  I honestly wanted to cry buckets when I had her last in to our vet and realized she had yet again gained weight. It just didn't make sense to me.  It made me feel like a horrible dog parent.  The other part of this is I think a lesson in judging without knowing all the facts.  I'll admit, I'm human and have judged others too without knowing all the facts, but am much more conscious about this now and work hard to think before I speak.  But to the person who pointed out to me what they felt I may not have known, it makes me feel better to state the facts whether or not that person reads this post or not.