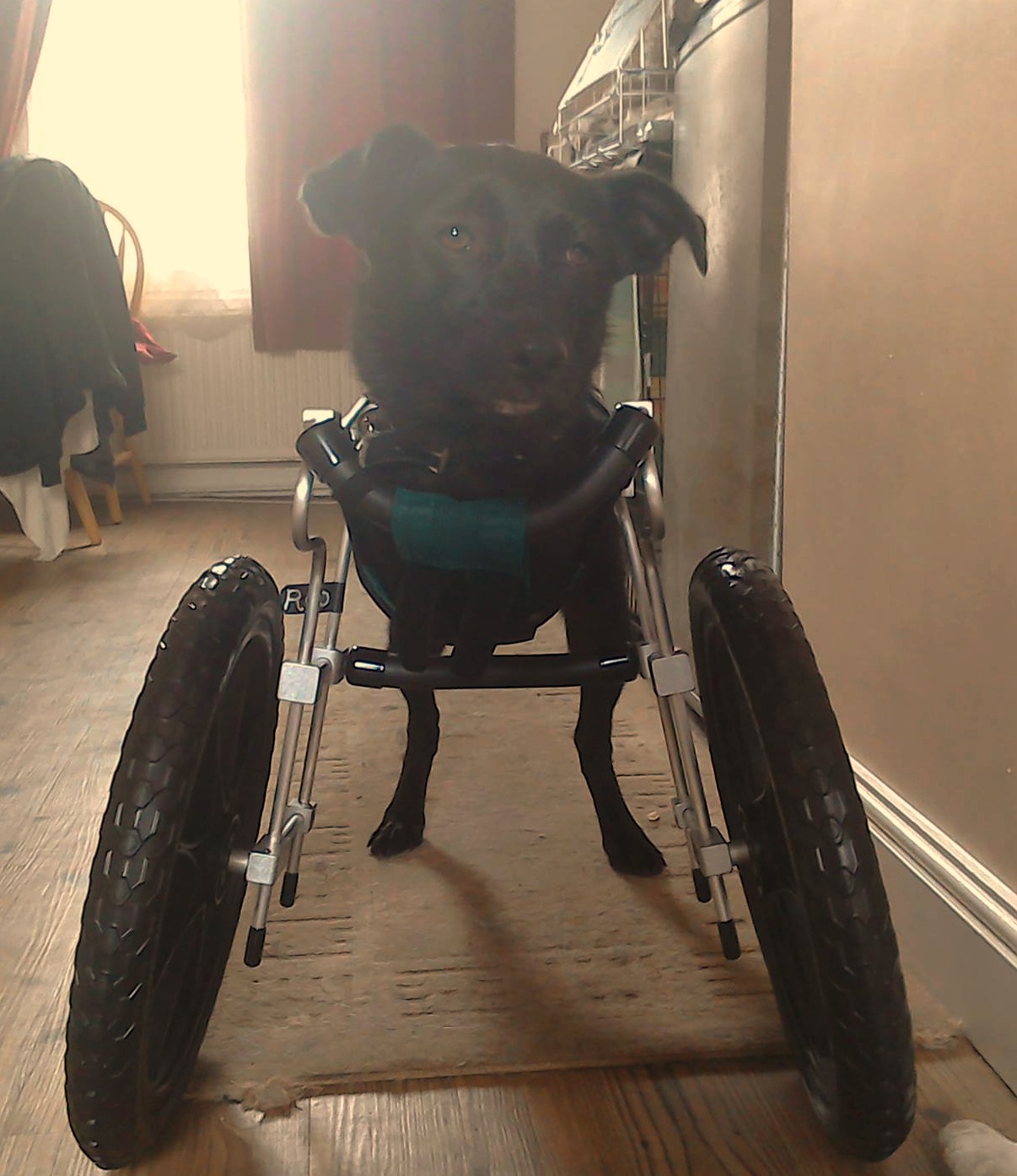 Roo was found as a young pup who hadn't eaten in a long time and also in very bad shape. So bad, it resulted in the need to have his front limbs amputated.
Roo's journey was just beginning as then he found his way to a very kind woman with a huge heart named Joanne who lives in the UK.
I learned of Roo when Joanne posted a link to Roo's Facebook page on my page for National Walk 'N Roll Dog Day. She was working hard to raise the funds to help get Roo a wheelchair and sharing his story wherever she could.
Something in Roo's eyes called out to me. I knew without a second guess that I wanted to use donations from the Frankie Wheelchair Fund to get Roo up and running.
But when I contacted Joanne she advised that Roo first needed therapy and she was also being given advice from the rescue from where she adopted Roo.
But I waited it out and told her that I'd really like to help and pay for Roo's wheelchair so the money she raised to date could go towards Roo's continued therapy and care.
And we eventually had a deal!  Joanne has been so gracious and grateful for the help for Roo.
And it's been a joy to be a part of Roo's continued healing journey.
His wheelchair just arrived earlier this week and he is slowly learning to use them. Sometimes a dog that has gone most of his life without limbs, such as Roo has since a puppy, they take a bit longer to get used to a wheelchair than a dog who has walked for most of his life and then is in the need of a wheelchair for various reasons.
But I see determination in Roo's eyes and I feel only love and patience from Joanne — what a team they are and no doubt Roo will be running and playing soon on the beach near his home where he loves to go.
Roo makes the 56th dog the Frankie Wheelchair Fund has helped! You can see all the dogs given the gift of mobility because of continued donations from others here.
To learn more about the Frankie Wheelchair Fund and how you can donate or apply for help, please visit our website.
Roo's wheelchair custom made by Eddie's Wheels for Pets.
Keep on Rolling, Roo!!  Much love from all of us here in the USA!
Thank you for subscribing to my blog updates.