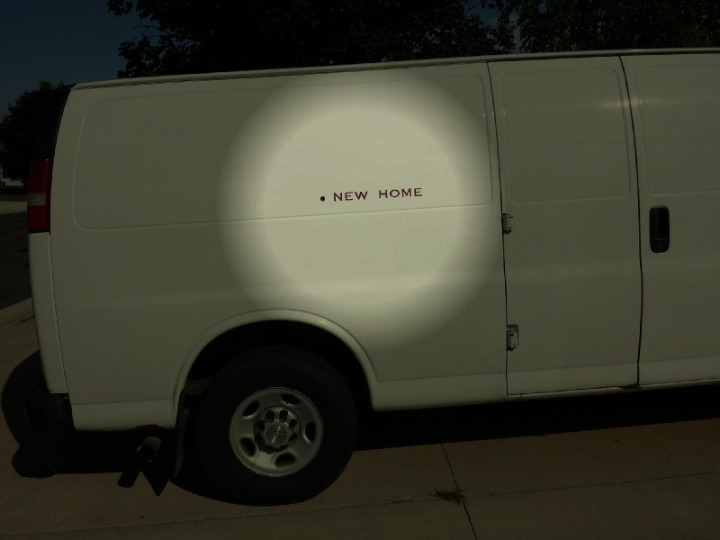 I can't say as I ever thought a place I might call home someday would be a Chevy van. But as I mentioned about two weeks ago, John and I came up with the idea to take his work van when we travel to Tennessee this fall for a long overdue vacation. We want both dogs, Kylie and Gidget to come with us, as we will be staying at a cabin once we arrive.  Instead of staying in a hotel that takes pets for our one night down and one night back, we started giving thought to adding a bed to the van.
Well, that has exploded into a whole world we never even knew existed! Many people travel around the country in this way – in conversion vans, or vans they've converted into a place they can call home on wheels when on the road. There are endless blogs dedicated to this very way of traveling… and many who live this way, too.
So our adventure has begun. John has two work vans for his construction business, one of which he really only uses to haul his trailer on occasion and serves as a back up should the other one need maintenance or work done on it. This is the van that will serve as our new home on wheels. To be a bit more inconspicuous he has removed all the lettering from the van stating his work as a contractor which entails new homes, and remodeling for the past 22 years.
As John got down to peeling off the last of the lettering, I asked him to leave "New Home." I thought it would be fun to get a picture before he peeled those last letters away. And so here it is—our intention is firmly set in place!
The conversion will include adding plug ins for electricity so we can plug in at a campground. It will also include the building of bunk beds and storage units which John will build around Kylie's kennel. Gidget's is small enough, so she is a bit more flexible. We will also be adding solar panels and an A/C unit to the top of the van, and are also looking at installing a small refrigerator.
Eventually we'd like to travel out West (hopefully next year) and then we will stay at campgrounds along the way. For that trip we plan to have a small kitchen in place with a two burner stove, so we can make some meals to save on cost of eating out at restaurants.
And then there is of course what I'll want to do with the interior to make it feel comfy and homey. I found this sweet banner at our local Farmers and Artisans Market last Saturday made by our neighbors. Mom, Beth and her two daughters, Jessica and Jenny love to sew and they call themselves the Three Baggy P's (their last name begins with a P.). You can check out their Etsy shop here. This is just a portion of the banner as I couldn't get it in on the whole picture.

When I showed it to John and my intention for it he said, "You aren't going to make the van all girly are you?" He was smiling when he said it, but I do realize I have to compromise on this space (unlike my writing cottage!) and make it feel good for him, too. But I like having this starting point and it will be fun to see what I can find for blankets and comforters for the bunk beds to go with these colors. And I'm hoping to find most things at second hand shops.
And speaking of thrift shops… this adorable little hot pot had to come home with me the other day…it will be perfect for heating up my morning and evening tea to have in my weenie dog mug.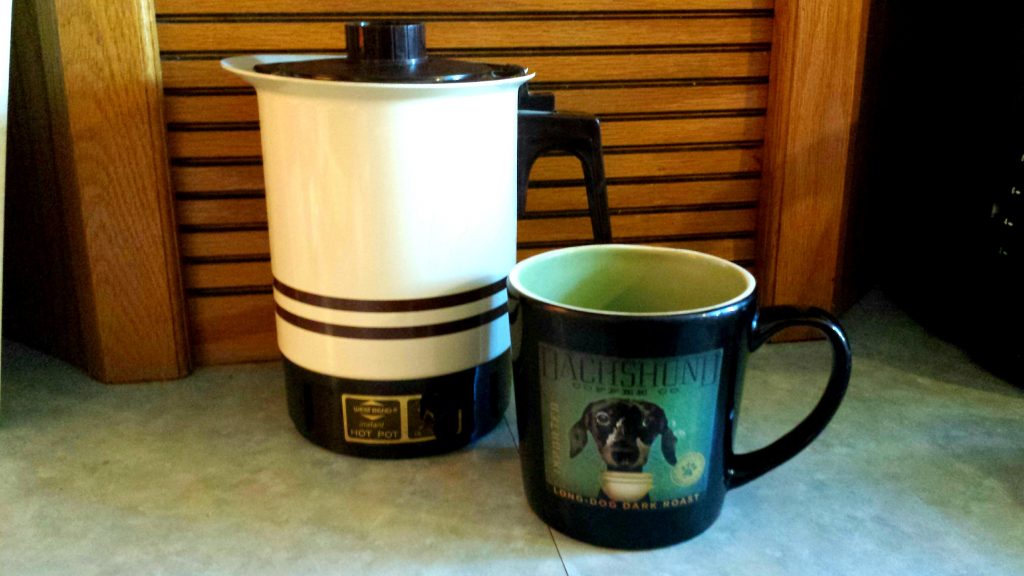 So the adventure has begun.  Sometimes the planning and anticipation is just as fun as the road trip itself!
Thank you for sharing and subscribing to my blog updates.