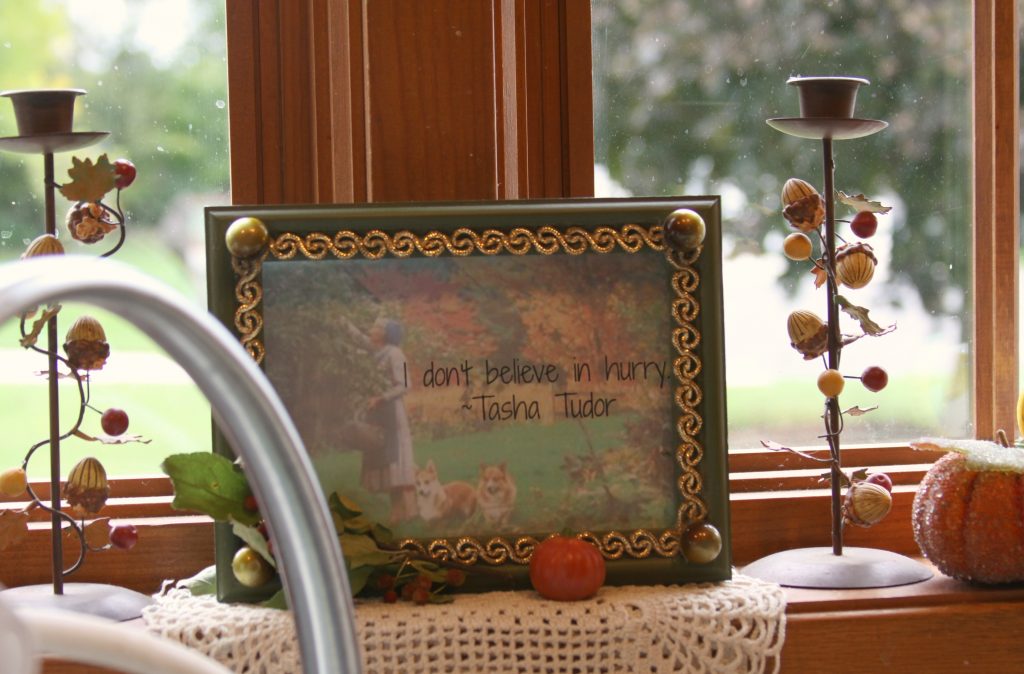 Every season I enjoy changing out the decorations on my kitchen windowsill. I must admit that Fall is my favorite season to do this. There's just something so cozy and comforting about it this time of year, don't you think?
For months now I've been wanting to paint a quote I like from Tasha Tudor on a piece of wood and place it above my stove. But it just never seemed to happen. Then on Sunday morning a friend came over- Rachel, a young woman I've known for quite some time, but would like to get to know better. She is just one of those people who has an old soul and I thoroughly enjoy talking with her. Our discussions are deep and meaningful which I really appreciate. She and I are working on offering some future workshops together which I'm really excited about. But I digress…
But it was because of her sharing with me how her favorite spot in her house is her kitchen and looking out her window that I knew my Tasha quote would finally make its way to my kitchen. Her view out her kitchen window is spectacular from some photos she showed me, surrounded by woods and her horses, where she also gets to see deer and other wild animals too. But she told me about a quote she keeps on her windowsill that reminds her to be in the present moment.
And that's when I knew that I would find a photo of one of my favorite authors, Tasha Tudor (who passed in 2008 – oh, how I wished I could have met her!) and I'd include my favorite quote on it from her – " I don't believe in hurry."  It is perfect sitting on my windowsill where I now see it several times a day.
And it's a reminder to s-l-o-w down when I find myself trying to rush through life- but a practice of being more in the present and believing that everything will get done and will happen as it is supposed to, that I find this quote helps remind me of that. Every time I read it I immediately feel calm and at peace.
Thank you to Rachel for the idea it inspired and thank you to Tasha Tudor for the quote that I find much comfort in.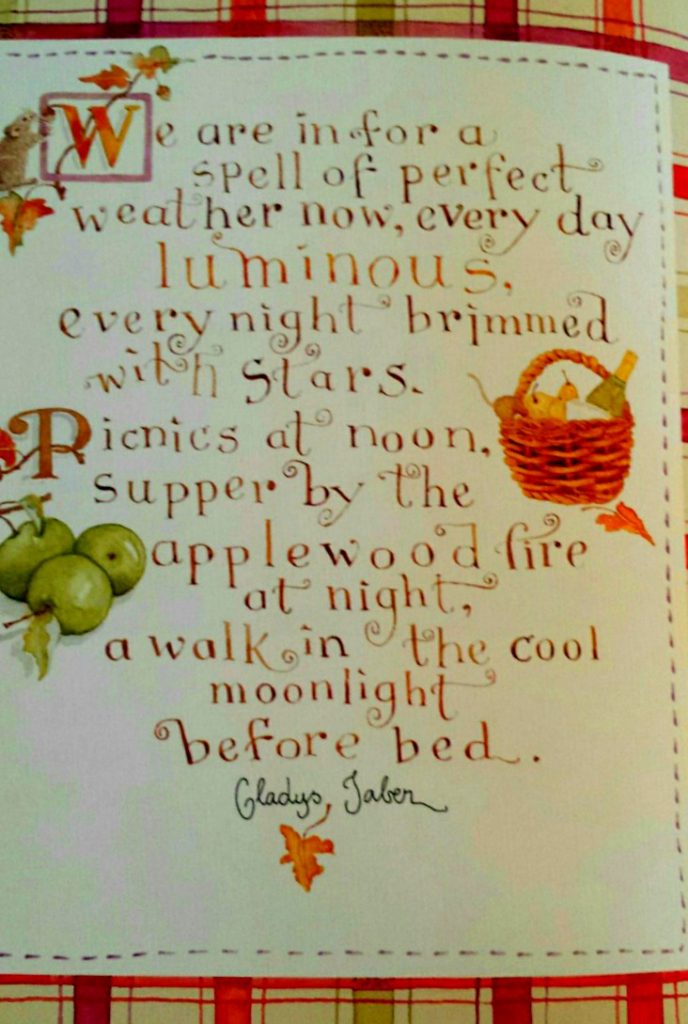 This quote from another favorite author, now gone, Gladys Taber — as seen in Susan Branch's (yet another favorite author of mine – and still with us!) book, Autumn from the Heart of the Home.
Thank you for sharing and subscribing to my blog updates.