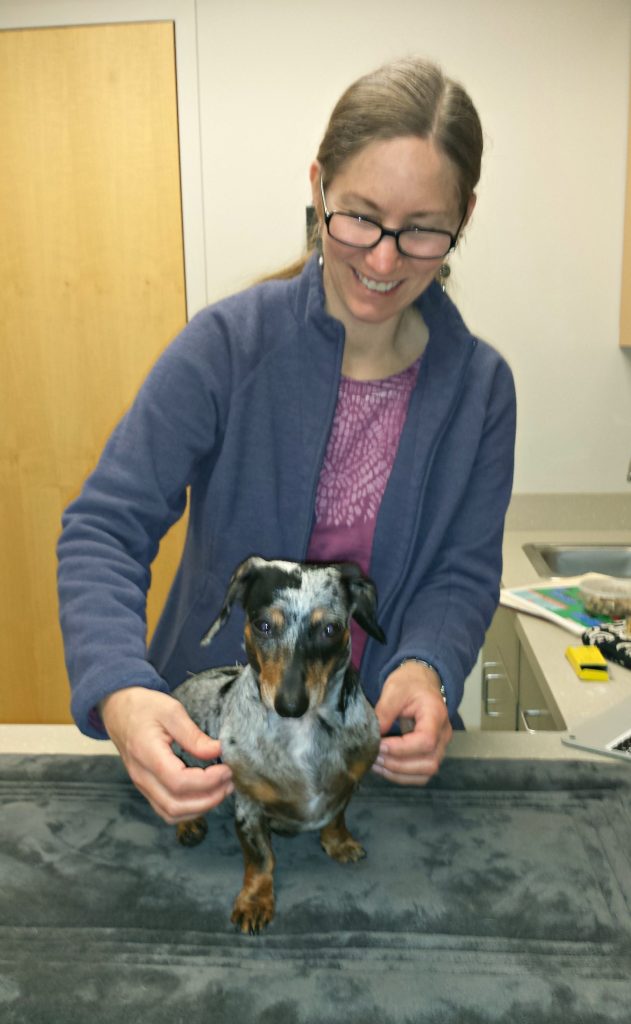 The photo is of Dr. Andrea and Gidget from last year. I wanted to get a photo today, but completely forgot!
At any rate, going to see Dr. Andrea is a joy. Just like the few times we sent to see her last year, I left today with a nugget or two of new information. It always proves to add to my education of life with dogs and their wellness, which I really appreciate. I only wish Dr. Andrea wasn't two hours from where I live! But the good news is I can keep her updated via email, which I also very much appreciate.
Gidget's report was good. And Gidget really does get a report card, which I should receive via email in the next day or two. Another reason I love taking Gidget to Dr. Andrea. Today we talked about food, supplements, weening her off one of her herbs, and chiropractic care — all things that are typed up and sent to me in a report card for consideration.
As I mentioned last year, what I like about seeing Dr. Andrea is that she looks at Gidget as a whole dog – her breed, her environment, her personality, etc. in determining what she feels will benefit Gidget and her special needs. Just like people and what works for one person, may not work for another, the same is true for dogs.
If you live in, or near the Madison, Wisconsin area and are looking for a veterinarian that practices holistic and western medicine, I can't say enough good about Dr. Andrea. You can check her out on her website here.
Thank you for sharing and subscribing to my blog updates.