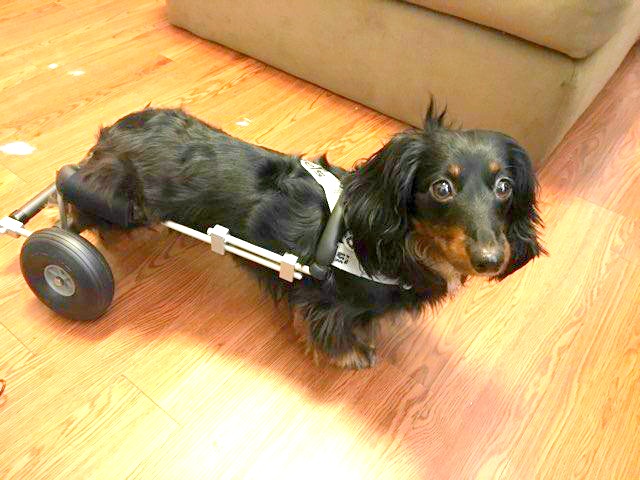 It happened again. The emotions overcame me and tears flooded my eyes while my heart swelled to ten times its size.
I mean, seriously, look at this sweet girl. Her name is Bella. Her mom, Kourtney, contacted me a few weeks ago, beside herself that her sweet doxie could no longer walk. She wanted to give her a quality of life with a set of wheels, but her tight budget didn't allow for any extras.
Well, the Frankie Wheelchair Fund was honored to come to the rescue! And now, Bella can fly again!
Receiving the note of joy from Kourtney today I couldn't help but think of how appropriate the title for this post as, 'A Christmas Blessing.' A blessing it is, and it will always be, every single time I have the honor of providing funds to help another paralyzed dog with the gift of mobility.
And a wonderful time to say a deeply grateful thank you to each and everyone who continues to support this mission of mine with donations. You are all part of my team that helps disabled dogs fly again! I simply couldn't do this without you and I can never say thank you enough.
I know you will join me in wishing Bella many, many joyful years of flying to her hearts content in her wheels!
If you wish to help me grant wheelchairs to paralyzed dogs in need, you can donate here. And if you'd like to check out the more than sixty happy flyers we've helped, visit here.
Bella's wheelchair custom–made by Eddie's Wheels for Pets.
Thank you for sharing and subscribing to my blog updates.