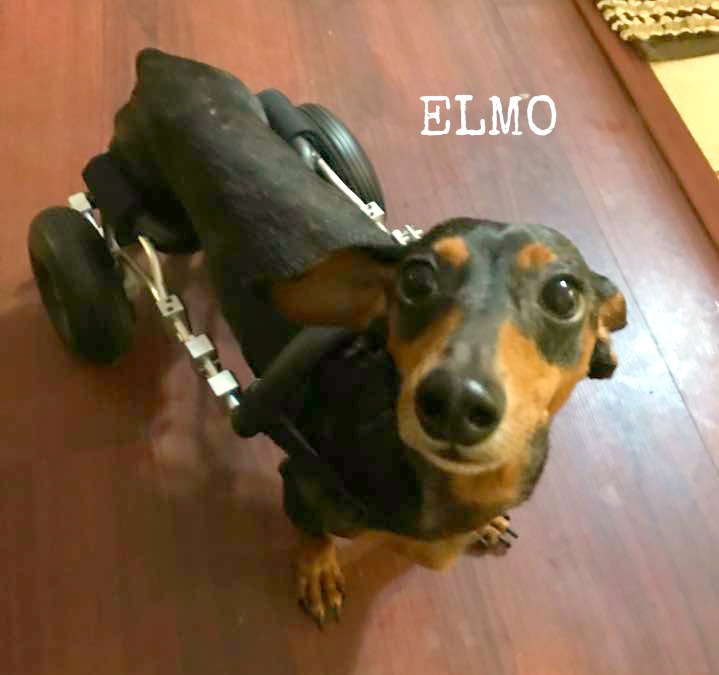 Another pup up and rolling! Get along little doggie and roll, roll, roll!
I'm excited to share that Elmo is the 62nd dog the Frankie Wheelchair Fund granted a wheelchair to.
Elmo took right to his wheels as it seems most dachshunds do. You just can't tell a dachshund that they can't fly, because they are always eager to show you otherwise.
Elmo's one ear back I'm sure is to help with speed in his new wheels and the other ear out to the side to help in navigating turns. Gotta love those determined and high spirited doxie's!
And really good news about Elmo who was being fostered through Lovey Loaves Sanctuary is that his foster mom has become his forever mom! That deserves a spin around the floor in his slick wheels a thousand times over.
I know you will all join me in saying congratulations to dear Elmo!
Our Frankie Fund was also recently able to help a little dog named Wiz with a new saddle for his wheelchair. It seems Wiz was having an issue with his male part – and oh dear – even with a name like Wiz.
He had just gotten his new wheelchair, which has already set his caretakers back financially so they didn't know how they could swing a new saddle so his delicate male part would be more protected.
Eddie's Wheels contacted me asking if the Frankie Wheelchair Fund could help. And of course, we don't want to keep a good man doxie down, so it was a pleasure to help.
While I'm on the topic of wheelie dogs today and IVDD, I want to take a moment to once again share two excellent resources regarding this disease.
I talked to a woman yesterday afternoon distraught after her 8 1/2 year old dachshund just had surgery and needed to know there is hope.
It's a good reminder to share these resources I find so helpful and gave me peace of mind when my dear Frankie went down.
Dodgerslist is an online organization dedicated to educating the public about IVDD and helping pet owners whose pets have been given this diagnosis. I highly recommend signing up for their forum group and purchasing their three dollar DVD on living with, and caring for a dog with IVDD.
The other relatively new resource is an excellent and very detailed book with a splash of humor written by Kristen Leydig Bryant and Dr. Adam Christman called Honey Have Your Squeezed the Dachshund. Every dachshund owner, whether your dog had IVDD or not, should have this in their library. You can purchase it on Amazon.
Elmo's wheelchair is custom-made by Eddie's Wheels for Pets,- the company that I prefer and always refer when asked.
If you'd like to help me continue my mission in helping paralyzed dogs with wheelchairs you can donate to the Frankie Wheelchair Fund here.
Thank you for sharing and subscribing to my blog updates.