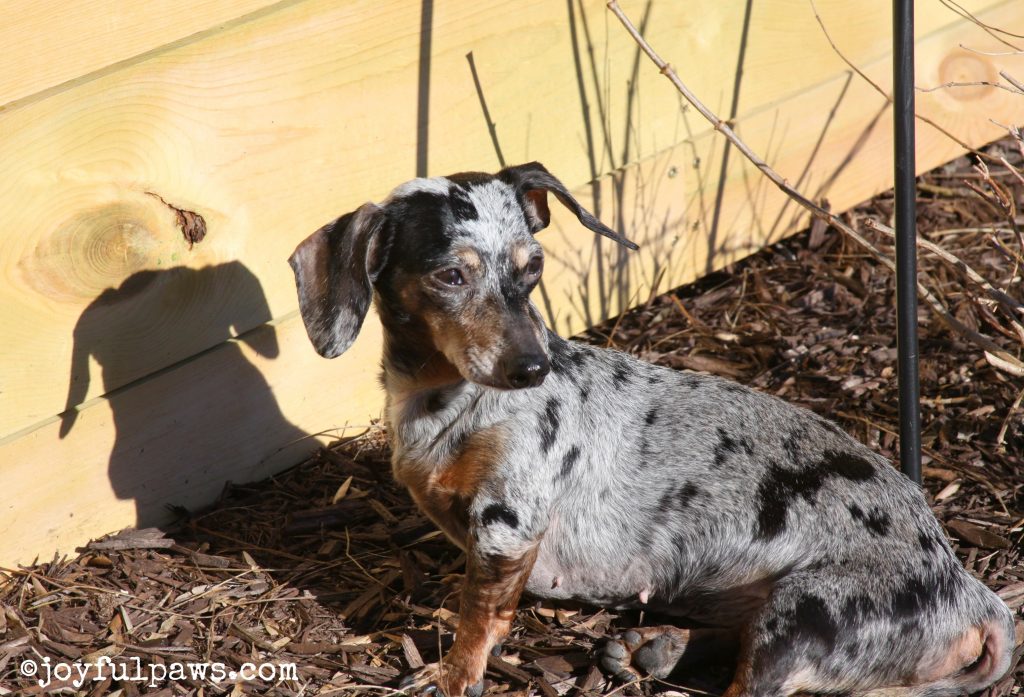 Our winter has been mild here in Wisconsin, though it's been rainy and cloudy for most of March. But earlier in the week it was beautiful and I took advantage and walked our 3/4 acre yard with Gidget.
It was delicious to feel the warm sunshine on my face and let the sun soak in my skin, the wind kiss my face, and watch Gidget wiggle walk through the grass. I truly appreciate simple moments such as this.
After our walk around the yard, Gidget was smart and found the perfect spot to rest on the west side of my writing cottage to soak in the rays and be out of the wind.
As I watched her, emotions rose up in my heart. I'm treasuring my time with her as I'm pretty sure when the day comes and she makes her transition, she will be my last dog with IVDD I take in. It will then be time for me to rest from my service to these special dogs.
It's taken me a few years to be okay with this. But little by little I've come to realize it is time. While I continue to voice it out loud to family and friends as a way to hear it and accept it, I've also had moments of tears (and feel emotional just writing this post) thinking about it as my heart will always love these special little ones so much.
In many ways it's hard to picture my life without caring for a dog with IVDD. But I also know I'm tired and it's okay to be honest about that.
The simple moments I relish more dearly than ever is in part because of what I've learned from my wheelie and IVDD dogs – they have put so much into perspective for me of how precious life is. It was meant to be the journey I've traveled with each of them.
Just as it will be meant to be when the time comes to continue on my journey in a new way. For now, I soak in all the love and my time with dear Miss Gidget. And perhaps her soul contract with me during this time in my life was to help me come to this decision with peace and acceptance in my heart. Thank you, little one. Thank you.
Thank you for sharing and subscribing to my blog updates.