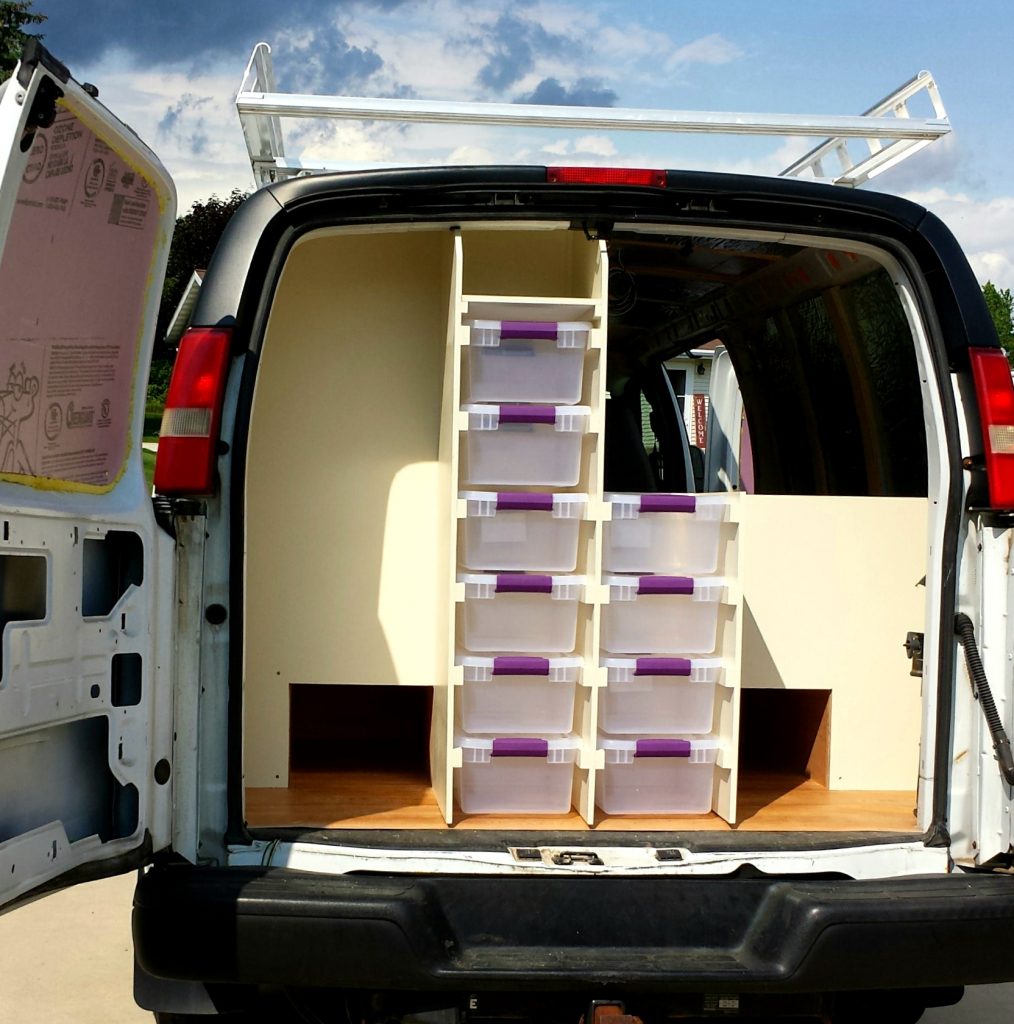 It's been awhile since I updated you on our Chevy Cargo Van we are converting to a camper – nicknamed The Vamper and Second Chance. As life usually goes, it has been a full one with John's work schedule. So Sunday's pending no other obligations is the only day he really gets to work on it.
But today was a big victory in completion of the most time consuming part of the project – storage!
The back end of the van as you can see from the photo, is what John custom built for storage. The dividers he painted an antique white since the space is small, this will help keep it bright and make it appear bigger also. Besides the plastic container storage if you look to the left and the right of the column of storage bins there is space on either side on the floor for storage, which is technically under my bed on the other side of that wall.
The open space on top right is where John's bed will go and will run length wise of the long part of the van. And pending all keeps on schedule, that will be next week Sunday that he will build his bed.
Our drive-away awning tent that will attach to the side of the van for extra space and what will be our outdoor kitchen also arrived. We haven't set it up yet, but here's a photo of it from the website we ordered it from.
So it is exactly what it says…we can drive our van away and the tent will remain standing wherever we camp. But when attached to the side, we can have the side van doors open. And it is the Airbeam technology which means no poles to deal with – just pumps up in about five minutes…so the relaxing can happen much sooner!
My task this next week is to find and order a camping stove. Once the bed is done and the stove is here, we plan to take the Vamper on a test run outing! Yay! The kitchen inside the van still will need to be done, but at least now we can go and get in some R & R, which we think will help serve in designing the kitchen and the rest of the van.
It's getting really exciting now…!!!
Past posts for Have Van Will Travel Journal
The Adventure Has Begun. New Home on Wheels. Who'd of Thunk?
Inspector Approves of Phase One Conversion
Slow and Steady Wins the Race (video)
Thank you for sharing and subscribing to my blog updates.