Join us for our 1st Annual
National Walk 'N Roll Dog Day Celebration!
Dog Photo Contest
September 16-September 21, 2012
WHERE:  Happening on our Facebook page!
GET READY FOR THE CONTEST WHICH OFFICIALLY BEGINS SEPTEMBER 16,  
BY READING INSTRUCTIONS BELOW AND START TAKING YOUR PICTURES!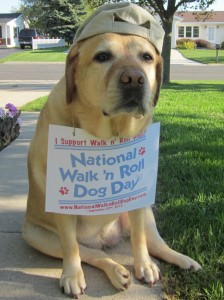 First,  right click on one of the following signs below (if you have a walk n dog, print that one, if not, print the one saying you support walk 'n roll dogs).  Then save image to your computer.  Find saved image and print out being sure to print out as the full size of 8.5 x 11. You must have your dog pose with one of the signs below to be eligible to win.  As you can see to the left, here is my dog Kylie who was glad to oblige to help out a good cause in memory of her little sister, Frankie the Walk 'N Roll Dog.
'
Second, take photo with appropriate sign with your dog.  Have fun!
STARTING SEPTEMBER 16:
Go to our  facebook page and "like" the page if you have not already done so.  Then click on photos tab and then click on album titled NWNRDD 2012.  Then add your photo to the album.  You can start posting on Sept. 16th at midnight and post until midnight on Sept. 21st.
All entries are eligible and will be entered into our drawing!  We are giving away three prizes!  Winners will be chosen using www.random.org.   Contest open to US citizens only.  Winners will be posted on our Facebook page on September 22, 2012.  You will have seven days from posting to notify us if you are one of the winners and provide us with your mailing address for your prize.  If we don't hear from winner(s) within seven days another winner(s) will be chosen.
Grand Prize
A basket full of doggie goodies sponsored by LoveyLoaves special needs animal santuary
Includes:  Freezer Pups Starter Kit from Freezy Pops, Beach Ball from People Saving Pets/Petsmart Charities, Travel Water Bowl from Invisible Fence, Stuffed Bobo, Frizbee, Balls and misc. toys, and Fruitable Pet treats from LoveyLoaves
Second Prize
A beautiful hug-a-dog harness from Dachshund Delights and a set of Frankie the Walk 'N Roll Dog children's story books donated by author Barbara Techel
Third Prize
Copy of "Almost Perfect:  Disabled Pets and the People Who Love Them" and"Dogs and the Women Who Love Them" and set of Frankie 6-pk. magnet set donated by author Barbara Techel
Grand prize will be mailed to winner from LoveyLoaves, Hug-a-Dog Harness will be mailed from Dachshund Delights and all other prizes mailed from Barbara Techel.
Learn more about this special annual day which was founded in August 2012!