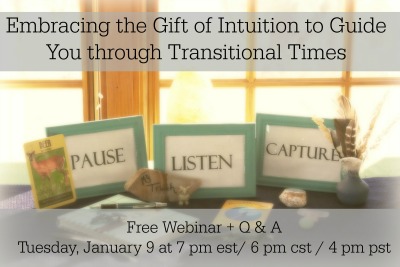 Here in the Northern Hemisphere, colder days have arrived, and while the light is gradually extending its reach a bit longer every day, it's the perfect the time to go inward to pause, really listen to your heart, and capture the nuggets of wisdom just waiting for you.
With the holidays behind us, you are likely giving thought to what so many of us do, and wondering how this year will be the one you live with more intent and meaning…and the one you will begin to embrace more fully who you are and what matters to you.
Perhaps you are in a time of transition and wondering what is next, or how to take steps toward living a life on your own terms.
What if you took the time right now, when life does not seem to have as many demands as others seasons can bring, and learn to hone in on your intuition? So when you find yourself in more challenging times of transition (and you will because this is all part of experiencing life fully!), you will feel more centered and empowered.
If that sounds like a gift you'd like to give yourself, then I invite you to attend my complimentary online webinar training and Q & A which is coming up on Tuesday, January 9th.
It's called: Embracing the Gift of Intuition to Guide You through Transitional Times.
I believe that by understanding and opening to the gifts of intuition it can guide us to more easily answer the bigger questions about life when they present themselves, and when we do, more magic and love is able to take center stage in our hearts.
The truth is we are always in transition — some small — some big, because we are always expanding and evolving. By spending quality time in self-reflection, turning into the messages within, and capturing what matters, this is the foundation to more clarity, inner peace, and a life that is more fulfilling and meaningful.
One of my favorite quotes by one of my favorite authors, Joan Anderson, speaks to the vital importance to this inward journey:
Nothing happens overnight. Developing a relationship with the unknown takes time. In doing so the seeker is granted the greatest gift of all—clarity. I have come full circle yet again. I must always be willing to journey forward—spiral into the center and then back out again. Then and only then will I be whole, in touch with all that I am.
In this valuable complimentary webinar, I will share:
Why 15-minutes a day devoted just to you, will have you not only feel more calm and in balance but living with more awareness of what matters.
How working with images in a fun, creative, and inspiring way can gently speak to deeper wisdom that can provide guidance in your everyday life.
Why re-training your mind will have your body following suit — it's not just about eating a good diet.
How to pay attention for signs and symbols that confirm you are on the right path.
How embracing transitional times as a gift can reveal blessings.
Mark your calendar! This enriching and valuable webinar is completely free…
Date: Tuesday, January 9th, 2018
Time: 4 pm pst/ 6 pm cst/ 7 pm est
Bonus for Registering: Receive my interview, in which transformational coach, Jocelyn interviews me about how opening to the messages from animals, nature, and oracle cards can guide us.
Special Bonus During Live Call: Everyone who attends the webinar live will be entered for a chance to win receive one of three 30-minute readings and intuitive guidance sessions with me. It will be a beautiful way to feel supported and gently guided toward tuning into your intuition so that you can take meaningful steps forward.
I'm looking so forward to seeing you at the event!
In gratitude and love,
Barbara Techel