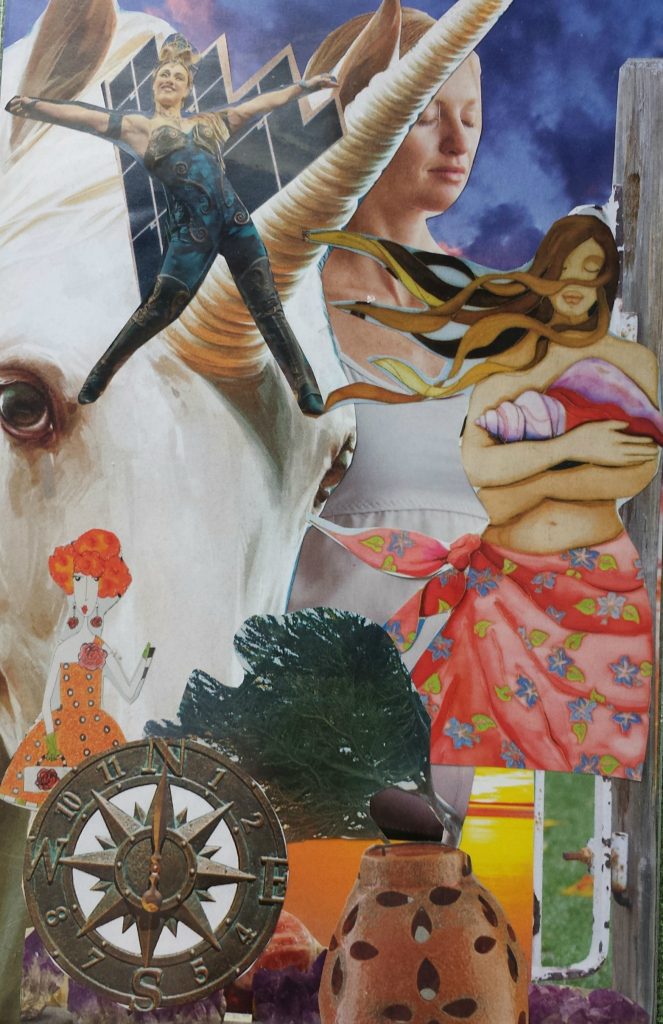 Last year I was introduced to using twelve images, picked at random, from twelve different magazines to intuitively help create my New Year.
Initially, I was intimidated. While I enjoyed going through the meditation process for each month that led me to choosing twelve different images, when it came time to get all those images onto one 5 x 8 card fear set in. I thought there was no way I'd be able to do it.
In the "normal" process of doing SoulCollage(r) we work with an average of 2-5 images per card. I say "normal" as there is no right or wrong way to do this process, just helpful hints and suggestions. But twelve images on a card? That really did seem impossible.
But I'm happy to report I did it!!…and was quite pleased and ecstatic that I did.
Well, then I was hooked, and repeated the process again this year, which I then also facilitated a workshop at my Joyful Pause studio this past Saturday on this very process which I learned from SoulCollage(r) facilitator, Andrea Thuler who lives in Switzerland.
Above is my card I put together for 2017, which I did a few days before I taught it to seven other wise and wonderful ladies. I have to be honest and humble here…I am in love with my card! I look at it and I can hear and see my soul with clarity, which is such a beautiful thing.
It speaks to me of my uniqueness in who I am, how I want to continue to dance more fully into who I am, how I find strength and courage from my rituals of meditation, yoga, and listening to my inner voice, how I feel the light inside me burning bright again, how my inner compass is my true guidance, and how I want to live more and more from that wild and wise person that I know I am.
But what lit me up even more was watching the participants in my workshop, half of which were new to SoulCollage(r) as they went through this process…and the revelations that it presented for them.
To watch as many began the process of letting go of what no longer serves them and finding the strength to step into who they really want to be….well, let's just say, it was magical, priceless, and left my heart with a very good feeling, which still vibrates within me today.
I've walked the journey of letting go, and continue to… as like everyone else, I am a work in progress….which is perfectly OKAY…we are unfinished women, with so much more to give, finding our way to shine in this world.
One woman said of the experience, "My soul gained a little serenity today." I wanted to weep with joy from that statement as this is the calling I've felt drawn to for quite some time now…
to help and encourage others to open to their own souls whispers and wisdom.
Thank you for sharing and subscribing to my blog updates.