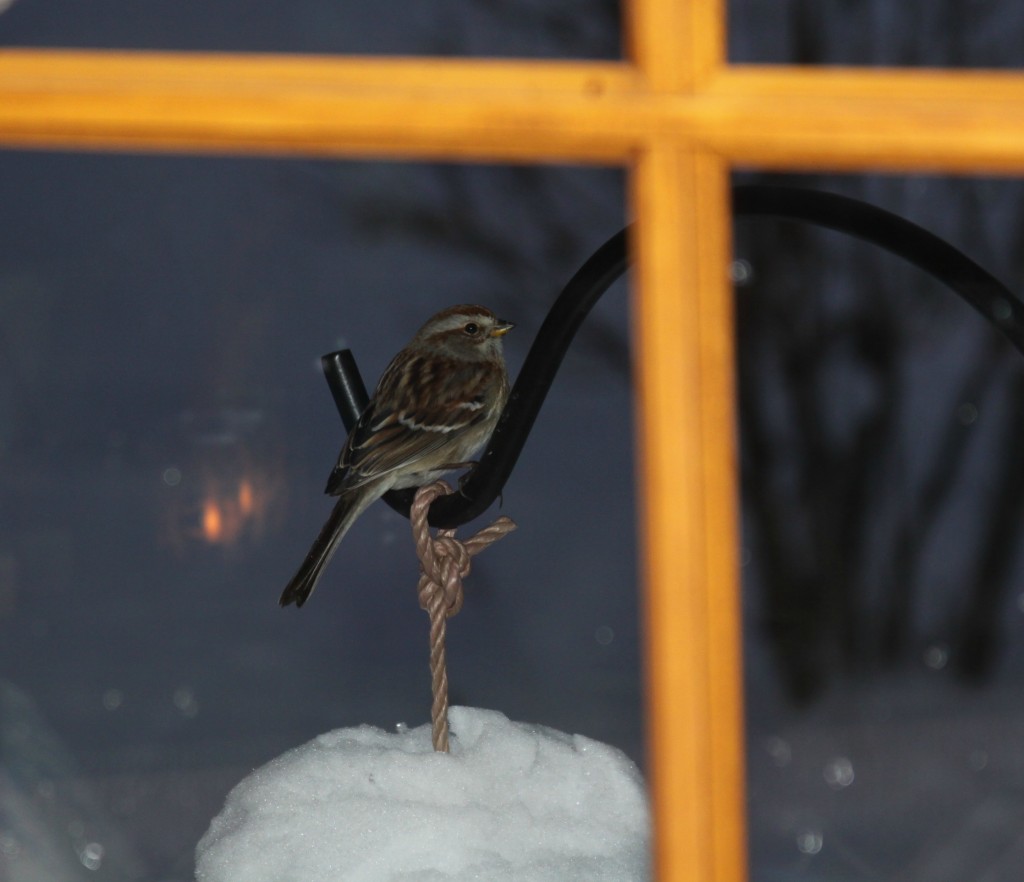 I took this photo of this sweet, little bird yesterday about a half hour before the sun came up.
Today as I think about the New Year just a few hours away, resolutions are the furthest thing from my mind. They usually are. I don't set them any longer.
But I did give thought about how I want my life to look like going forward. And I want to live more like my winged friends — the birds, butterflies and dragonflies.
I want to be more open to the flow of life — and not hanging on so tight to things and circumstances I don't have control over.
A few weeks ago, a friend booked a private SoulCollage® workshop with me. She wanted to set her intentions for the New Year.
As we sat in my new Joyful Pause studio in the lower level of my home, I invited her to think about how she wants to feel in 2016.
While I think it's great to set goals and intentions, I believe what's really at the core of those intentions, is how we want to feel.
While she worked on her SoulCollage® card, I intuitively worked on mine without setting an intention really, but instead giving thought to how I want to feel.
As we perused the many images I have set up on tables, an image of a yellow butterfly tugged at my heart. I knew I needed to work with her in creating my card.
And this is my completed card below after working with several images before it felt right and I glued them down.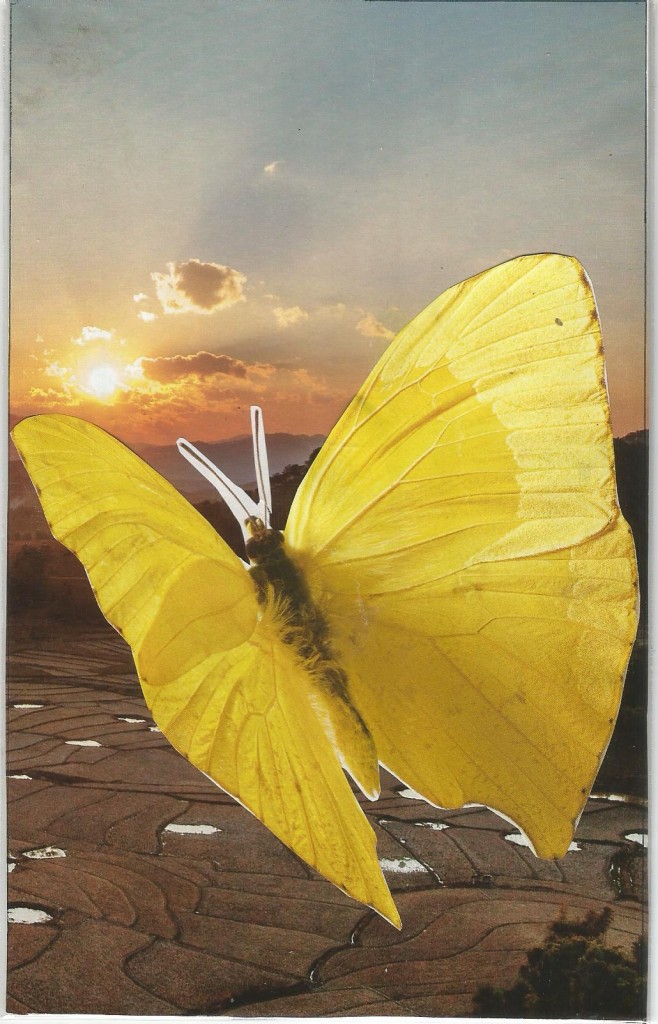 After my friend and I created our cards, we journaled with them also. This is what my card had to say to me:
I am one who wants to flow with ease along the path of faith and trust in what spirit has in store for me. I want to allow my path to unfold more organically, learning to let go of trying to control outcomes. By doing so, I will feel as light and free as a butterfly, enjoying the ride, and all the gifts that come with expanding my wings.
And that's it really, I want to feel lighter in letting go of worries and accepting life as it is presented to me.
So while I don't have resolutions really, I am making a mental note to myself, with my SoulCollage® card I call Freedom Butterfly as my visual reminder of how I want to feel starting right this moment…and gently and softly fly into the New Year.
I shall stop now and then to perch upon a safe place to land, and sit silence as a way of reminding myself to keep my wings open to what Spirit has in store for me.
Wishing you all the best in 2016 and may your heart fill to the top with all that makes your life meaningful for you!
—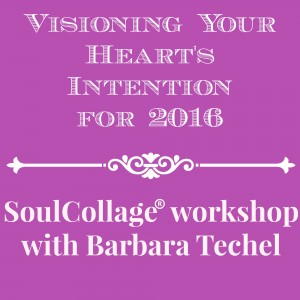 I'm really excited about facilitating a SoulCollage® workshop on January 16th in my new studio, Joyful Pause. I hope to encourage others to give thought to how they want to feel in the New Year, too.
If you are interested in joining me for this creative and fun workshop, please check out the details here or click on purple graphic on the left.
Thank you for subscribing to my journal posts.