A portion of all sales benefit the Frankie Wheelchair Fund which helps disabled dogs with mobility issues with a dog wheelchair. Learn more about the fund here.  Please also see store page for inspirational gift items!
Through Frankie's Eyes: One woman's journey to her authentic self, and the dog on wheels who led the way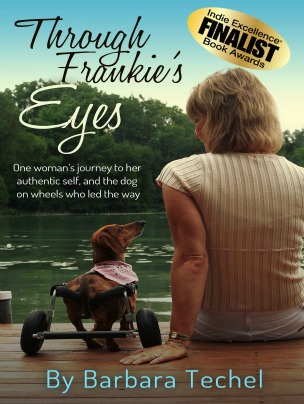 Also available on KINDLE or other E-READERS
Or ask your local independent bookseller or library to order the book for you!
Available locally:  Book Heads and Cassy Tully – Fine Art Gallery and Shop in Plymouth, WI;  Book World inside Memorial Mall in Sheboygan, WI and  BookWorld in Fond du Lac, WI
Reviews for Through Frankie's Eyes
Read an excerpt from Through Frankie's Eyes
Children's Books By Barbara Techel
Frankie the Walk 'N Roll Dog 
BUY NOW on line at:
Or ask your local independent bookseller or library to order the book for you!
The true, inspirational story about Frankie, a dachshund, whose life started out like any other dog walking on all four paws until a spinal injury leaves her paralyzed.  Frankie is custom-fitted for a wheelchair and learns to keep on rolling.  Her zest for life will have you cheering and she will give you hope that all things are possible. 49-pages Watch Book Trailer on Youtube
Awards: National Best Book 2008 from USA Book News, Merial Human-Animal Bond Award from Dog Writer's of American Association, Editor's Choice award from Allbooks Review, and Indie Excellence Awards Finalist
 Frankie the Walk 'N Roll Therapy Dog Visits Libby's House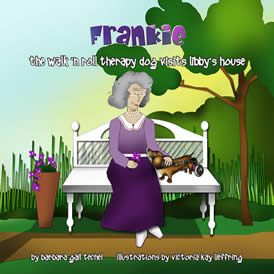 BUY NOW on line at:
Or ask your local independent bookseller or library to order the book for you!
Frankie the Walk 'N Roll Dog keeps rolling along in her doggie wheelchair. This paralyzed dachshund's unabashed healing, exuberant spirit, and spunky personality is a blessed gift to everyone she befriends.  In this true, inspirational story, Frankie tells how she became a registered therapy dog and shares her visits to Libby's House, a senior facility where many residents have Alzheimer's or dementia. Frankie teaches us that patience, listening, and understanding opens our hearts to what matters most—love. 49-pages  Watch book trailer on Youtube
Awards: Indie Excellence Award, Midwest Book Award finalist
A PAWSitive Coloring and Paper Dolly Activity Book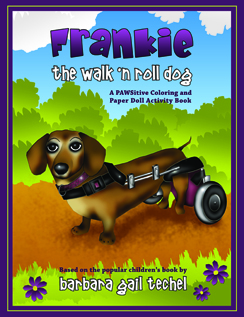 BUY NOW on line at:
Or ask your local independent bookseller to order the book for you!
Three Books In One!
It's a story book based on the award-winning book, Frankie the Walk 'N Roll Dog (shorter, condensed version) pages to color along to the story, plus real photos of Frankie, and to top it off, a Frankie paper doll (dog) complete with her wheelchair to cut out, along with many of her favorite outfits you can dress her in. 52-pages of fun and inspiration!
Frankie the Walk 'N Roll Dog Activity Ebook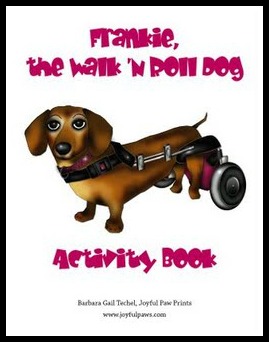 Download as a PDF for $4.95. Print an one or more activity sheets as you want them!
Frankie further expands on her message in this 28-page activity book that overcoming a challenge can be done by having a positive attitude. This book is filled with activities such as word searches, crossword puzzles, coloring pages, and mazes to teach children that challenges are given to help us learn and grow.
 For the Love of Animals: A Collection of Short Stories ebook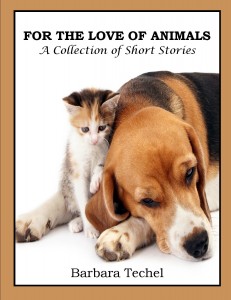 BUY NOW on Kindle

Or get as a free download when you sign up for Joyful Paws newsletter (on top left hand side of page).
Twelve short stories.
My life transitioned when my chocolate Labrador, Cassie, was diagnosed with terminal bone cancer in late 2004. Watching Cassie live each day with the same joy she always had, even with cancer, made me yearn for more joy in my own life. Because of Cassie, I took a three-month hiatus from my small business, to work with a life coach, and think about what I truly wanted for myself. What would bring me more happiness? I wondered. From that sabbatical, I discovered how deeply I truly love animals. I decided to become a writer so I could share my love of animals with others, the many lessons I believe they teach us, and all the joy they bring to our lives. I like to think of my journey since then, as "Joyful Paws." You see, I paused (paws) long enough in my life to really give thought to what makes me most joyful. In turn, that has helped me to live with more purpose. And I happened to learn all of this because of a dog.