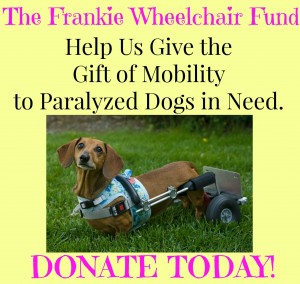 In the summer of 2012 I founded the Frankie Wheelchair Fund and National Walk 'N Roll Dog Day in loving memory of my wheelie dog, Frankie, to continue her mission of bringing positive awareness to the fact that dogs in wheelchairs can live long, happy, quality lives.
Through the generous donations of others and fundraising efforts, the Frankie Wheelchair Fund has granted wheelchairs to disabled dogs in need. To date, our efforts have helped sixty dogs gain the gift of mobility!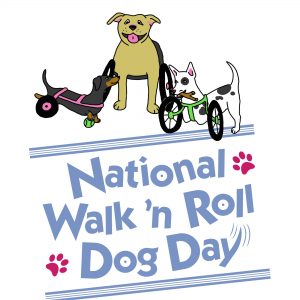 National Walk 'N Roll Dog Day is my near and dear to heart effort to keep Frankie's mission alive with many photos and stories I share on our special Facebook page highlighting the beautiful lives these wheelie dogs live and the many lives they touch.
To learn more about National Walk 'N Roll Dog Day and to donate and/or learn more about the Frankie Wheelchair Fund please visit our website here.
Helping Paralyzed Dogs In Need: Interview on WFRV TV about National Walk 'N Roll Dog Day & Frankie Wheelchair Fund
Because Special Needs Pets Matter
Frankie the Walk 'N Roll Dog
Homemade Dog Boots for Paralyzed Dogs
Think a Dog with IVDD Can't Live a Happy Life? Think Again!