Tap into your Inner Wisdom with SoulCollage® and Live a More Meaningful Life
My Path to Becoming a SoulCollage® Facilitator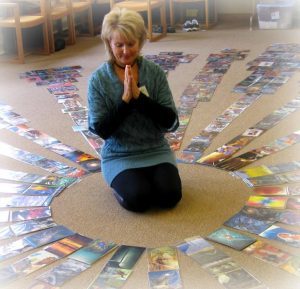 I found myself in a place I didn't want to be…transition. While at times I welcomed it, most of the time I fought it.
It was uncomfortable not knowing what was next when for the previous six years I had been on top of the world. I had found my purpose. Life was fulfilling and exciting, and making a difference brought me immense joy.
But then everything tied to that purpose, died. Read more here…
Principals of SoulCollage®
SoulCollage® is a creative collage process for…
Self-discovery, self-acceptance, and personal empowerment.
Embracing one's intuition and unique creativity.
Promoting inclusive, diverse, cooperative community for mutual encouragement.
Those practicing SoulCollage®… Read rest of principals here…