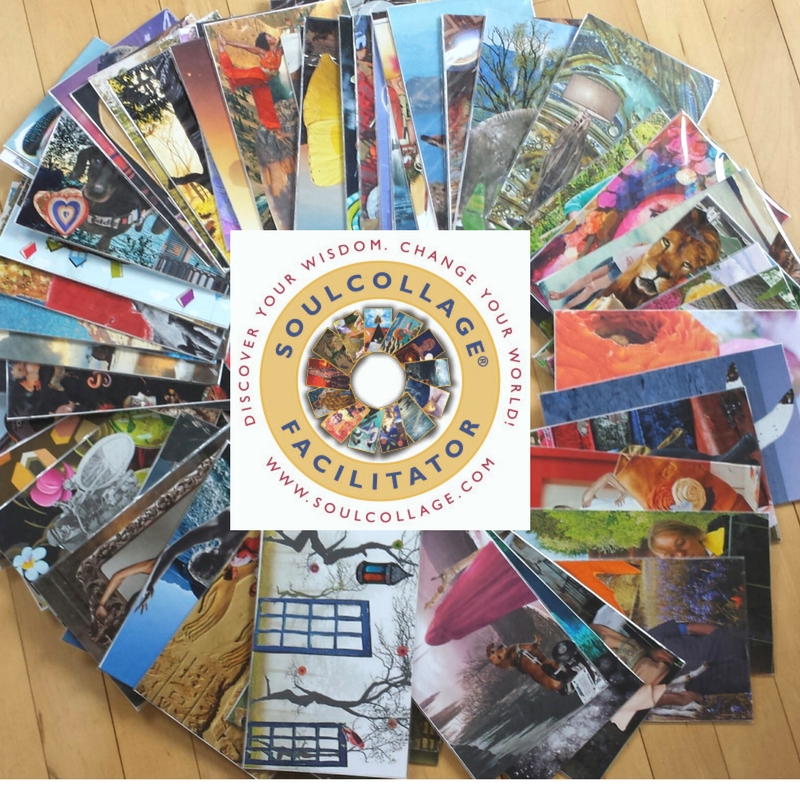 Our soul is like a soft and gentle flower, it needs to be nurtured, cared for, tended to, with sufficient sunlight, fresh air and freedom to bloom into its most precious and beautiful form. This, my friend, is self-love. ~ Miya Yamanouchi
What is SoulCollage®
Come experience and explore the magical, delightful and soulful process of SoulCollage®. You are invited to leave the linear world behind and shift into the realm of imagination and intuition using images and the SoulCollage® process— a very simple and interactive method. By making SoulCollage® cards that are unique and personal to you it becomes a creative practice to help you access your own inner wisdom for daily guidance, or simply as an avenue of self-expression.
SoulCollage® was created by Seena Frost and I'm so grateful for her for the vision of this process and inspiring countless facilitators to carry on this beautiful work.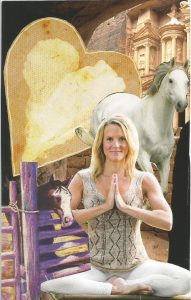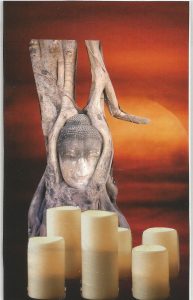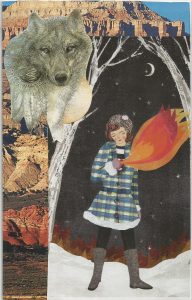 A sampling of some of Barbara's cards
A SoulCollage® Deck is the Story of You.
"It is a tangible way to know yourself in your diversity and depth, and also to show yourself to others. Showing your deck of SoulCollage® cards to another person can be a profound experience. In like-spirited groups, you can share cards and work with them in many sacred ways. You can consult them intuitively and discover wisdom within yourself which will amaze you. Besides all this, creating them is just plain fun! You will love your deck — a multi-card Mirror of your Self and your Soul — whether it consists of three cards or a hundred."
~ Seena B. Frost, SoulCollage® Founder

FAQ's about SoulCollage®
Is SoulCollage® right for me?
If you enjoy creativity, self-discovery, collage, journaling, being around other like-minded women, and creating art that is of personal use in working through your questions about life, this is an empowering and meaningful art form you will want to experience and will want to turn to often.
What is SoulCollage®?
It is process in which we:
Collage images onto 5 x 8 cards creating our own deck over time of personal SoulCollage® cards
Journal with each of our cards as a way to tune-in to our own intuition
Consult with our cards in a reading to gain deeper insight and help us answer life's questions
Create, share, discover, and enjoy in community
What is the intention of SoulCollage®?
It's intention is to help you tap into, and open to, your true essence by exploring, healing, and empowering all the many facets that make you who you uniquely are. This in turn can help you not only live a more meaningful and purposeful life, but when done in community it helps you be a gentle and caring witness to others thus increasing compassion for yourself and others.
How can SoulCollage® benefit me?
By creating cards, journaling and sharing in a trusted community you will begin to gain a greater sense of acceptance of who you are. The more cards you create the more you will begin to have more clarity, balance and sense of purpose. This sense of fulfillment can then help you live a life with more meaning and joy because you are tapping into what matters most to you. And best of all? It's fun!
What can I expect when attending a SoulCollage® workshop?
Each workshop begins in circle encouraging us to speak and listen to each other carefully. A non-competitive circle with a trained facilitator that guides us to feel free to express, explore and create in a trusted and supportive community.
An uplifting space in which you have time just for you without the worries of the outside world. A time to create by working with provided images that will guide you to your own innate wisdom, journal for deeper insight, and expression without judgement to guide you to what matters most to you.
You will take with you inspiration, a renewed sense of feeling centered, and feel more in touch with your inner self.
Learn more at www.soulcollage.com
Lovely Things People Have Said About Barbara's Workshops:
I had the enlightening experience to be a part of one of Barbara's SoulCollage® Workshops in her Joyful Pause Studio. What a great experience! I must admit, I was a bit unsure at first, but after getting started and collecting the images that spoke to me and when I put them together to make my first card I was blown away! Looking at that card and how just a few images combined can have such an incredible meaning brought tears to my eyes! Barbara is a very caring and knowledgeable facilitator. I am looking forward to taking part in more of Barbara's workshops in the future! I highly recommend attending one of her workshops either in person or online. There is nothing more satisfying than spending a few hours connecting to other women and learning a bit about yourself in the process! ~Lori Katte Helke, www.lorilovesparis.com
I have been honored enough to have been invited by a friend to attend the Joyful Pause Studio and a SoulCollage® workshop . I had no idea what to expect. I enjoyed it immensely, even cried a few tears with a few others. I highly recommend Barbara with her thoughtfulness, her great attitude and especially the added benefit of her entourage….and four legged friends. This is a great gift for friends. Pull a group together, you will not be disappointed. ~Rosanne Brandt
I have taken quite a few classes at the Joyful Pause Studio with Barbara Techel. Coming to the studio is such a joy. Barbara has created such a welcoming, creative and relaxing atmosphere. It is place for like-minded people to come together. Each of her classes offers a creative and enlightened outlet. The SoulCollage® is such a great way to open up and see yourself in so many different ways. Barbara is wonderful caring facilitator. You can feel how much joy she feels for each person as she teaches. I leave each class with a smile on my face and feeling more inspired. I look forward to taken many more classes with Barbara at her Joyful Pause Studio. ~Shannon Winter, Art by Shannon
I have taken quite a few workshops offered and facilitated by Barbara Techel—, SoulCollage®, Connecting with Animal Spirit Guides, Making Talking Sticks, to name a few. I found each workshop to be uplifting and, in most cases, transformative. I gained insights into who I am as a woman. Barbara Techel lovingly provides me with a safe place where I can connect with myself, learn something about myself, and, most of all, nurture myself. I give Barbara Techel and her workshops my highest recommendation. Give yourself a gift and attend one of her workshops. ~Connie Woythal, Coach at Dr. Connie Woythal
Even though I had done SoulCollage® a number of times with various facilitators I feel that Barb has created the best introduction. Her explanation of the difference between an Intuitive card and an Intentional one led me to create a very meaningful memorial for a loved one that I had just lost. The process helped relieve my grief and celebrate the life and love. I looked at that card many times over the next few weeks. It gave me something physical that I was able to share with others, too. ~Lisa A. Lehmann, Lehmann Photo Art
We all get swept away each day, on little journeys—-some with our minds, some with our hearts, some with our bodies… LOTS going on with family, friends, work, projects. And whether we knowingly or unknowingly get ourselves to that place, where we don't know if we can fit one more thing on our "plate", something inside us speaks and perhaps even shouts to taking a pause to care for ourselves. I believe SoulCollage® with Barb in her Joyful Pause Studio provides such a magnificent gift we can give ourselves. It's so simple, something to anticipate; it's a beautiful gift to yourself—and a great gift to give to someone you love and care about as well. Think back on your life and the moments and memories that are still fresh & remain strong in your mind & soul—-sharing SoulCollage® time with Barb will be an experience like that! One you will add to your personal treasure chest of life's very special moments… you will be so glad you paused to do this. ~Victoria Nack
After two workshops with Barbara Techel (and co-presenter, Rachel Nick), I am happy to give Joyful Pause Studio and the good work being done there a five-star review. If you are looking for a creative outlet in a warm and supportive environment, you have found the right place. Time spent in Barb's lovely studio is time well spent for sure. ~Lisa Brotz, Photogrpaher
Wonderful experience . . . enough framework provided to support the individual experiences, sprinkled with a group introduction and completion – while plenty of time for personal work and reflection in between. Barbara has a unique sensitivity to the needs of all participants and a warm and encouraging spirit. I always pay attention to her offerings — and, consider her individual sessions! ~Linda Cates
SoulCollage® is such a vibrant creative practice! I'm surprised by how spiritual it is, and the insights that come from the cards are so personal and astounding. I've been a visual artist for many years and this is the first creative practice I have done that is introspective on a deep level. Thank you Barbara for this course and for enriching my spiritual path. ~Kathryn Sturges, Mixed-Media Artist
I always like to tell my students in order to give it you have to live it. This is what Barb exemplifies. I've watched her grow over the years, and how the knowledge and wisdom she has gained is being used to help others on their life's journey. She has such a compassionate joyful heart, and is SO authentic with nurturing and caring for others through the different workshops, classes, other things she has to offer. If you want support, your looking for results, whether on a personal or professional level, I highly recommend you take one of her offerings. ~Pam Kachelmeier, Equine Assisted Coaching Association
I have attended a few of Barbara's SoulCollage® and Talking Stick workshops. The current transition in my life has led me to seek ways to help re-connect with myself. It was amazing to me how this process made me think differently as pictures spoke to me and how I can still look at my cards and talking stick on another day and find another meaning to connect with. I really enjoyed these workshops. I gained different perspectives from Barb and other women that I would have never thought of. I look forward to attending future workshops. ~Donna Haas, The Art Side
Just loved my experience. I want to go again. It was insightful and fun. Very peaceful environment. Barbara is
a wonderful facilitator. ~Cathy Siminow
Barbara's Joyful Pause Studio is a sacred safe space where like minded women gather in support of each other while discovering themselves. I have found my time with Barbara in her Joyful Pause Studio to be Magical, peeling away my many layers, in my on going attempt to discover my Authentic Self. I am a work in process. Give it a try… You will be glad you did. I have taken several of Barbara's classes/workshops. I am always looking forward to attending Barb's next class/workshop. Every time I discover more & more about myself. Give yourself the best gift of time with Barbara at one of her well thought out opportunities of fun & self discovery. ~Sandy Janquart
Barb's SoulCollage® workshop is amazing! We had the workshop in my workplace as a team building and personal enrichment activity. It far surpassed all of our expectations! She gently guided us through the process of looking inward, reflecting and examining the multi-faceted layers of ourselves. Very professional and soulful. I would highly recommend this workshop to experience all that Barb has to offer! ~Dr. Cindy Munson, Chiro-Health Chiropractic
What a wonderful experience with a great group of women! I highly recommend taking part in any workshop Barb offers as she is so in tune to everyone around her. It was a life changing experience for me; to finally focus on my inner voice and my intuition. Can't wait for the next one!! ~Christine Meyer
I recently signed up for the online SoulCollage® video series by Barbara Techel. I highly recommend this instructional video series, it is beautifully presented and very easy to understand. The process is a wonderful way to connect with yourself in a simple, fun way which Barbara explains with such passion and honesty. I was hooked by the first sentence and enjoyed being able to watch each session at my leisure and begin the process in the privacy of my own home. I have completed several SoulCollage® cards and plan on continuing the process. Barbara also has been very supportive communicating with everyone in the group, offering her expertise and assistance with any questions or concerns. I love this process and I am very happy I signed up for this video series. Thank You Barbara Techel. ~Laurie Lupo
SoulCollage® is a Registered Trademark. SoulCollage® cards are not sold, traded, or bartered to respect the artists whose images are collaged in the cards. To facilitate groups called "SoulCollage® Group" or to call oneself a "SoulCollage® Facilitator", one must attend a SoulCollage® Facilitator Training. For more information, read "The Principles of SoulCollage" at their website.