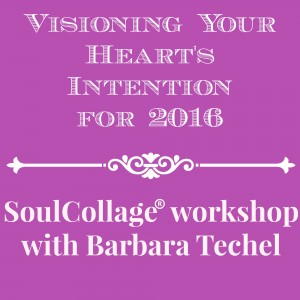 Setting goals is a great way to create a personal road map of where you want to go…
But there is something more I'd like to invite you to ponder…
How would you most like to feel in this coming year?
In this workshop you will:
Learn to tap into your intuition and use your imagination and work with images in a way that is meaningful to you for visioning how you wish to feel in the New Year.
Create a SoulCollage® card that speaks to you and will serve as a beautiful reminder of your heart's intention.
Receive guidance around the messages your SoulCollage® card has for you.
Note:  no artistic background is necessary and it is open to anyone who has previously made cards or is new to SoulCollage®.
My SoulCollage card for 2016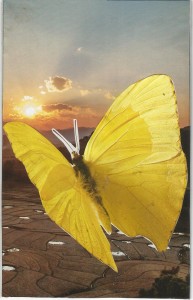 I am one who wants to flow with ease along the path of faith and trust in what spirit has in store for me. I want to allow my path to unfold more organically, learning to let go of trying to control outcomes. By doing so I will feel as light and free as a butterfly, enjoying the ride, and all the gifts that come with expanding my wings.
I'd love for you to join me in my new Joyful Pause studio for a thoughtful and creative respite to connect with what is at the core of YOUR heart's desire for the New Year.
When: Saturday, January 16th, 2016
Where: Joyful Pause Studio (Elkhart Lake)
Time: 1-3:30pm
Investment: $30 (materials included)
Space is limited. Register early.