Walking Stick & Mindful Walking Meditation Workshop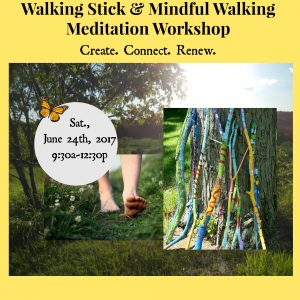 Connect with nature's healing energies, create your own walking stick, and take part in a walking meditation that you can incorporate into your everyday life as a practice to stay connected with your innate wisdom.
with Barbara Techel and Rachel Nick
Where: LaValley Nature and Equine Sanctuary, Elkhart Lake, WI
Time: 9:30am-12:30pm
To be notified when registration opens be sure to sign up for my newsletter.
Talking Sticks Workshop

Stay tuned for next date for this experiential workshop!
with Barbara Techel and Rachel Nick of LaValley Nature & Equine Sanctuary
Learn the meaning of Talking Sticks in Native American cultures and make your own unique Talking Stick. Tap into its healing energies and discover your own authentic voice and enjoy transforming conversations.
You'll learn the meanings of symbolism in materials used to create your own Talking Stick and how that symbolism can help you in understanding your own innate wisdom.