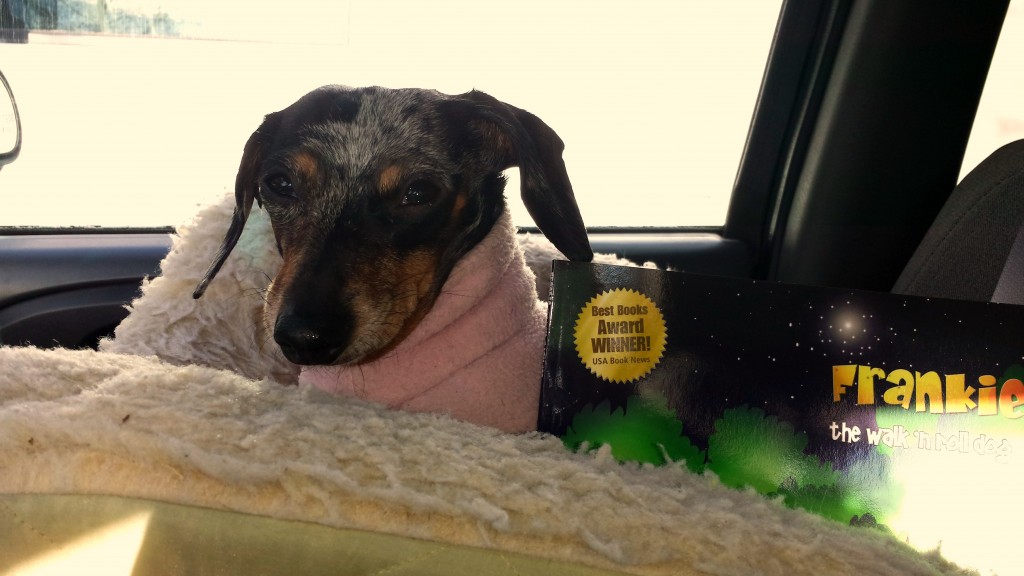 Gidget my faithful helper
Sometimes I swear there is a bit of Frankie's spirit in the my pint-sized little Gidget. It's hard to explain, but it's just a certain feeling that comes over me once and awhile – like it did today.
Bookworm Gardens where Frankie's statue likeness resides ordered more Frankie the Walk 'N Roll Dog books to have available for their season opening May 1st. This will be their 5th season! Miss Gidget was my helper today as we hopped in the car to make the 20-minute drive east to drop them off where they will be available yet again in their gift shop.
Where has the time gone, I wonder?  I still remember so clearly the day I walked behind John and Joe, Frankie snug in my arms, as they wheeled Frankie's dog house (that John built) down the paved brick walk to a permanent home below a shade tree where her story now lives forever.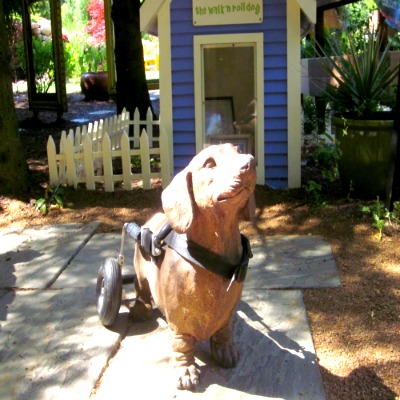 For me, in many ways, Frankie's home in this beautiful garden feels very sacred to me. It is here that I feel her spirit very much alive.
For quite some time I've been giving thought to scattering her ashes there. But I've not done it yet. When I feel the time is right, I will approach the staff to see if that is a possibility. I've pictured a few times in my mind doing this and it feels right.
Time will tell. But as I drove back home today I was reminded of how far I've come — in big part because of Frankie. I just couldn't help but smile and be so very grateful.
If you ever find yourself in Sheboygan County, Wisconsin, do be sure to plan a visit to Bookworm Gardens. It is an enjoyable (and free!) outing for the whole family – I promise you will not be disappointed. It is such a magical and delightful place!
…And you just never know… you just may hear a distant bark of the sprite of a spirit named Frankie.
—
Should you enjoy the writing you find here, you may wish to subscribe to my newsletter (on right hand side of post) or my RSS Feed. I'd love it if you would also share through your favorite social media network. Thanks for visiting!