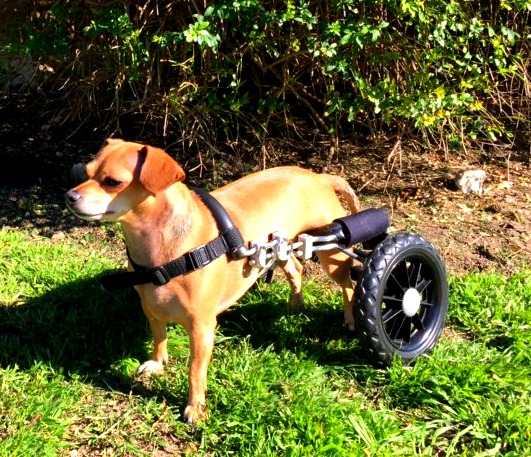 It's hard to believe I'm sharing that this is the 39th dog The Frankie Wheelchair Fund has granted a wheelchair to.  But how excited I am to share Nora!
She has IVDD and is permanently paralyzed, but has happily adjusted to her wheelchair. She is now free to run and play and do most dog things like she did before. Now that is cause for celebration, don't you think?
To think about Nora and so many dogs who now have wheelchairs, going for walks and enjoying life to the fullest, well, that just makes my heart soar with joy!
Nora's wheels custom-made by Eddie's Wheels.
—
As always, I welcome donations to The Frankie Wheelchair Fund which helps me to help disabled dogs from low-to-no income families or in rescue who are in need of a wheelchair. I can't do it without the generosity of others and I'm grateful for every $1 others are willing to donate.
The average cost of a wheelchair is about $380 and go as high as $1,500. It all depends on the need of the dog.
You can donate in one of two ways. Either by clicking the photo on left which will take you to our site where you can donate via paypal or credit card. Or by clicking on the GofundMe photo. Or please help me spread the word!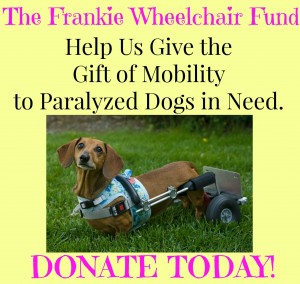 To learn more please visit National Walk 'N Roll Dog Day (for the Frankie Wheelchair Fund).
—
Should you enjoy the writing you find here, you may wish to subscribe to my newsletter (on right hand side of post) or my RSS Feed. I'd love it if you would also share through your favorite social media network. Thanks for visiting!