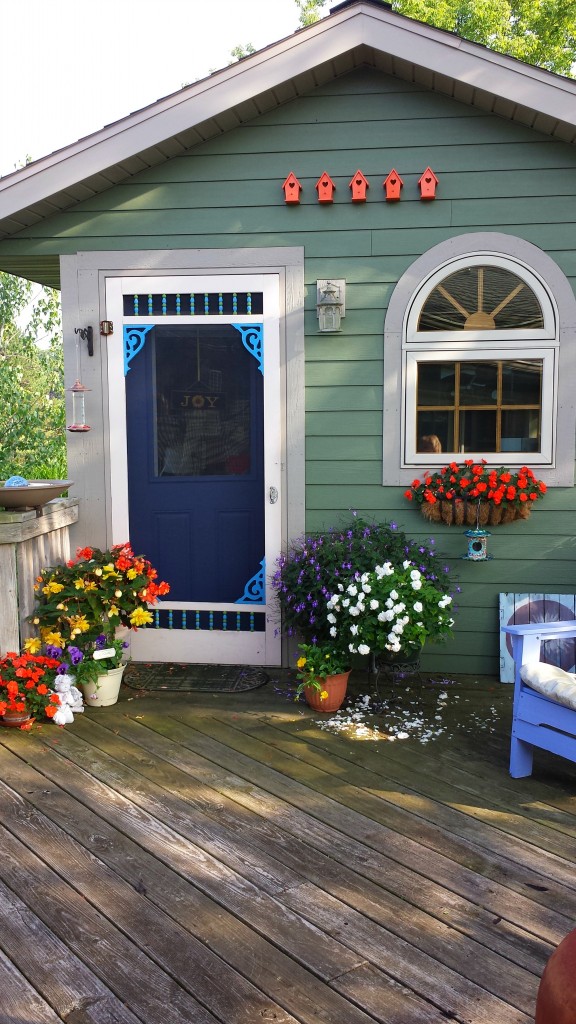 My zen writing cottage or what others may call a "she shed."
I've come across two articles recently about what they are dubbing the "she shed." It's a play on the "man shed" and that if a man is entitled to his own space, so is a woman.
Boy! Do I agree.  But I prefer to call my space my zen writing cottage.
Maybe for some ladies the word shed is okay, but when I think about my space and all I use it for, cottage fits me better.
And yes, just like the title implies, my space absolutely improved my marriage.
I have a place to call my own. A place I can come to when I want peace and quiet. When I want to write or read and not be distracted by the TV or John talking on the phone in his office.
It's my place to center myself each morning with my yoga practice and other rituals I've incorporated into my life.
Three different whimsical cardboard cutout fairies hang from the ceiling in front of three of my long windows. They slowly spin catching my eye now and then making me smile.
My tabletop fountain trickles a slow meditative stream of water. Three fairy figurines surround the fountain and I swear that I sometimes hear them playing in the water.
Instrumental music plays softly in the background from my laptop and I'm surrounded by treasures of stones, candles, oracle cards, and gifts from others. Not to mention Frankie (and Joie and Cassie Jo) memories and many books on animals and self-help.
It's been almost eight years since I helped John (Prince Charming) build this space just for me.
The best part about it is that he truly understood my need for a place to call my own. He supported my decision 100% and gave of his time in helping me with my dream.
He "gets it" and understands that by honoring and respecting my needs, in turn, it makes for a happy wife. Which in turn makes for a happy husband. And yes, a happy marriage.
Not to say we don't have our trying times. And my cottage has served that purpose too. A place to go and just be and let everything settle when we have our moments.
I never lived on my own. Right from graduating technical school I got married and set up house with John.
Early on in our marriage I didn't yearn for much time alone, but the older I get, the more I need time just for me.
Having my zen writing cottage has helped me in immeasurable ways. But I'd have to say that the best part really is having the support and understanding from Prince Charming.
And when your Prince Charming is also an excellent carpenter, well then, I'd say I'm the luckiest woman in the world!
But truly, it's been a win-win for both of us and I have a feeling John would absolutely agree.
Here are the two articles with lots of fun and inspiring pictures that perhaps you'd like to show your very own Prince Charming as a subtle hint of what you perhaps would like.
Introducing "She Sheds":  Woman's Answer to the Man Shed
Have Your Man Cave, I'll Be In My She Shed
Thank you for subscribing to Joyfulpaws.com