And the day came when the risk to remain tight in a bud was more painful than the risk to let it blossom. – Anais Nin
Who is Barbara Techel?
I'm Barbara Techel and Joyful Paws represents what I've learned about life from my wheelchair-bound Dachshund Frankie, as well as other pets who have helped me along the way. They've helped answer thought provoking questions stirring in my soul such as…
• What is this thing called life?
• Who am I?
• What is my purpose?
• What brings me joy?
• How can I give back to the world?
• What will be my legacy?
In my inspirational memoir, Through Frankie's Eyes: One Woman's Journey to Her Authentic Self and the Dog on Wheels Who Led the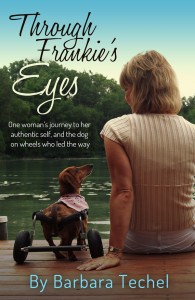 Way I share my story to encourage others to find and live their truth. I believe by doing this, it can also lead to your passion and purpose.  For me, my pets led the way for me, especially my Dachshund Frankie who became paralyzed and was fitted for a dog wheelchair. From her adversity, I was able to heal in regards to things I didn't like about myself, or things I carried shame or guilt about.  I believe animals are continually teaching us how to enjoy the simple pleasures of life if we open ourselves to them.
The past ten years have been a tremendous time of growth for me as I've learned to appreciate and value my authenticity. Once I began to feel more comfortable with who I am I was able to discover my passion and purpose. My passion is not only to share what animals teach us about living in the moment, but also to give hope to those whose pets have been diagnosed with Intervertebral Disc Disease (IVDD) and dogs in wheelchairs. I believe without a doubt I would not be the person I am today if not for the animals that have been a part of my journey, especially Frankie.
As a young girl growing up with little confidence which carried over into my adult life until my early 40s, it only seemed fitting that I would mentor children through the lessons I learned from Frankie and my award-winning children's book series called, Frankie the Walk 'N Roll Dog.  From 2008-2011, Frankie and I have encouraged thousands of children to believe in themselves and to think positive when facing challenges.

The more I shared Frankie and her positive messages with children, the more my own confidence continued to grow. This led me to realizing I was now meant to share my life's story as an adult nonfiction book so others can be encouraged to feel confident in living into their own authenticity and passion. I believe if we can all live from what truly brings us happiness we can positively impact our younger generation to do the same.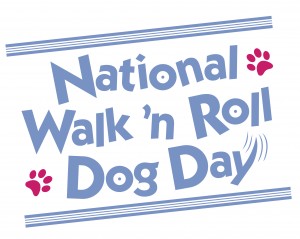 Frankie the Walk 'N Roll Dog passed away on June 21st, 2012 and though I miss her dearly I give daily thanks for having had her in my life.  I was truly blessed to have been her caretaker and the one to help spread her positive message.  In her memory and in honor of all wheelchair dogs around the world, I founded National Walk 'N Roll Dog Day to continue to bring positive awareness to dogs in wheelchairs.  Along with this effort I began the Frankie Wheelchair Fund.  From memorials after her passing I received over $2,700 in donations and was able to help six small dogs get wheelchairs that may not have been able to otherwise.  The fund continues to this day with various fundraising efforts and to total dogs helped so far are fifteen.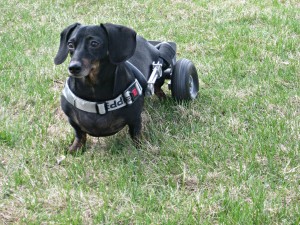 In October 2012 I adopted a paralyzed Dachshund from Oregon Dachshund Rescue. I named her Joie (pronounced Joey and means Joy in French). She has IVDD and needed a wheelchair, so we adjusted Frankie's wheels to fit her.
My Personal Journey
In late 2004 my Labrador, Cassie was diagnosed with terminal bone cancer. Observing her enjoy each day despite her impending death made me desperate to find out why I had so many unanswered questions about my own life.
To answer these questions I knew I needed help so I enlisted the help of a life coach. This began a deep dig into discovering what my soul wanted. This led me to becoming a writer writing about what I believe animals teach us. For two years I wrote for my local newspaper and had my own column called, "For the Love of Animals."
After Cassie passed away I brought home a Labrador puppy and named her Kylie. It was a dream of mine to share the love and joy of a dog with those in need such as the elderly, sick, and dying. This was the way in which I would give back to the world. I began training her to be a therapy dog and planned to write about our experiences once she became certified.
Six months later that was put on hold when my Dachshund, Frankie fell and ruptured a disc. She was paralyzed. She was rushed into surgery and given a 10-30% chance of walking again. I would learn Frankie had a common disease among the breed called, Intervertebral Disc Disease (IVDD). Three months later she had not regained the use of her hind legs so she was custom-fitted for a dog wheelchair.
Though this was a huge fork in the road to what I had planned for my life, I learned by observing Frankie that I had to stay positive and look for the blessing in why this had happened to us.
A few weeks later I took Frankie to our local Farmer's Market though apprehensive I'd be judged in a negative way for putting my dog in a wheelchair. But I was pleasantly surprised. People were curious about Frankie and her story. What truly struck my heart was how children responded positively to Frankie. It was then I realized this was my purpose. I was meant to write Frankie's story so I could positively impact the lives of children, and I could also bring positive awareness to pets with special needs.
From 2008-2011 I made over 400 personal appearances with Frankie at schools and libraries in Wisconsin, as well as via Skype all over the US and Canada. We also actively volunteered as a therapy dog team and visited Libby's House, Senior Assisted Living Facility and Sharon S Richardson Community Hospice (it turned out Kylie was not meant to be a therapy dog, but Frankie was). From my work as a therapy dog team with Frankie I was inspired to write "Frankie the Walk 'N Roll Therapy Dog Visits Libby's House." It was awarded the Indie Excellence Book Award in 2010.
Sharing Frankie's story with others has helped me learn so much about myself. Frankie has helped me live truly into my authenticity and proud to stand tall in who I am.
In 2009 Frankie was inducted into the Wisconsin Hall of Fame. I also won second place in a writing contest for my story, "The Blessing of a Wheelchair-Bound Dachshund" which is featured in the book Dogs and the Women Who Love Them. I then wrote the story about Frankie's unique connection with a special needs little boy which is featured in the book, Animals and the Kids Who Love Them. Both books were recommended by Oprah's O Magazine. Frankie's story is also featured in the book, Every Dog Has a Gift of which I was interviewed by the writer. We have also been featured in the magazines Woman's World, The American Dog, Dog Living, as well as numerous blogs.
I also help other authors have success in selling their books through author appearances called, with a book I wrote called, "Class Act- Sell More Books Through School and Library Author Appearances" as well as offer consulting. Learn more here.
When I'm not writing, blogging, or sharing my story, I practice yoga, enjoy date nights with my husband, riding my bike,  getting lost in a good book, going for long walks to reconnect with my soul and soak up all the good that life truly is and sit in awe, wonder and celebration of my dogs, Kylie, and Joie.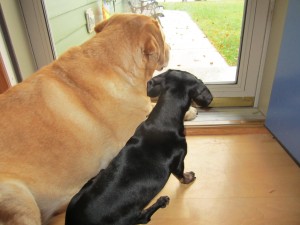 Join me.
Follow along as I encourage others to step into their best selves and best lives. Be the person you've always dreamed of being. Discover your purpose, your joy, your truth, and your legacy.
Subscribe to my blog or newsletter (www.joyfulpaws.com) for inspiration to live a more joyful and authentic life, as well as how our pets help us stay connected to the deeper meaning of life. You will also receive my free ebook, "For the Love of Animals: "A Collection of short Stories." I also share special offerings which I share with only my subscribers.
Enter Your Email to Receive Joyful Paws Newsletter

About Frankie the Walk 'N Roll Dog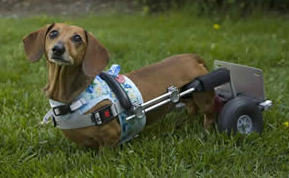 Frankie, the Walk 'N Roll Dog is a true, inspirational story about a dog whose life started out just like any other dog walking on all four paws until she was diagnosed with Intervertebral Disc Disease which leaves her paralyzed. When Frankie is custom fit for a doggie wheelchair she learns to keep on rolling. Her zest for life will have you cheering her on and give you hope that all things are possible. Frankie's stories touch the hearts of young and old as she teaches us how a challenge can become a stepping stone to something more meaningful. Frankie's motto is: "Always be positive, make a difference, and keep on rolling!"
Frankie was inducted into the 2009 Wisconsin Pet Hall of Fame for bringing a positive face to pets with special needs, her work with children, and for all the love and joy she brings to others as a therapy dog.
Barbara photo credit:  Lisa Lehmann Photography
Frankie photo credit:  Legacy Studios