I'm Barbara Techel, Oracle Guide, Author, SoulCollage® Facilitator, Animal Lover, Deep Thinker
I'm passionate about gently guiding you to your own inner awareness to help shift your perspective when you feel stuck so you can move forward in a more authentic way and live a life with more meaning and joy.
I find immense joy in encouraging women to pause often, listen deeply, and capture what matters most.
Since 2004 I've been walking my own transformational and spiritual path doing the deep personal work of living a conscious and self-examined life.
I owe a depth of gratitude to the many animals who have been (and continue to be!) my teachers, along with supportive life coaches, Diane Krause-Stetson, Pamela Kachelmeier, and Jocelyn Mercado.
Adding to my knowledge and skills so that I may serve my clients in the most beneficial and uplifting way I've completed the Personal Mastery level, Invision Process® and currently enrolled in Shared Wisdom, studying with Colette Baron-Reid through her Oracle School.
In my service as an Oracle Guide, I gently guide, and hold space for women so they can tap into their intuition and open to a relationship with their True Self in partnership with Spirit.
I've had the distinct honor of witnessing women light up from the inside out, when they discover their true essence, which in-turn starts them on the path of living a more meaningful life.
My one-to-one oracle guide sessions, plus workshops are offered online and in-person, are heart-centered, and where I gently hold space for my participants.
Whether one-to-one or in a group, it's a sacred space of sharing meaningful discussion and most importantly a space of learning to step into our own empowerment, honoring and valuing who we are.
It's a cherised time where self-discovery is explored with curiosity, reflective time is honored, and witnessing is done with compassion and non-judgement.
Many women find their way to my offerings because they are in transition, searching for purpose, feeling stuck, want to answer the call of their inner voice or wish to find peace after the passing of a beloved animal friend.
MY PATH TO LIVING A MORE MEANINGFUL LIFE…
I find it intriguing as I saw myself in the place I am today over twelve years ago. Though my increasing desire to help guide women to their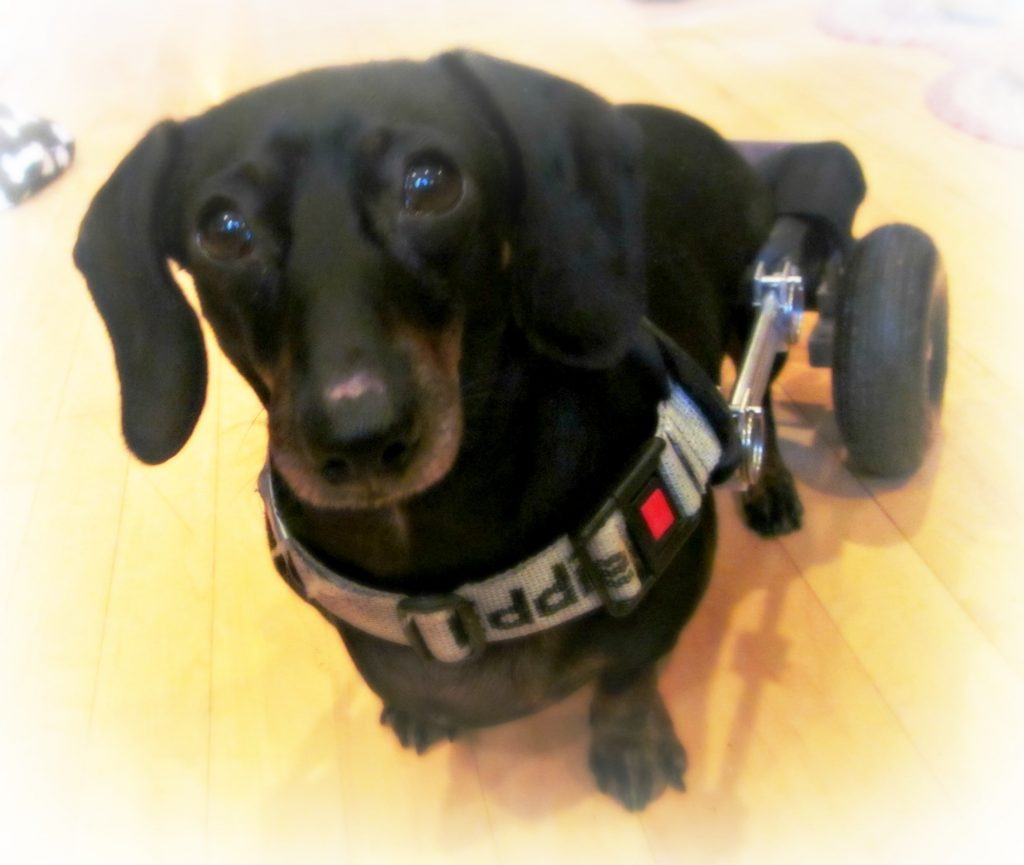 own souls intuitive knowing didn't really begin to surface until after the unexpected passing of my disabled dachshund Joie, ten months after I adopted her.
It was then that I made what felt like one of the scariest decisions of my life. I stopped everything I was doing and took a two month sabbatical to learn how to just be.
It was during this time of reflection and stillness I discovered how vital it is to our well-being to pause often, listen deeply, and capture what matters most. It was by opening to that innate wisdom already within me that the next leg in my life's journey was able to gently bubble to the surface.
Over the years my awareness has deepened (and continues to!) of how animals are intelligent beings with much to share with us. It was looking back that I realized some profound teachings from animals which guided me in beautiful ways, helping me to heal in ways I could have never imagined.
Over fifteen years ago, embarking on a spiritual path and one dedicated to the pursuit of personal growth, because I just knew there had to be more to this thing called life, I knew I wanted to write about animals and our connection to them. During that time, I also became fascinated with oracle cards, having collected many decks over the years, and which I use as a self-discovery tool and consult with in my own practice on a regular basis.
In my memoir, Wisdom Found in the Pause – Joie's Gift, it was oracle cards I used everyday during a two month sabbatical I embarked on while I learned to be still and listen for what was next in my life's work. It wasn't easy to be still after so many years of going, going, going! But I was so amazed when I allowed myself time to journal, be in nature and solitude, and consult oracle cards as a way to begin a dialogue with my inner self, connected to a higher spirit, that answers began bubbling to the surface.
I came to understand that transition is a welcoming portal to what is next on our life's path if we can find the courage to open to the many gifts it has for us.
While there were times I felt lost during this time of uncertainty and transition, there were also days I was left in awe as each oracle card revealed just the right message that I needed to hear. It gave me hope, empowered me, and confirmed that I am never alone— and that there is always divine guidance waiting to help us if we just ask.
Pets in my life, past and present, along with animals in nature and spirit animals, have been, and continue to be, some of my greatest teachers.
Along with the wisdom of animals and working with oracle cards, they continue to serve me in a positive way, as a mirror I welcome looking into, even when it's difficult. But I've come to understand both as Divine messengers that help guide me in taking positive steps every day to live my best and most meaningful life.
I chronicled and published this personal and life-changing experience in my recent memoir, Wisdom Found in the Pause – Joie's Gift.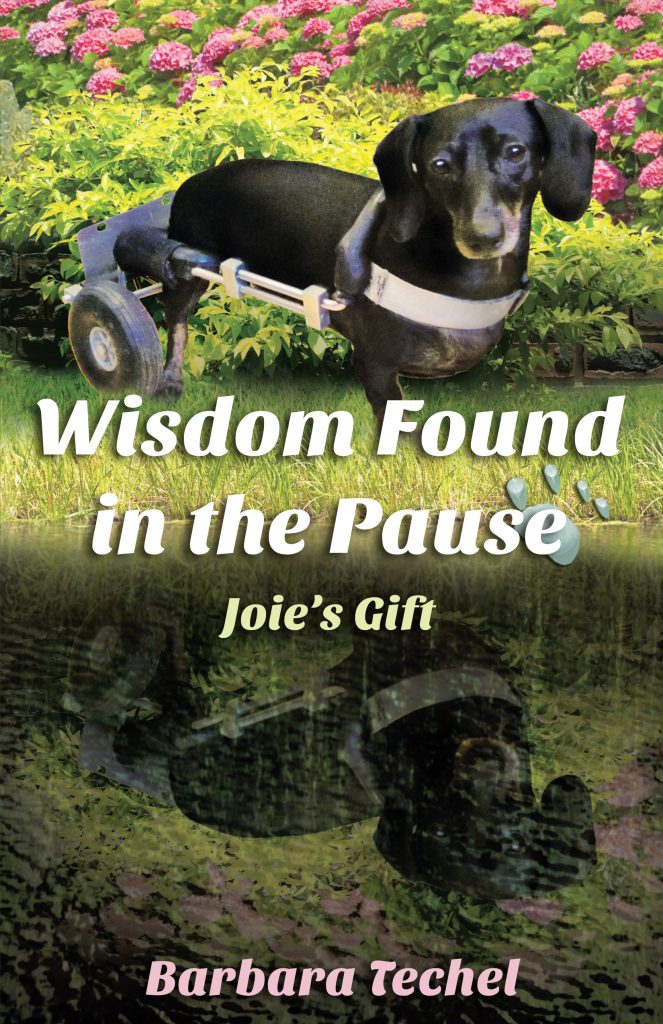 I've been on a spiritual path since 2001 expanding more fully into who I am every day through various personal mastery programs and teachings I've been through, and continue to immerse myself in. I owe many of the teachings I've come to understand and integrate into my life from my beloved dogs, past and present. Hence the reason my website is called Joyful Paws. One of the greatest lessons they have taught me is to follow my heart by pausing often to think about what it is that brings me joy.
Tuning into my heart as part of a regular self-care ritual continues to be one of my most treasured ways in for the truth of what matters to me. It's in my Zen writing cottage where I begin each day by centering myself with meditation and yoga before I move into my continued desire to make a difference in the world.
In June of 2016, I was so excited that CBS 58 Milwaukee interviewed me about my "she shed." They beautifully captured the heart and soul of what my sacred space means to me.
My zen writing cottage is featured in She Sheds – A Treasure Trove of Women's Creative Spaces and has been featured on ABC.com. Today.com and Australia's #1 breakfast show, Weekend Sunrise.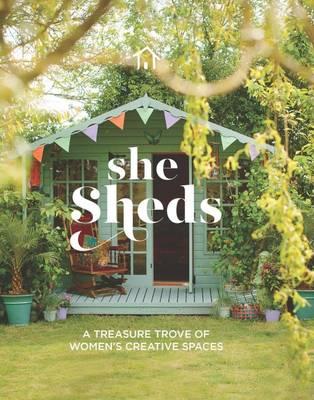 My writing cottage today…it is my space that embraces me and nourishes my soul.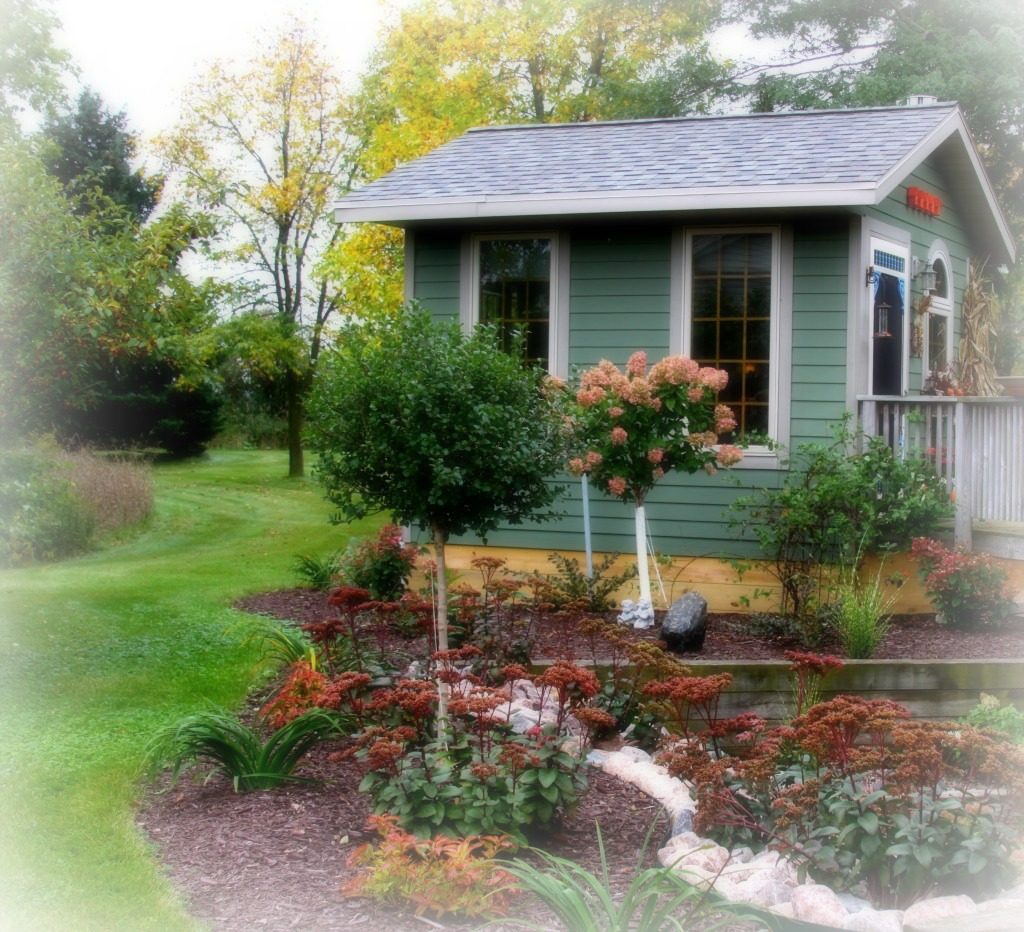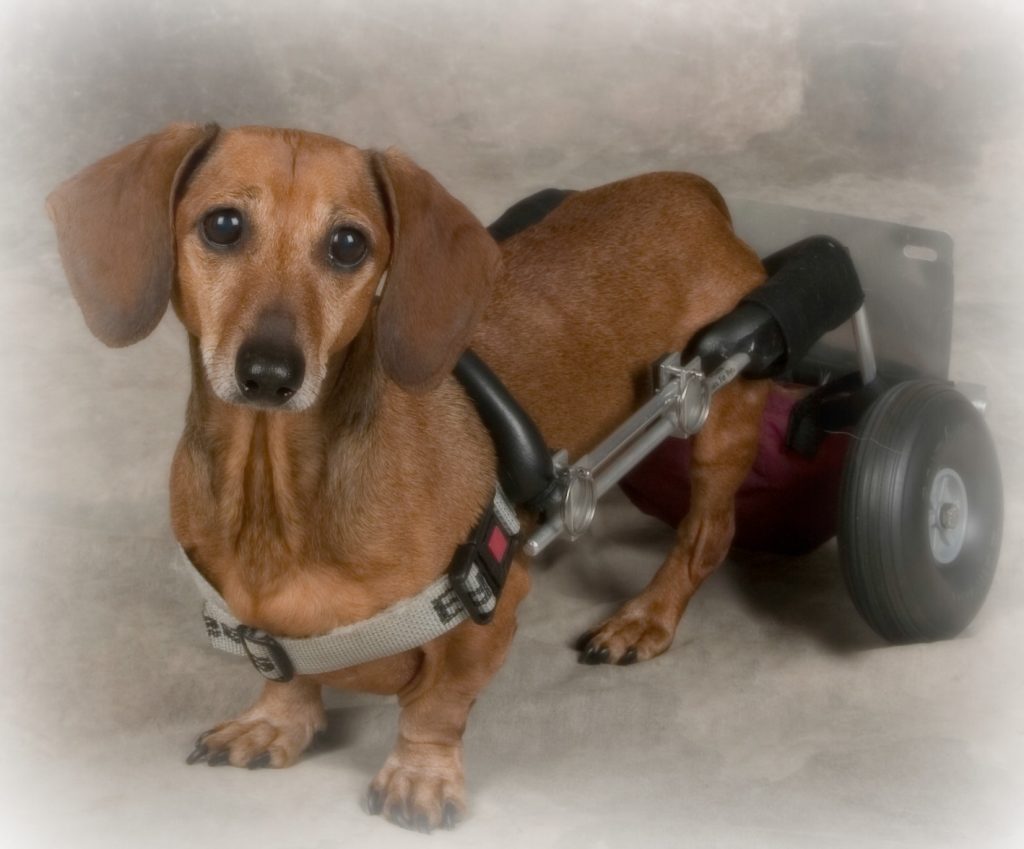 It was my first disabled dachshund Frankie, who helped me understand that I had a choice as to how I wished to live my life. Never having had the experience of living with, and caring for a paralyzed dog, I marveled at how this ten inch tall dog rolled along in a wheelchair with gusto and confidence.
The more I was in her presence and saw how others positively reacted to her that my own confidence grew. I was able to heal guilt and shame I'd carried with me for a good part of my life, gently letting go of a burden worrying what others thought of my choices, which had often stopped me from moving forward.
I was profoundly and forever changed for the better for the lessons Frankie taught me about perseverance and having a positive attitude.
My first memoir Through Frankie's Eyes: One woman's journey to her authentic self, and the dog on wheels who led the way shares the heartwarming journey that we embarked on together.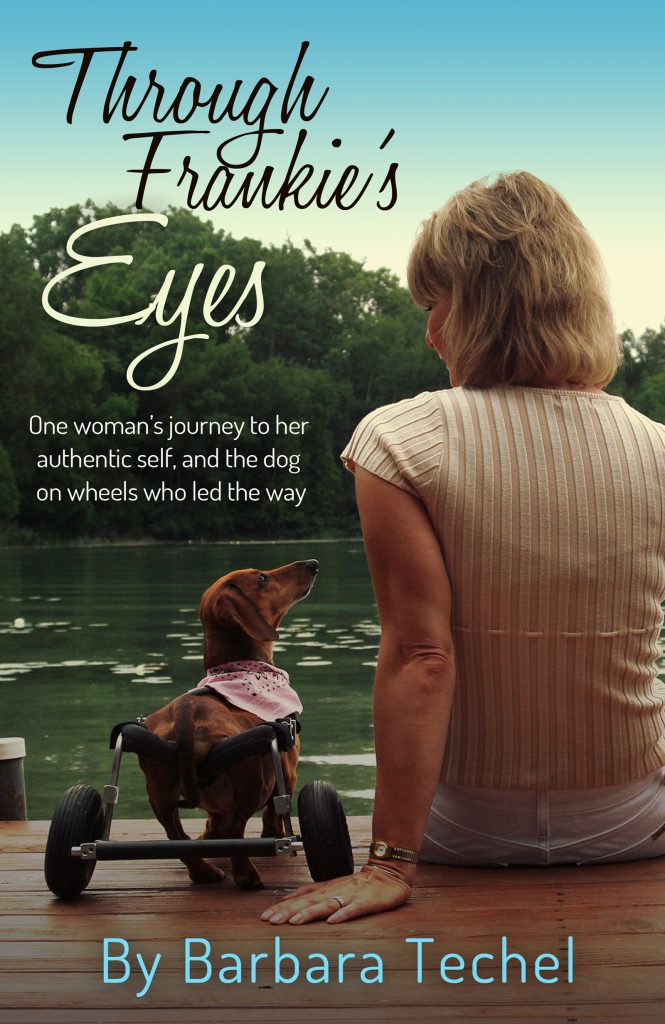 From the time Frankie was seven years old and rolling in her wheelchair until the day she left this planet at almost thirteen, we were an amazing team helping children and adults see their challenges in a positive way. We logged over 400 visits to schools and libraries, plus using Skype, and made over 250 visits as a therapy dog team to a local hospital, senior assisted living facility and hospice community.
Frankie's story touched thousands of lives through the children's books I published about her. Frankie the Walk 'N Roll Dog and Frankie the Walk 'N Roll Therapy Dog Visits Libby's House.
Frankie's legacy lives on in National Walk 'N Roll Dog Day which I founded in her honor and as a way to carry on her message that dog's in wheelchairs can live quality lives.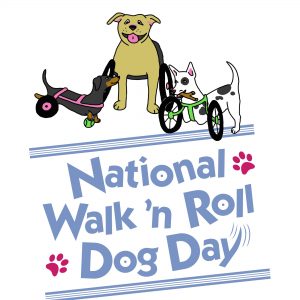 The Frankie Wheelchair Fund, which I also established and ran from 2012-2017 granted seventy wheelchairs to paralyzed dogs in need. This was done entirely from the generous monetary donations from others who support my special mission.
Frankie's likeness and positive message is memorialized at a storybook garden in Sheboygan, Wisconsin called Bookworm Gardens. She continues to touch the lives of thousands who visit each year.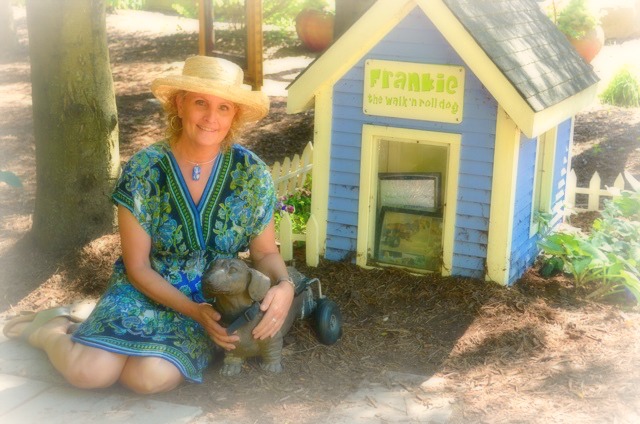 My work with Frankie has been featured on numerous radio shows, in magazines and on blogs, plus in the following books:
Magical Dogs: Love and Lessons from our Canine Friends
Faithfully Yours: The Amazing Bond between Us and the Animals We Love
Dogs and the Women Who Love Them: Extraordinary True Stories of Loyalty, Healing, and Inspiration
Animals and the Kids Who Love Them: Extraordinary True Stories of Hope, Healing, and Compassion
Every Dog Has a Gift: True Stories of Dogs Who Bring Hope & Healing into Our Lives
Lost Souls: FOUND! Inspiring Stories About Pets with Disabilities (Volume 1)
AS A LITTLE GIRL…
I've always felt a deep connection to animals. To this day, when I see a cat, dog, horse, squirrel, or any animal for that matter, it floods my whole being with a vibration of joy.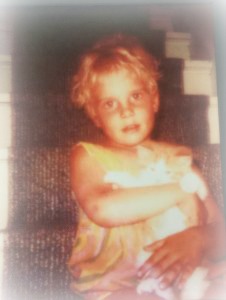 Growing up, there were times I often felt different, though I couldn't name exactly why that was. It wouldn't be until my early 40s that a life coach would introduce me to a book called, The Highly Sensitive Person.
Reading that book and giving myself the gift of inner exploration with a compassionate life coach, is when I finally began to feel at home in my skin and soul.
Understanding I was empathetic, helped me to recognize and trust my intuition in a new way. This would lead me to living a more meaningful life with integrity, intent, and joy.
During a moment of self-reflection, a memory surfaced of my eighth grade teacher who encouraged me to write even though I had a difficult time understanding verbs, nouns, adjuncts, etc. Oh, how it frustrated me! But my teacher saw in me that writing was a way in which I could express what was truly in my heart. How grateful I am for her encouragement!
Writing and journaling is now part of my life as a way for me to tap into my inner world, allowing me the quiet and still space to give voice to all the many parts of myself in a compassionate and gentle way.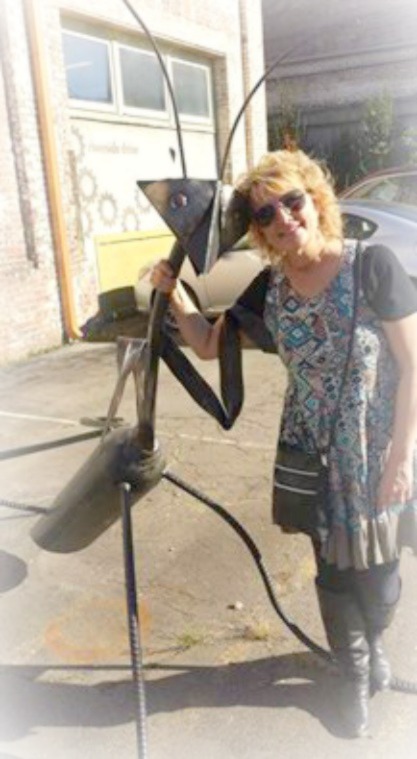 While I graduated from college in 1983 with a degree in Fashion Merchandising and Marketing, and I love fashion, I've come to realize that we are so much more than what society has showed us in external beauty.
It's really what's inside, that when we take the time to care for and nourish, that makes us glow and shine a brilliant beautiful light into this world.
As I continue this journey of awareness and what a meaningful and spiritual life looks like for me, it is the willingness to be open to symbols and signposts the universe generously gifts me, asking for help when I need it, integrating creativity into my daily existence, understanding the wisdom of animals and nature, and connecting with my inner self through various rituals that peace is allowed to find a soft place to land within me….and it is this peace within that I wish for everyone.
Much love and gratitude,
Barbara