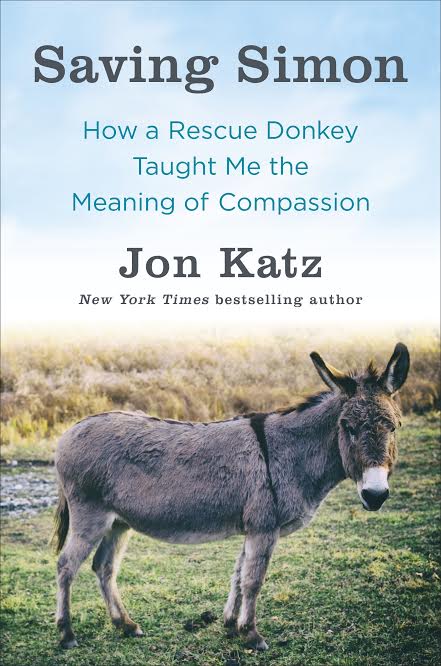 As many of you likely know, Jon Katz is my all-time favorite author. Whenever he announces he is working on a new book, I find myself on the edge of my sofa, eagerly waiting to curl up with a new book of his.
I have to say that I felt an extra bit of eager anticipation waiting for Saving Simon, as I've come to love and understand donkeys more because of Jon writing about them on his blog for many years.
I want to begin with my favorite passage from Saving Simon:
"When an animal guides you, emotionally and spiritually, it is not an obvious thing. Rather, they open doors indirectly, and then a domino effect sets in. They open up one part, and then that experience opens up another."
As someone whose life has been positively changed for the better and enriched in ways I never saw coming because of caring for a dachshund that was paralyzed, I can closely relate to how the experience opens many facets of deepening in our understanding of love and compassion.
It was difficult to begin the story and read of the conditions in which Simon lived, so close to death when he was found and Jon, and his wife, Maria brought him to their farm. It brought me to tears and I had to set the book down for a moment.
But Simon was now in a place where he could heal and begin to live again. And in the process, as animals often do, they heal the humans around them, oftentimes without us even suspecting what is happening to us.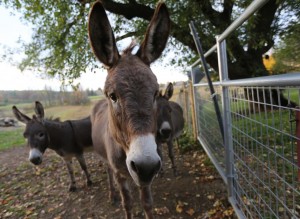 Another passage from the book that touched me was this one:
And again, there was Simon's spirit in my head. I can't speak for what's inside of his genial consciousness, but I can speak to what was inside of mine. From the first, I was struck by what I saw as the great trait of acceptance in Simon. People always spoke of him as being abused, rescued or neglected, but I saw no sign that Simon thought of himself in that way. Simon immediately got down to the basics of life—eating, walking, pursuing the girls, getting his ration of carrots and apples, getting brushed and fussed over.
This is what I've come to love deeply about animals. Their adversity to getting on with life despite what they've been through. Their ability to love again also speaks volumes.
Jon beautifully shares how Simon opened up a new world for him of understanding compassion in a way I've thought the same way in caring for special needs dogs.
He describes Simon as a magical helper, a spirit guide to help him on his hero journey. His helper appeared in the form of a donkey. Who'd of thunk, right?
But I believe our animal friends are calling out to us to be open to these important lessons to help heal our planet. Simon was just what Jon's heart needed in opening to a new way of understanding. And when we open our hearts, we also open ourselves more deeply to understanding our fellow humankind.
Jon's honesty in sharing how he wished to understand the farmer that had Simon before him, I found, to be extraordinary. In one aspect he wanted the farmer, who was so far down into despair after all he endured the past years of hardship, to snap out of it, he realized the farmer was beyond reach.
If we don't feel for the human being who is so far into this dark place, how can we care for, and be open to the animals and planet around us?
To feel compassion for all living beings is what helps each of us to heal, just as Jon so beautifully shares through his story of Simon.
Simon, as I believe all animals are, are the definition of compassion. To now know Simon through the written word of Jon has opened another part in me that I welcome and am forever changed for the experience. Thank you, Simon….and Jon.
GIVEAWAY!  Leave a comment below by midnight cst, Oct. 22nd to be eligible for a copy of Saving Simon that I will be giving away. I will be using random.org to pick the winner and will announce on my blog on Thursday, Oct. 23rd (US residents only).