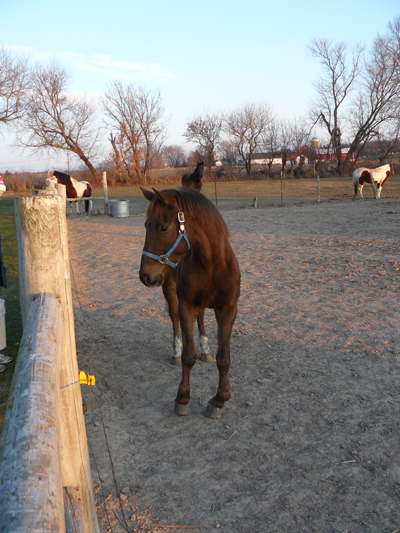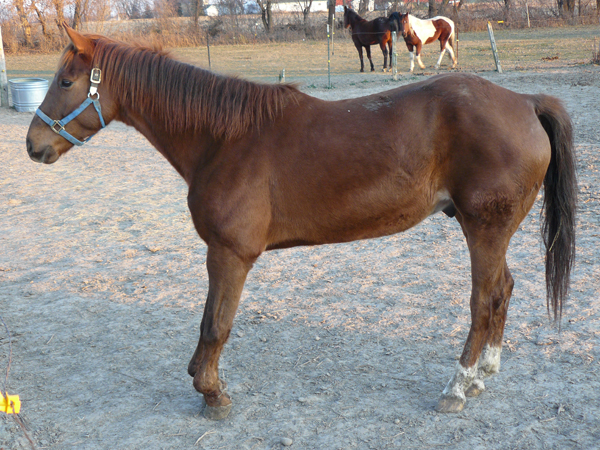 Today I met Moki, who sadly has had a rough life and he is only seven years old.  As you can see in the pictures his front legs are severely deformed.  Erin, of Amazing Grace Equine Sanctuary  rescued him just this past December after years of living in a very small penned in area, and suspicion of being taunted and teased by a young boy and never being properly taken care of.
The sanctuary is new to the small town of 1200 that I live in.  Finding out about them and Moki I contacted Erin to ask if I could write a story about the sanctuary for our local paper to hopefully bring attention to her beautiful mission in rescuing unwanted, abused and neglected horses.  I especially wanted to meet Moki, since my heart gravitates towards animals with disabilities.  We set a date of Feb. 20th for me to come out to the sanctuary and interview her.
Well, two hours later that same day I received an email from her that Moki's recent diagnoses from the vet was not good.  He has severe arthritis in his legs and is in extreme pain.  Erin was advised the humane thing to do is to euthanasia Moki.  Erin, understandably beside herself, said she would understand if I didn't want to do the story now.
Well, I could not get them out of my mind.  Not wanting to intrude on her precious time  left with Moki, but feeling this knowing that I had to meet both of them, I emailed Erin the next day asking if I could still meet Moki.  She was grateful.
So 15 degrees, but sunny today, I dressed in layers and headed to the sanctuary.
Moki was out in the pasture and Erin and I were inside in front of the stall.  Erin called for him and told me he is very afraid of people and would run in the pasture if we came out there.  Soon enough he peeked his head around the corner and cautiously approached.  Erin had a bag of carrots waiting and she handed me one to feed him.  I was so happy he approached so close, but I remained still so as not to frighten this poor, sweet horse who really trusts no humans.
To look at Moki and his large black eyes and his soft winter coat, and oh, so tall, I wanted to hold him in my arms and apologize for all the wrong that was done to him.  A few moments later, after a handful of carrots he trotted back out to the pasture.
Erin and I made our way out to the pasture a few moments later to see the other horses.  At one point I looked to where Moki was standing to see him standing so proud looking out into the field… and I wondered what he was thinking.  But I could just feel his pride in who he is, standing tall, despite his crooked legs.  I had to squeeze my eyes shut to keep back the tears.
Erin struggles with having to let him go, never having had to put a horse down before… wishing she could have saved Moki as she said in an email to friends.  I told her I do believe God sent Moki to her to save him, just not in the way she had planned.  His body is wracked with pain and his mental state is not stable because of the neglect, so he lives in constant fear.  To let him go, to run free without pain, will be the way she will save him.  So as her heart breaks, she knows this is the right and best thing to do for Moki.  As we discussed, along with having an animal is the responsibility of saying goodbye, and for the animal letting them go with grace and dignity.
Please send your love and prayers in thought to Erin or via her email through her website.  I know she would appreciate the support…
Stay tuned in the next few weeks as I will bring you the full story of the sanctuary…