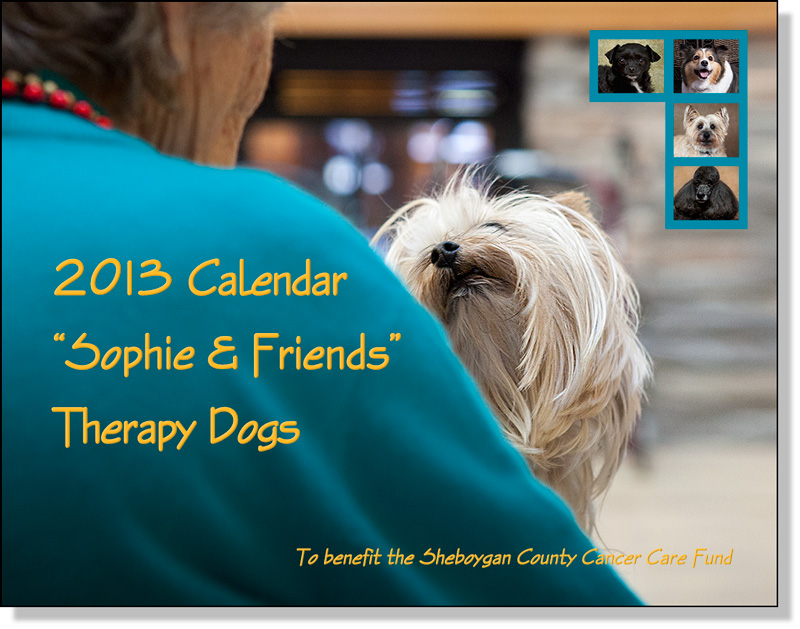 One of the last projects I participated in with Frankie is the "Sophie and Friends" 2013 Therapy Dogs calendar.  Each month this calendar features a photo of a local (Sheboygan County, WI) therapy dog, also friend to Sophie the therapy dog who you see looking adoringly at a senior she loved to visit in the cover shot.  Lisa Lehmann, local photographer, donated her time and labor of love to capture all these special dogs.
I'm happy and honored to say that Frankie is the feature for February.  Rather fitting I think as she was my sweetheart, as well as a sweetie to many of her friends and fans.  If you are interested in this calendar which profits will benefit a local cancer care fund, I have a special offer for you.  I will stamp Frankie's authentic paw print and sign her motto on the month she is featured in, which will make your calendar even more unique.  If you are interested please submit your order no later than November 30th.  All orders will ship on or around December 3rd.
Calendar is $15.00 plus $5.00 for shipping and you can order via paypal here (if you'd rather pay by check or credit card over phone contact me via email, barb (at) joyfulpaws (dot) com):
Both Sophie and Frankie were well known in our community for their inspirational work. Sophie did many fashion shows for seniors and she was quite the hit.  Sophie passed away in May from congestive heart failure, and as many of you know, Frankie passed from the same disease in June.  I have a feeling they are both in heaven being the perfect angel therapy dogs.