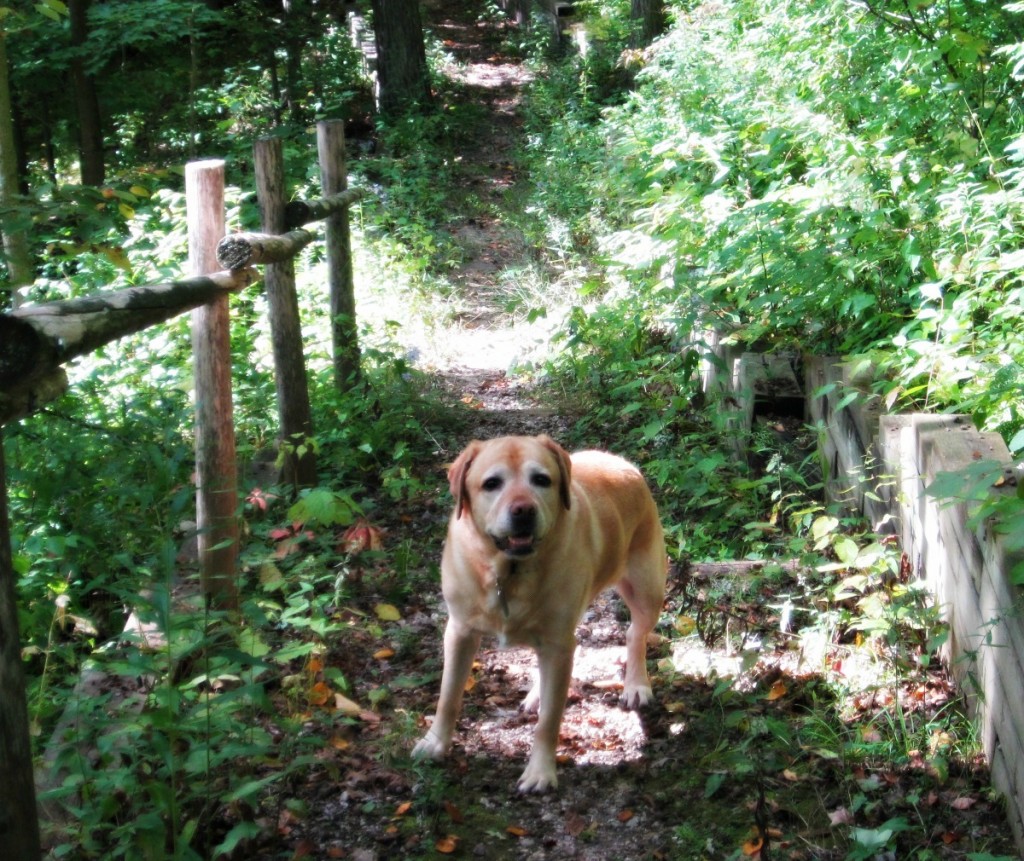 Walks with my girl Kylie are sweet spots of joy during my sabbatical
Let me first start by saying that I miss each of you.  Thank you also for the many kind and thoughtful notes when I shared at the end of August that I'd be taking this sabbatical.  It's hard to believe almost a whole month has gone by!
The honest answer to my update is that I'm still what I am now calling, "marinating." Many of you in writing to me and comments you left on my Facebook page shared your concern about my finding peace from the passing of Joie.  I want you to know that I do have peace around that. In fact, I had a very special sign from Joie that had me in complete awe.  I share that story below which you can read or listen to as a recording. I hope it will make your heart tingle like it did mine.
Three things I still know for sure:
·       I want to continue writing via my blog and newsletter.  Writing about dogs and animals, and living a meaningful, simple, authentic, joyful life.
·       I want to adopt another IVDD dachshund.  I'll begin my search when I return from vacation at the end of October.
·       I want to be an advocate for dogs diagnosed with IVDD, helping others when they come to me for guidance and hope.
With that said, I've decided to continue my sabbatical through the end of October.  A part of me feels nervous about this because each of you and your loyalty is important to me. I don't want to lose that. But I continue to feel the need to "fill the well." In doing so, I hope to share what I've learned and in turn offer you inspiration to live the meaningful life you want.
So without further ado, I share with you today the story of my special moment with Joie in spirit. I continue to feel so very blessed that the signs I receive along the highway of life come from my connection with my dogs. I hope it brings you goose bumps and looking for signs of guidance in your own lives… until we meet again in November.
BEING OPEN TO SIGNS FROM OUR ANIMAL FRIENDS
(if you listen to audio be sure to come back and scroll down to see actual picture of the sign I describe that I got from Joie)
When I think about time in the aspect of here on earth, my time with Joie seemed way too short.  Ten months and nine days to be exact. We had just begun to deepen into our connection with each other. I found it hard to grasp that we were only allowed this blip in time to be together. It seemed so unfair.
It's not the quantity, but the quality that matters, are words of comfort that were offered to me. I found peace in this thought from a fellow writer who experienced the loss of her own beloved dog way too soon also.  Though my heart wrenched with pain, I began to see how blessed I was to have had the love of Joie.
The first few days after saying goodbye are always the hardest. It seems as if the vice grip on your heart will never find its way to opening to joy again. It was during those days that I had to trust I would find my way through grief yet again.
Joie's passing brought to the forefront things I didn't want to give thought to.  The whole year before I was feeling at a loss of really where it was I wanted to go next.  Though I was feeling like the work I had begun with Frankie visiting schools and making a difference in children's lives was finished to some extent, I was hoping Joie would want to do it on a smaller scale.
Grief has a funny way of bringing up unresolved stuff. I knew I was being called to look deeper into what was working for me and what wasn't any longer. As the days unfolded I found myself grieving the chapter in my life that I knew was time to close. I came to realize Joie was my mirror—it was time to say a deeply grateful thank you for all my work with children and visiting schools, and move on.
Letting go of something that was so profound and pivotal in my life wasn't easy. But it helped shape me into who I am today, and I found myself giving thanks for all the blessings that amazing time in my life was.As acceptance of closing that chapter found a peaceful place in my mind, I find myself open to new possibilities.  This has me re-reading books I read many years ago when I began my dive into living a more spiritual and meaningful life. The book I returned first to is, The Second Journey- the Road Back to Yourself by Joan Anderson.
As I re-read the pages, I felt my soul finding comfort in Joan's words once again. I felt home in many ways and excited to be in this exploration stage yet again.  Though I thought I had things all figured out years ago when I journeyed inward and how it lead me to where I am today. Here I was, having to yet again re-examine where I wanted to go next.  How could that be? I wondered.About a week after Joie had been gone, I was sitting in my Adirondack chair on our deck, sipping a beverage, and enjoying the chiminea with John and my friend, Cassy.  I was nearing the end of a chapter in Joan's book so kept reading as John and Cassy talked.
What I read next really spoke to me so I wrote it in my journal and then asked John and Cassy if I could read it out loud to them.  They nodded yes so I proceeded.
"Nothing happens overnight. Developing a relationship with the unknown takes time. In doing so the seeker is granted the greatest gift of all—clarity. I have come full circle yet again. I must always be willing to journey forward—spiral into the center and then back out again. Then and only then will I be whole, in touch with all that I am." 
I shared with them that this was so profound to me because it is exactly where I am. This made so much sense! I then took a sip from my drink and set it back down on the arm of my chair. The condensation from the glass had dripped, so I looked down to wipe away the water. Just as I glanced down to wipe it away, this is what I saw…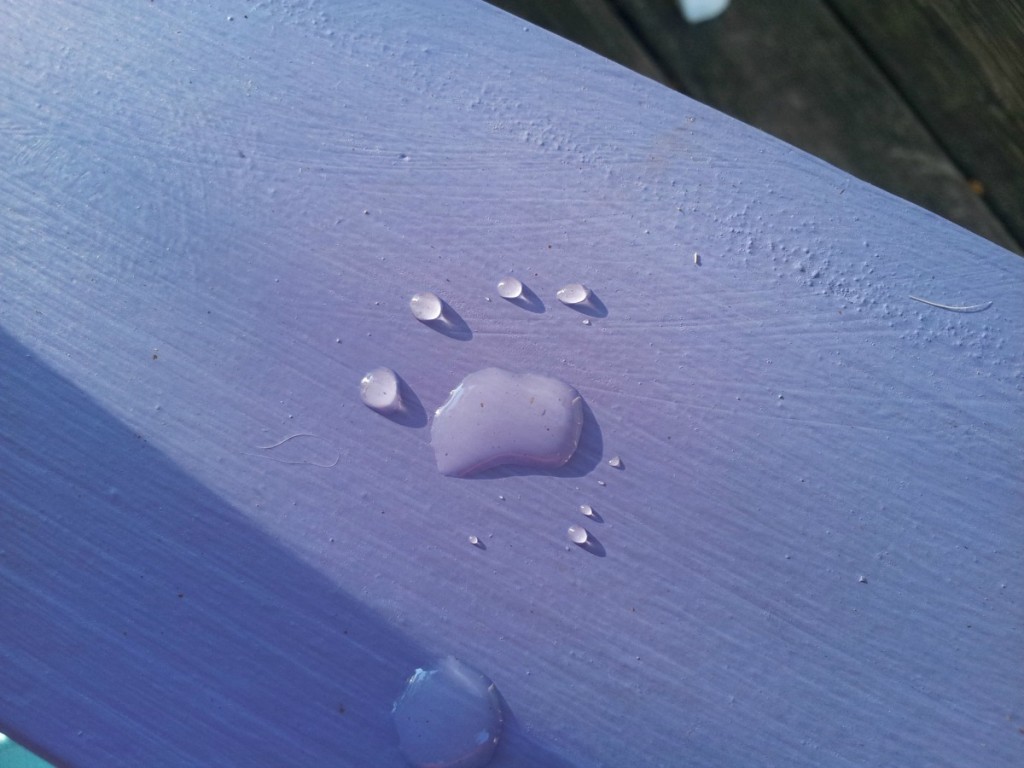 It was as if the sky opened up and cast down this brilliant, shining light!
Almost breathless I said to Cassy and John, "Oh my gosh!  Look!  It's a sign from Joie!"  They were as amazed as I was!
Each dog I've had has taught me something.  In a short talk the night of Joie's passing that I had with my friend, Dawn, an animal communicator, she had related to me that Joie and my guides had a message for me.  It was time for me to rest, reflect , renew, and refill. Staring again in wonder at the water paw print, I just knew it was Joie reaffirming for me that I am exactly right where I should be.