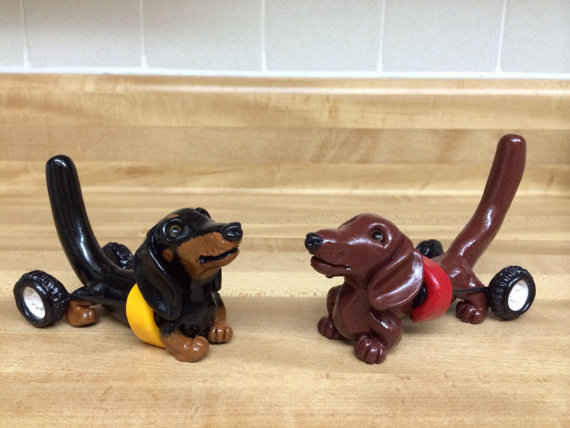 Click on the photo to order yours today!
10/17/2013 update:  Grace asked me that I share this info with you:  "I will accept custom orders and personalization at no additional charge. I will match the colors/markings if they send me pictures, and put the doxie's name around their collar. " Cool, huh?
Grace has done it again!  Though I continue to be on sabbatical (will return to my blog early November), I just had to share this wonderful offer with you from a creative and talented lady with a big heart.
The sale of the first dachshund ring holder to sell will be donated to the Frankie Wheelchair Fund which helps paralyzed dogs in need of a wheelchair (learn more about the fund here). As you may already know, this fund was started in memory of my Frankie (known as the walk 'n roll dog) in 2012. For six years Frankie helped me spread a positive message about dogs with IVDD and dogs in wheelchairs far and wide.  The fund has helped 16 dogs to date with wheelchairs who may have never otherwise had the chance to have one.
After the first sale, 10% of all other sales of the ring holders will also benefit the Frankie Wheelchair Fund as well.
Check them out today!  You can order them to your specifications and have one made just like the doxie love of your life.  No doubt these sweet little likenesses of your doxie's will keep your rings safe — well, that is if they don't wag their tails too fast!