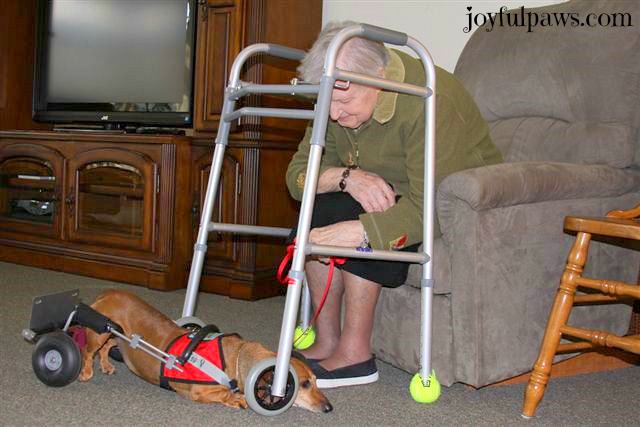 Sally was one of my favorite residents at Libby's House, Senior Assisted Living Facility. For three years, once a month, I'd take Frankie there as she was a certified therapy dog, and she would work her magic with the residents.
I remember being so nervous the first few times I visited. Many residents have Alzheimer's or dementia. While I had experience around dementia because my grandma had it in later years, I'd never been around anyone with Alzheimer's.
While not everyone at Libby's House was challenged with either of these diseases, I didn't know Sally's situation as I wasn't allowed due to the HIPPA Act. But meeting her and being with her the first few visits put me at ease. She was such a delight!
She couldn't speak- well, I should say, not that you could understand. It was as if her brain had scrambled her words and it came out in gibberish fashion. But could she carry on a conversation! I would smile and nod as she always became quite animated and talkative when she would see Frankie roll into the main living room of Libby's House.
The only word I could understand that she would say was the word little. She'd say it over and over again when Frankie came to visit. I assumed it was because Frankie was so small. She'd also clap her hands and begin what almost seemed like the sweetest chant, with her eyes fully lit up as she'd repeat, "little, little, little."
On one visit a few months months after we'd been going on a regular basis, clear as a bell she said "Frankie!" The RN and I looked at each other and were in awe she said Frankie's name. It is a moment I cherish in my heart.
Sally was always smiling when we visited. Always. During the last few months before I retired Frankie, Sally began singing. Again, you couldn't understand the words, but she knew what she was signing. It's as if she was a beautiful bird singing her own special tune.
Though I didn't always know many personal things about the residents, I did know that Sally never had children. In many ways, I felt a special kinship with her being I never had kids. I'd often find myself looking at her wondering if this will be me someday. And if so, I hope I have the amazing, happy spirit that she had every time I saw her.
I didn't learn of Sally's passing until yesterday. It just so happens that John is doing work on Sally's niece's house, who adored her aunt Sally. She told John that Sally had passed away in early May and had celebrated her 100th birthday recently. While going through Sally's things she came across a photo of Frankie I'd given Sally.
My eyes filled with tears as John relayed the story to me. For a moment sadness because I was truly fond of Sally. But then happiness for the sweet memories I have of her. How honored I feel to have been part of her life for such a short time.
I felt the need to know more about Sally and found her obituary on line. She died on the afternoon of May 4th. I thought about where I was that day. I was at Bookworm Gardens with Gidget to kick off their 4th season, hanging out around Frankie's spot within the gardens that carries on her legacy.
I would also discover that Sally was her nickname, but her real name was Selma. She was married for nearly 70 years to Elmer. Now can't you just picture the sweetest little couple named Elmer and Sally? Elmer passed away in 2004 leaving Sally a widow at 90 years old.
There was a gallery of photos with the obituary and what a treat it was to see Sally in her younger years, up until her 100th birthday. It gave me a sneak peek into the life of someone who touched my heart for what was truly just a short blip in time of her long life.
I find myself feeling a deeper kinship with Sally after reading about her life, married all those years, and Elmer dying only ten years before. Will this be John and me, I wonder?
At the end of her obituary it read: "Sally will always be remembered as a kind and gentle soul that exuded a zest for life."
This was indeed the Sally I came to know. What a beautiful legacy. Simply beautiful.