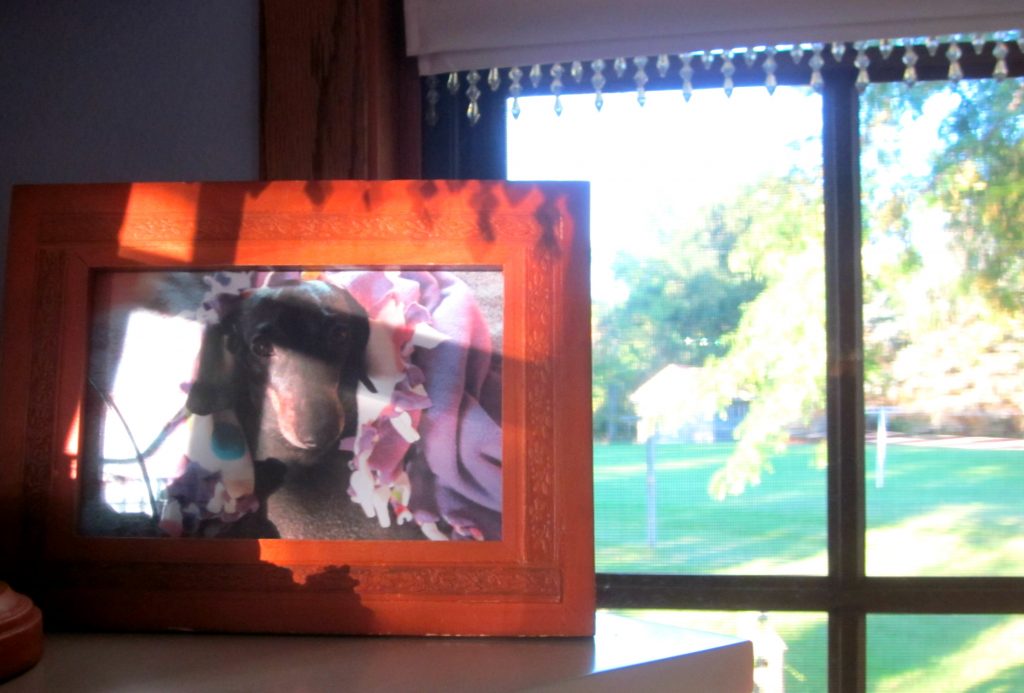 This morning in my writing cottage I can hear the rustling of the leaves as they begin to wither and dry and the sacred sound this makes in the wind – a sound I absolutely love this time of year. And in the background as I get ready to practice my Yoga I discovered a YouTube channel with lovely instrumental autumn music and wanted to share that with you here.
I then noticed the light dancing on a picture I have of Joie. I couldn't help but feel connected to her in that moment. It feels to me like a reminder of how we can connect with those that are no longer physically here whenever we want. How it is a practice in itself of learning to trust that this connection is absolutely real – trusting in the feeling that moved through my heart in that moment as the light lit up her photo – how my heart connected with Joie's in that sacred space that only we share.
It brings me to tears as I write this right now. There is some sadness in that I'd love to hold her again, just one more time — especially now as I've sent her and my story out into the world — I want to thank her for the gift of being in my life. But alas, I believe I have done that in many ways. And I will continue to by remembering her fondly and with love until someday I too, take my last breath.
Love you, dear little Joie….always.
Thank you for sharing and subscribing to my blog updates.