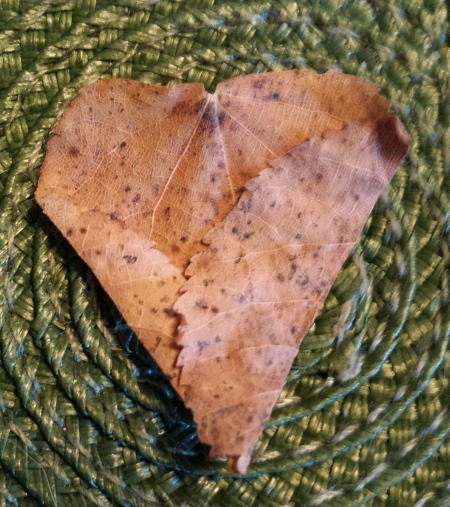 Yesterday on my blog I wrote about how an issue with my right eye has had me feeling vulnerable in going out in public without eye make-up and how this has been a great lesson of acceptance of myself.
It opened a great discussion and thoughts on the post itself and on Facebook. Thanks everyone for chiming in!
The discussion continued today when I went in to get my haircut by my friend, Missy. Standing in the reception area we talked about my post and Missy agreed about much of what I said about questioning what real beauty is and how we've bought into what our culture deems as so. With my eye still red (but a bit better today), Missy shared with me how a spot on her face has her feeling very self-conscious right now.
Truth be told, I never saw the spot. It was her sparkling eyes and her genuine, loving personality that I saw. As we talked about self acceptance Missy looked down to see a heart shaped leaf on the floor of the salon.
And there it was! Confirmation for both of us to know in our hearts we are enough. I was thrilled she handed it to me so I could bring it home and take a picture and share with you today.
So there it is…for each of us…we are all truly enough. Believe it and really know it…for then you shall be set free.
Thank you for sharing and subscribing to my blog updates.