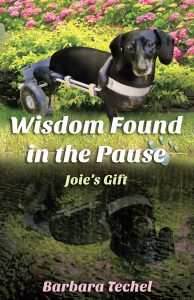 Wisdom Found in the Pause – Joie's Gift (memoir)
If you'd like a signed copy please contact me here.
When we get lost while driving, it's common sense to pull over, reroute the GPS, and perhaps change course. When it comes to the course of our lives, however, we often take a very different approach. Each of us has an "internal GPS" – that still, small voice inside us guiding us to our best and highest good. But what if that small voice is begging us to slow down and re-evaluate our lives?
If you're like most people, you judge this as a waste of time or being lazy. In Wisdom Found in the Pause, Barbara Techel explores both the real-time beauty and long-term benefits of life's transitional periods. In what has become Techel's trademark, Wisdom Found in the Pause shares the profound life lessons we can learn from animals.
Her first book, Through Frankie's Eyes: One woman's journey to her authentic self, and the dog on wheels who led the way, told the story of how a paralyzed dachshund named Frankie led Barbara to groundbreaking work with children, persons with disabilities, and the elderly.
After Frankie's death, Barbara often felt called to embark on another direction, yet she was reluctant to let go of the purpose and identity she had so closely tied herself to. Wisdom Found in the Pause is the story of Joie, another paralyzed dachshund, who would serve as Barbara's teacher, friend, and ultimately angel. Joie's unexpected death would remind Barbara that the only way to really change our lives is from within. Along the way she received spiritual signposts – some subtle, some profound – that convinced her she was on the right path. Through this journey she realized the most valuable gift we can give ourselves is the time to slow down, hear and heed our inner thoughts, for this is how we will welcome that sweet stillness of being, that wisdom found in the pause.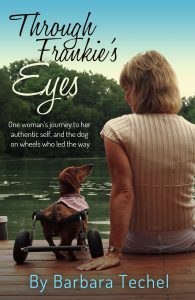 Through Frankie's Eyes – One woman's journey to her authentic self, and the dog on wheels who led the way (memoir)
If you'd like a signed copy please contact me here.
Renowned novelist E.M. Forster wrote: "I suggest that the only books that influence us are those for which we are ready, and which have gone a little farther down our particular path than we have yet got ourselves."
If your authentic self has disappeared beneath a burden of should haves or could haves–pleasing everyone but yourself, worrying about everything that's out of your control while ignoring what only you can change, settling for less than you know you can be–this is such a book.
Author Barbara Techel has certainly gone farther down the path toward self-discovery than most of us have dared, and here she shares that journey with readers ready for its influence on their own choices. It's your time: to grow; to learn from a woman who's overcome her deepest fears to live joyfully, with integrity and intent; and to marvel at the magic of it happening under the guidance and knowing eyes of a small, red dog on wheels.
Let this story seep into your consciousness and inspire you–indeed, allow you–to start or continue your own fulfilling journey to who you really are. You've picked up this book because you're craving the inspiration and uplift it so generously offers. Don't put it down. It's a gift, if you're ready to accept it. Read it. Hold onto it to remind you that though you may have work to do, you absolutely can achieve the life you're striving for. Free yourself of the things that no longer matter, and embrace how beautiful the world is to someone who can see it…through Frankie's eyes.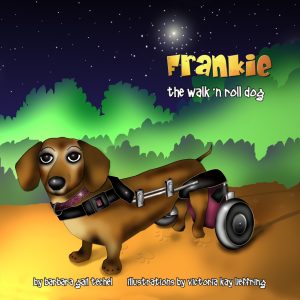 Frankie the Walk 'N Roll Dog (children's book)
A true, inspirational story about a dachshund whose life started out just like any other dog walking on all four paws until a spinal injury leaves her paralyzed.
Frankie is custom-fitted for a wheelchair and learns to keep on rolling. Her zest for life will have you cheering and she will give you hope that all things are possible. Frankie will leave an everlasting and loving paw print on your heart. A book for all ages to teach overcoming challenges and also compassion for the physically challenged.
Frankie the Walk 'N Roll therapy Dog Visits Libby's House (children's book)
Frankie the Walk 'N Roll Dog keeps rolling along in her doggie wheelchair. This paralyzed dachshund's unabashed healing, exuberant spirit, and spunky personality is a blessed gift to everyone she befriends. In this true, inspirational story, Frankie tells how she became a registered therapy dog and shares her visits to Libby's House, a senior facility where many residents have Alzheimer's or dementia. Frankie teaches us that patience, listening, and understanding opens our hearts to what matters most—love.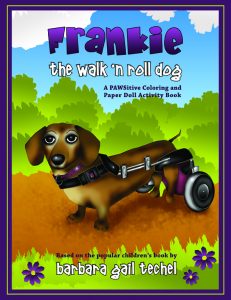 Frankie the Walk 'N Roll Dog Coloring and Paper Doll Activity Book (children's book)
A PAWSitive Coloring and Paper Doll Activity Book – Three Books In One!
It's a story book based on the award-winning book, Frankie the Walk 'N Roll Dog (shorter, condensed version- perfect for younger children), pages to color along to the story, plus real photos of Frankie, and to top it off, a Frankie Paper Doll (which is really Frankie herself as a cut out!) complete with her wheelchair to cut out, along with many of her favorite outfits you can dress her in. 52-pages of fun and inspiration!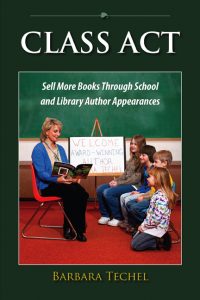 Class Act: Sell More books Through School and Library Author Appearances (how to guide for authors)
The definitive guide to promoting your message and selling books to schools and libraries.
And it's not just for children's book authors: It's the ultimate how-to manual for authors of any title of interest to these audiences, detailing how to
• spread the message they were passionate enough to write about in the first place
• get recognized as an expert speaker
• book speaking gigs and personal appearances
• and ultimately, sell more books!
Arranged in logical order, these chapters tell you all you need to know about proven methods for: • what to include in your presentation
• how to tweak it to appeal to various audiences
• planning and preparing your most effective speaking approach
• locating and locking in appropriate speaking venues
• what to charge • pitching and promoting your presentation
• organization, planning and followup
• fulfilling book orders that result from your talks
• leveraging modern technology in speaking and promoting appearances
Much bonus material is included, such as:
• Helpful preparation checklists
• Real-world advice from other professional author/speakers circuit,
• Immediately applicable tips & advice about what to avoid as well as what to do
• A final chapter on helping your event organizer help you to succeed
A comprehensive index helps you quickly locate the information you need now, making CLASS ACT a handy reference tool you'll use again and again. If it's not in here, you probably don't need it!