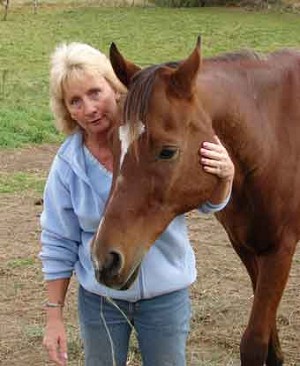 Kelly Kissinger and Fire
Tucked away on the outskirts of Elkhart Lake, a road leading to what seems nowhere, a quaint old farmhouse sits.  Horses graze in the rolling hills nearby.  As I pull into the gravel driveway, two border collies come bounding toward me as I open my car door, eagerly greeting me with sniffs.
Jasmine and Duchess barked with enthusiasm as Kelly walks from the field where she was with her three horses, and husband, Larry.
Kelly and I went to school together. We run into each other now and then usually share small talk. So it was with great interest when I saw Kelly at the Farmer's Market this summer when she told me last winter she faced the battle of her life.  When I asked her what got her through she said, "It was my animals." Intrigued, I asked if I could write her story.  She graciously agreed.
We sat the kitchen table as she began to tell me how her life took a turn she never expected. It started with heaviness in her feet as she placed them on the floor one cold January morning.  Not overly concerned she went on with her day and made her way to work.  As the day wore on the heaviness began to subside.Then came a feeling of needles being poked in her skin as she took her shower the next day.  She set aside any concerns, though the problem continued.
In February, a standard yearly health benefit testing at work revealed high blood pressure, which Kelly never had. Yet again she dismissed any worries. Then things began to get worse.  One day at work as she bent down to pick up a bag of bird feed all the muscles in her legs locked.  After a few moments it subsided, but returned when she bent down again. She knew she could no longer push the worries aside so went to the walk in clinic.  Nothing was found and she was treated for slight dehydration.
By the next day the pain in her legs intensified fifty times.  Aspirin didn't help and Kelly was in tears from the unbearable pain.  It took three days before she could get in to see a doctor.  She was tested for Multiple Sclerosis.  The test came back negative.  Doctors could not figure out what was wrong.  She was sent home scared, and wondering what could possibly be happening to her.
The pain then traveled into her back and neck.  It was so intense she could not stand or lie down.  She was rushed to the ER by her sister, Kathy.
After trying several medications for the pain and nothing worked, she was given two shots of morphine, before she finally felt some relief.  The doctors did many tests and could find nothing wrong.  She was once again sent home.
At two in the morning Kelly awoke to excruciating pain once again.  Now scared for her life, she called her sister who insisted on taking her to the hospital and she said, "You are not coming out until they find out what is wrong." As Kelly was leaving for the hospital she looked at her husband of just six months and said, "Larry, don't let me die."
On morphine once again, pressing the button every eight minutes for the pain, a neurologist now assigned to Kelly, ordered a cat scan and MRI.  She also had a muscle and nerve taken out of her leg.The pain was now in her arms and hands.   Her hands had to be elevated and ice packs placed on them because the pain was so intense. The only place not affected was her face. She could not eat or bathe, or do any of the things we do on a regular basis without help.  At the age of 47, Kelly did not know what the rest of her life would look like.
Five days later there was an answer.  She was diagnosed with Demyelinating Neuropathy, which is a nerve disorder that can occur once, or there can be reoccurrences over a lifetime.
Nine days later Kelly was sent home with ten different medications.  She was told it could be six months to a year before the nerves healed, but no guarantee if the pain would return at some point.  She was also sent home with a walker. Jasmine, her border collie, was only six months old at the time, and was Kelly's constant companion.  Because Kelly's legs were extremely weak, she could not climb the stairs to her bedroom.  She spent her days and nights on the couch, just a few feet away from the bathroom. Jasmine seemed very aware of Kelly's illness, providing her comfort when she needed it, and enticing her to play when Kelly was down.
Kelly is a woman of amazing determination.  She told me she didn't want to be a burden to her family. She set her mind to take the best care of herself she could.
Larry took on the responsibility of feeding the horses, dogs, and cats.  It was painful for Kelly to not be able to do this, but harder still, not being able to just be with her horses and brush them. She noticed one day how her horses now seemed to be bonding with Larry.  It was hard to bear.  So her brother-in-law started to take her out to the horses.  She still had no feeling in her fingers, but would pet them and she said, "It was the best 15-minutes of my day."
Kelly not wanting to depend on others became very determined to get her walker outside to be with her animals, so she made her mind up to do just that.
One morning, with all the energy she could muster she made it out to the horses.  She was amazed when the horses were not spooked by the walker, as if they nderstood. Slowly but surely, she began feeding the cats, horses and dogs, and spreading out the hay for the steers. As she continued to heal and needed the walker less and less, one day she decided she wanted to ride her horse, Fire.  She said, "He stood perfectly still as I got on. He was not normally that patient."
In past rides Kelly would ride him down the side road and he would turn around half way, and head back.  But not today, it was as if he knew Kelly needed this ride as part of her healing that he happily took her all the way down to the end of the road.
Kelly credits her drive to recover to her animals.
Determined to care for them she will not let this disease get the best of her.  Still on two medications and about 98% recovered, Kelly knows the best medicine is the healing power of her animals.
If you wish to use this article on your website or in your E-magazine, you are welcome to as long as you include this bio with it:
Barbara Techel is the multi award-winning author of, Frankie, the Walk 'N Roll Dog book series.  She is an educator & speaker helping kids and adults see their challenges in a positive way.  She is also a passionate advocate for animals with disabilities. Barbara and Frankie routinely volunteer as a therapy dog team at a local hospital, senior assisted facility, and hospice center.  Since 2005, Barbara has been a contributing writer for the Depot Dispatch sharing stories of her animals, as well as other furry friends she has met along the way.  You can visit Barbara and Frankie on at www.joyfulpaws.com