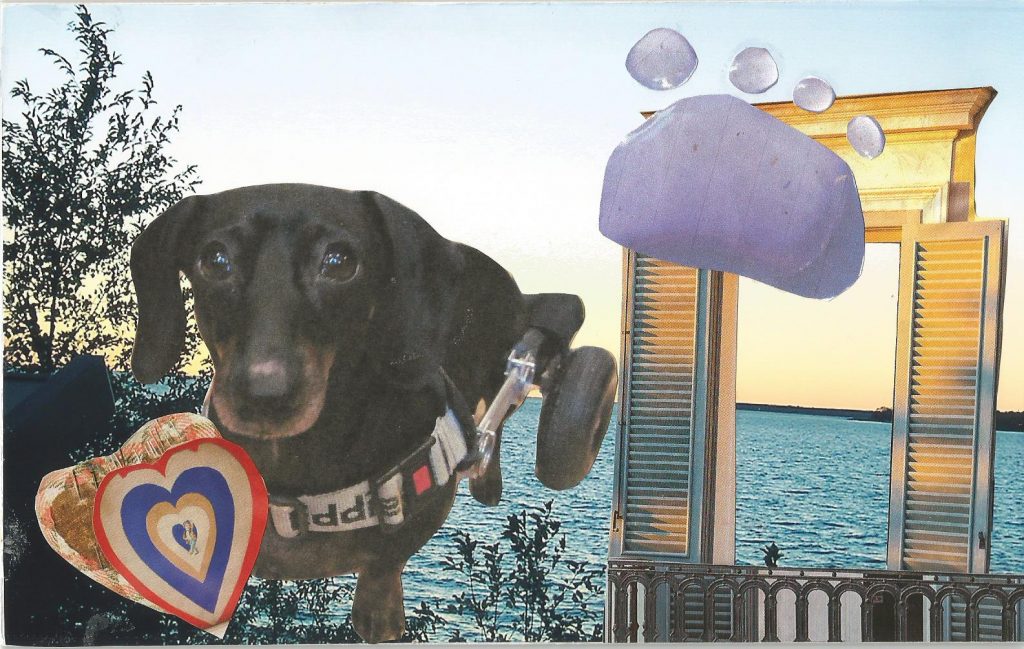 I'm so honored to have been asked to provide an article for the monthly newsletter for SoulCollage®. As many of you know, I became a facilitator two years ago. It's a process that by working with images and creating collages on five by eight cards that lead to self-discovery.
I was contacted by SoulCollage® to write an article on pet grief and how SoulCollage® can be of help. I believe the article will appear in the November issue. I'll be sure to share a link once it is available.
But I wanted to share with you today the card I made to honor JOIE and encourage you to do the same for a pet you love and now may be gone. But it's also a great way to pay tribute to an animal friend who is still here with you.
I have over fifty cards I've made so far and it's always touching when shuffling the cards and choosing a card at random when one of my animal friends shows up for the day – reminding me of their presence in my life and what they taught me.
As is also encouraged in SoulCollage® after making a card, to journal with it from a prompt often used in SoulCollage® which is "I am one who." To "step into the card," so to speak, and listen for the wisdom the image has for you and capture that in writing.
I'm reminded today as I sent photos of my cards of Frankie and Joie, and my "I am one who" journal entries that our animal friends are always with us and that we can connect with them anytime we want – it's just making the conscious choice to be in that sacred space of stillness and connection with them.
My JOIE journal entry:
I am one who could only stay a short time. My greatest gift to you was for me to leave my physical body so that you would come to see there are gifts in transition – whether they be in death or life changes.  Doors close and new ones open – each a portal to understanding yourself on an even deeper level. The water paw print I sent you from the other side was my way of letting you know you are on the right path – the one of living in more conscious awareness – one of pausing often to listen to your inner voice and bring that wisdom forth to share with others.
Thank you for sharing and subscribing to my blog updates.