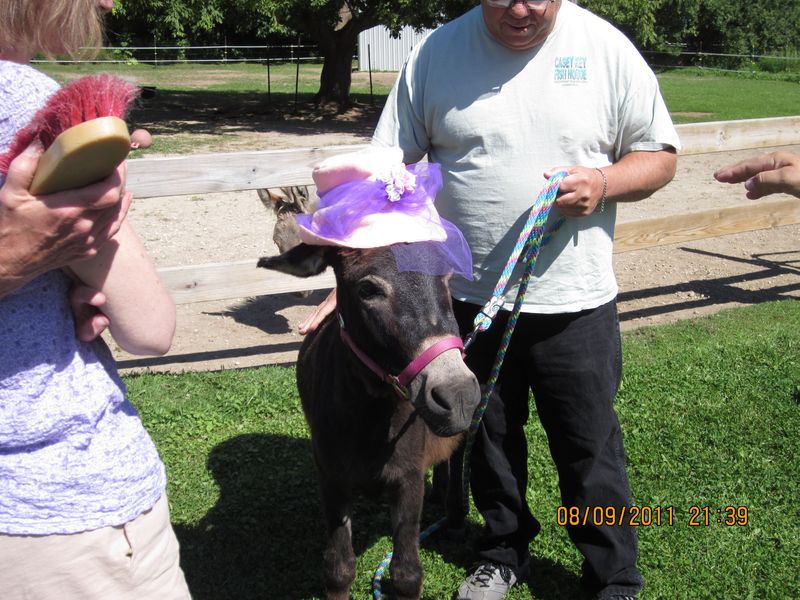 Donkeys sometimes get a bad rap. Some people think they are stubborn and unaffectionate. Until I started following author Jon Katz who writes about life on his farm with his three donkeys, I thought the same thing. I couldn't have been more wrong. As I learned about donkeys, I discovered how affectionate and loveable they really are. So began my love, and sometimes obsession, for donkeys. My hope is that maybe someday I can have one. And who knows, maybe one or two are in my future.
Imagine my delight when I heard about a donkey farm in Greenbush. I first learned about the farm when I saw a darling little white van-type vehicle driving west onto Highway 23. Logoed on the side of the car was "Luv Em All Donkey Farm." I about broke my neck twisting it far to the left as it sped by.  One thing led to another as I did some research on the internet. I discovered they offer tours to meet the donkeys. On a warm summer day in August, my friend Julie and her two year old daughter Lyla, agreed to take along this big kid (me), and we were off to the farm.
Susan and Brian Kilton are the proud owners of four miniature donkeys named Elliot, Rocky, Ferrari and Sidekick. Elliot is chocolate in color and was the first one to win his way into Susan's heart when she saw him at Villa Loretto nursing home in Mount Calvary.  They have many farm animals on hand to use as therapy pets with their residents, as well as a free petting zoo for the public. Rocky is grey and was the next to come along from Johnson Creek Wisconsin. Then there is Ferrari, who is named after the car because of his red coat.  Last, but certainly not least, is Sidekick, who is the youngest of the adorable brood at one and a half.  All the other donkeys are two years old.
Though we arrived somewhat unannounced because I misunderstood the information on the flyer, Susan was very gracious in giving us a mini tour. We were able to feed and pet the donkeys. She had a group coming out soon that she needed to prepare for. That is when I learned about the extremely generous kind spirit that Susan is. Having donkeys and using them as therapy animals for special needs kids and adults, as well as the elderly, has been a dream of Susan's. She explained that miniature donkeys are the perfect size because they are easier to handle and are wheelchair accessible.
Hearing the passion in her voice tugged at my heart strings not only because I do therapy work with my disabled dog, Frankie, but being a writer, this was a story right up my alley. I quickly explained this to Susan and said, "I'd love to write a story about the donkeys when a group visits."  It just so happened a group was coming out the following Wednesday, and my calendar was open. I could hardly stand the anticipation of seeing the donkeys in action doing their therapy work.
When Wednesday arrived, it was the first day in a long time with no humidity. A few clouds were high in the sky as I drove out to the farm. It was mid morning and I was anxious to see the donkeys once again, and meet the group that would be visiting from Paragon Community in Plymouth.
Elliot, Rocky, Ferrari and Sidekick were all out in the corral as two vans from Paragon drove up. Everyone's face lit up as they saw the donkeys. With the help of the staff they settled into chairs set up in front of the corral. One young lady, decked out in a felt pink hat with purple trim, her arms crossed in front of her, boldly claimed, "I am not going to talk today!"
The donkeys were out in the middle of the field, viewing from afar, their curious visitors as Brian welcomed their special guests. He then opened the gate and went into the corral. He held up a covered bucket and told everyone it contained a treat. As he shook the bucket, the treat rattled loudly which made the donkeys trot over to check it out. As he set the bucket on the ground, the job of the donkeys was to take the cover off.  Sidekick did it in no time at all and is known as the pro.  But being a pro can have its down side as Rocky quickly gobbled up the treat inside. This, of course, made everyone laugh.
Often times from my own experience doing therapy work with Frankie, there are what I call "golden moments." This is when a deep connection happens between animal and human. Often no words are spoken, but you can just feel that something magical is happening. I was hoping I would experience at least one golden moment as Brian and Susan brought two donkeys out of the corral to mingle with the guests.
Everyone took turns petting, feeding and brushing Rocky and Sidekick. Giggles were plentiful, as well as, the smiles on many of their faces were priceless. The young lady who was adamant that she would not talk that day began to chatter up a storm as she was feeding the donkeys treat after treat.
One young man, Mike eagerly asked Susan if he could hold Rocky's lead. As she handed it to him he seemed to grow taller in his stance.  He looked so proud as he walked Rocky around the yard.
As I glanced over toward the gate of the corral, I caught my golden moment. Junior, who is in a wheelchair, had a brush in his hand, and was lost in a world of serenity as he slowly brushed Sidekick back and forth. It was if the world around him had disappeared and he and Sidekick were communicating on a special level of their own. Watching them, I felt transported to a place of complete acceptance and peace.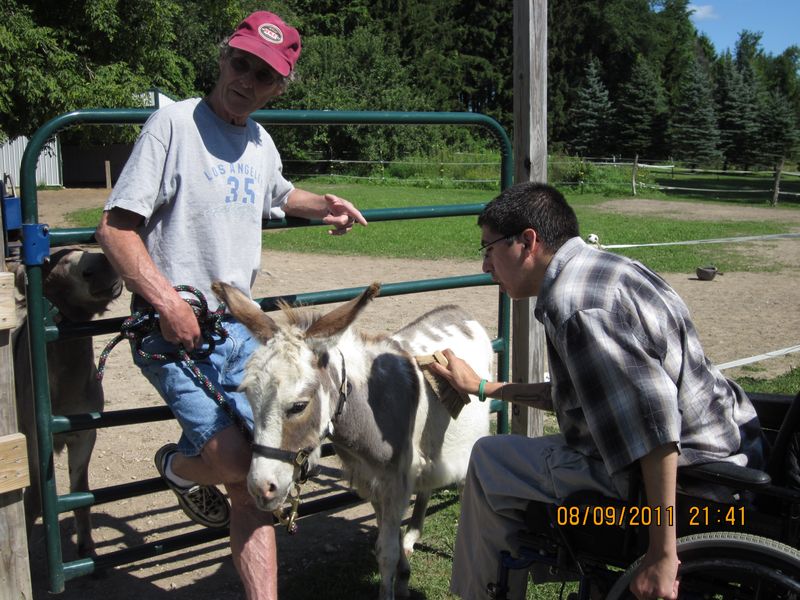 An hour later, everyone climbed back in the vans, smiling from ear to ear, and their hearts full of donkey love.
After the group left, Susan, Brian, and I sat on the porch and talked. We agreed that it is in those golden moments that life brings us our greatest lessons. The donkeys remind us to take time to enjoy the simple pleasures and nature. But most of all they remind us to love each other no matter what.
Bedlam Farm Donkeys (how my obsession began)